As an Super administrator, administrator or court booking administrator, you can make a court booking on behalf of a guest or a member.
To do this, head to your Court Booking Sheet. When you are logged into your Serve Tennis site, from within the Court Booking module click on Add new court booking and take you directly to your court booking sheet.

If you are booking on behalf of a member then ensure you have selected the correct option before proceeding with the booking. If you do not have this option available please contact Customer Care.

You can choose to:
book on behalf of a member - following the pricing rules for the member.
book on behalf of a guest - following the pricing rules for guests
as an administrator - which is free, this is useful for recurring bookings
To book a single booking:
Step 1: Select the time slot you wish to book by clicking on the box for the court you wish and the start time of the booking. An overlay will appear: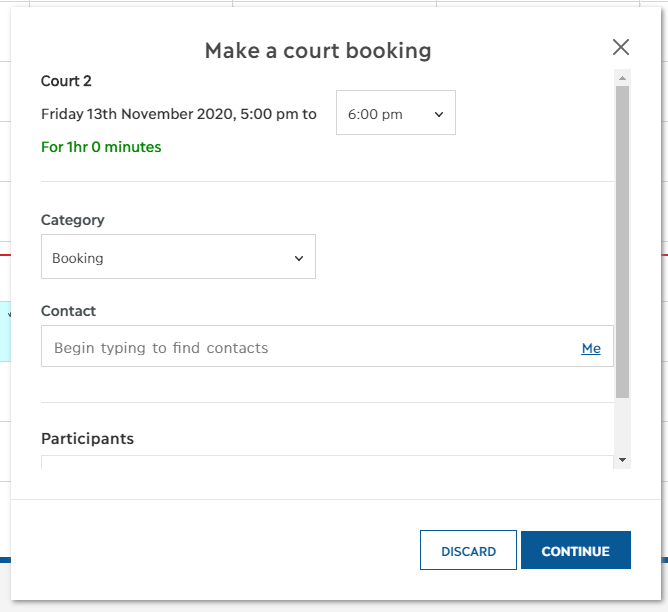 Step 2: Select the category and sub category if the option comes up.
For example you choose Social and Team Practice - the sub category will show.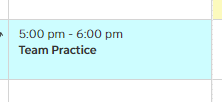 or Programming and Junior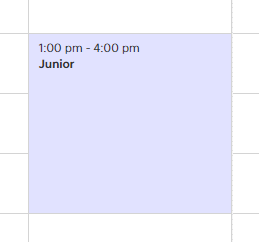 Step 3: Enter the contacts name, this will then appear for you to select. If you are making a booking on behalf of a guest and they are not already save in your contacts then there will be an option for your to add a new contact or select 'me' if you are the contact.
Step 4: You can now select '+ Add participant'.
You can now enter the participants name and select 'Save'.

By adding a participant to the booking, this will not automatically generate a contact record in your contacts module.
When you select continue, the following screen will be a the court booking summary and also a detailed breakdown of the fees.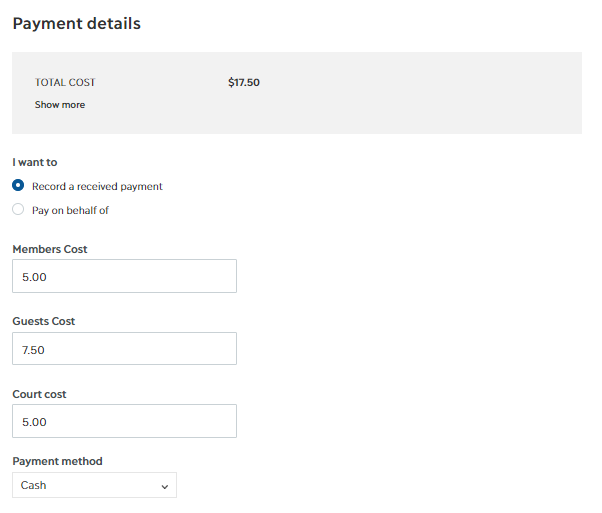 You also have the option to send a confirmation email to the main contact. You are unable to send confirmations to the added participants. .