Once you have Group Bookings enabled, users will be able to make a court booking for themselves and also include details of their opponent.
When making a booking, they would first need to be logged into their Serve Tennis account, when they select the correct court booking sheet the following overlay will appear: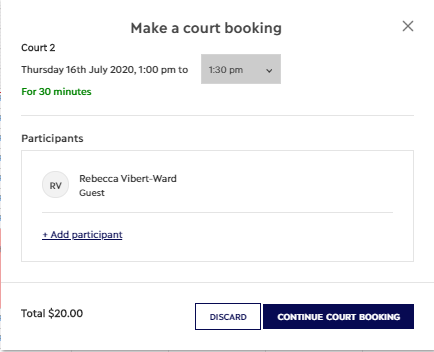 In this example Sarah Rhodes is the logged-in user who is making the booking, to include her player's details, she would then select '+ Add participant'. She can now enter the name of her player and mark them as a member or guest, and press 'Save' and 'Continue Court Booking'.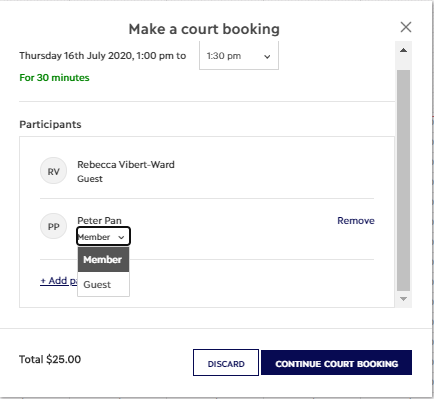 The following screen will be a confirmation page which will list details of the court booking, costs, & participants name.
Within the payment details, there is a 'Show more' option, this will give a detailed breakdown of the fees charged and this will be calculated based on the fees stated within the Court Booking schedule settings.
Once the user is happy to proceed they can select 'Confirm and Pay'.
When a participant is added to a court booking, this is a text-only field therefore, a contact record will not be generated within the Contacts listing in the admin area. The participant will not receive a confirmation email, only the contact.