If you have a USTA account, you can create and edit your coach profile.
Coaches receive access to a wide range of benefits to help you run your programs, or manage and grow your business. As a Safe Play approved provider with a coach profile, parents and players can find you in the Coach Search.
Coaches who complete their Coach Profile get access to the Net Generation Coaching Tools. If you would like more information on Net Generation Coaching tools, please refer to Get Started on the Net Generation App.
The steps below explain how to complete the coach profile on your USTA Account.
How to Complete your Coach Profile

Sign in to your USTA Account.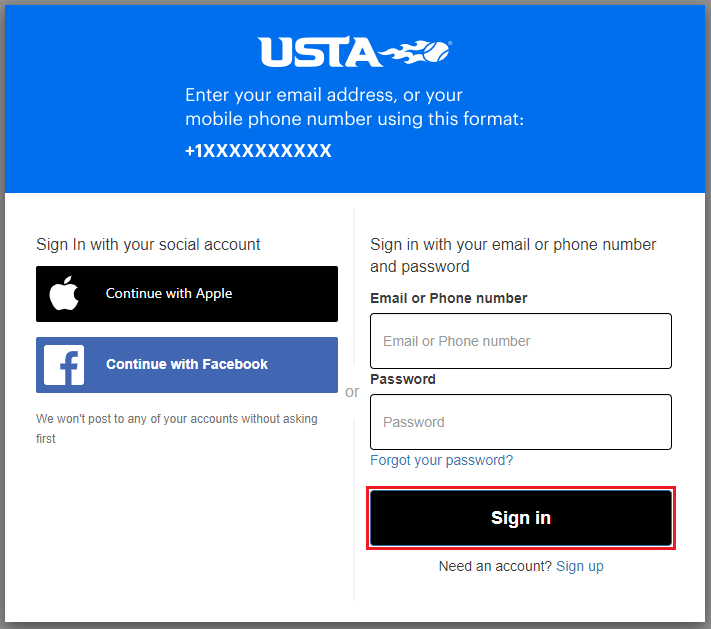 Access the Profile tab.

Once you are logged in, click on the User Icon on the top right-hand corner.
Click on Profile from the drop-down menu. This will bring you to the Profile Tab.

Access the Coach Profile.

Within the profile, click Switch To Coach Profile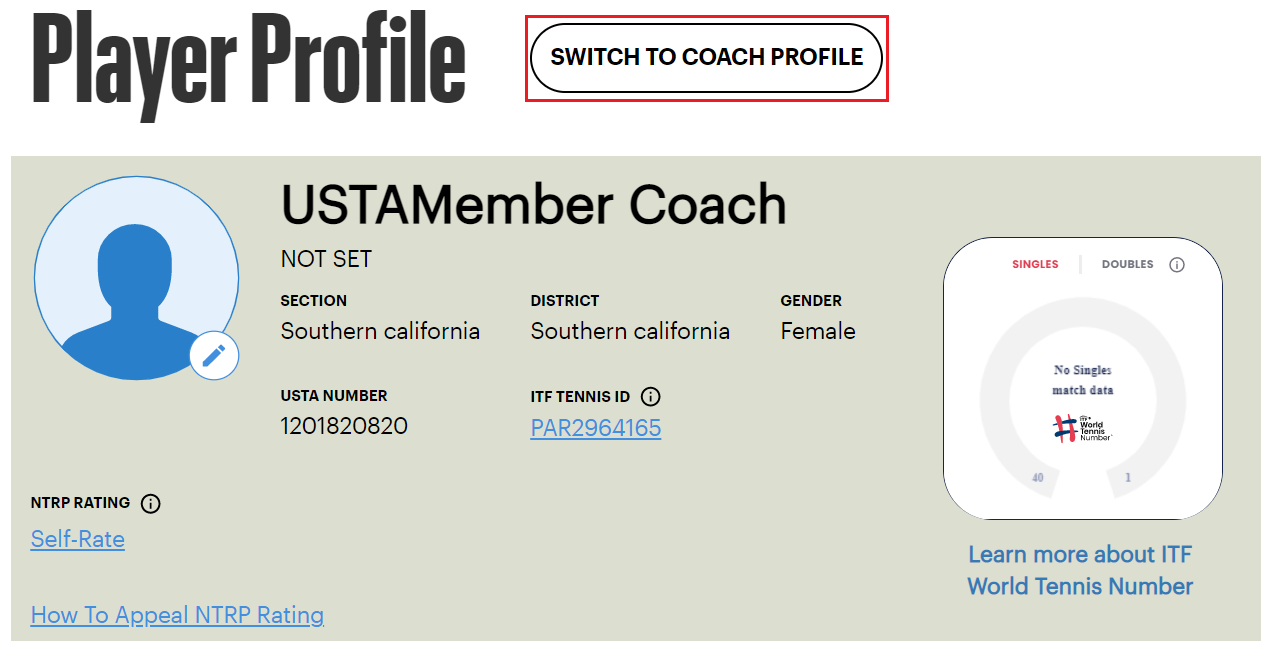 Complete all available fields on the coach profile (Describe Yourself, Coach information, Provider Type). These fields allow parents and players to learn more about you.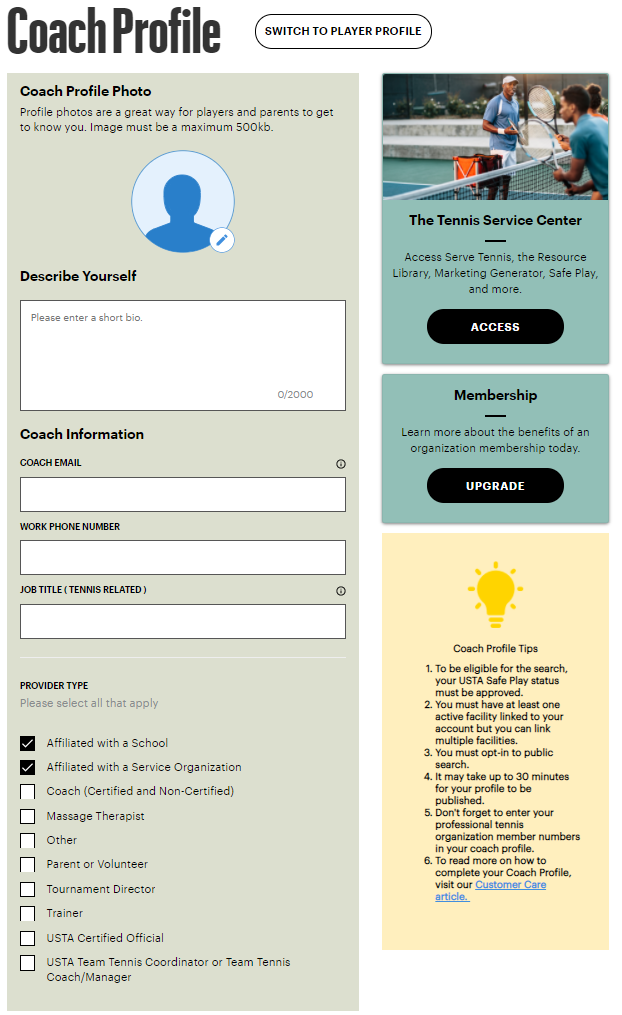 Enter your USPTA and/or PTR number.

A green check mark will display if the information is valid.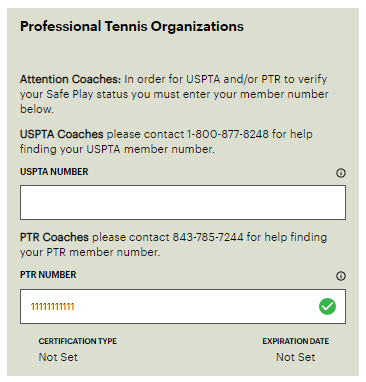 Certification Type

PTR and USPTA Certified Coaches who would like access to the certified coach resources and the skill level assessment tool need to complete their coach profile on USTA.com and enter their USPTA and/or PTR certification number to gain access.

USPTA coaches must have a certification type of Certified Professional or Certified Instructor and be in good standing with their USPTA membership.
PTR coaches must have a certification type of Level 1 or Level 2 and be in good standing with their PTR membership.
Find one or more of your facilities to create a connection on your profile.

Search by name, street address, or zip code.

Your coach profile will be searchable based on the facility location.

Once your facility has been found, select it to complete the connection. The facility will be added to Your Facilities list.

You can repeat this step to connect with a maximum of five additional facility locations.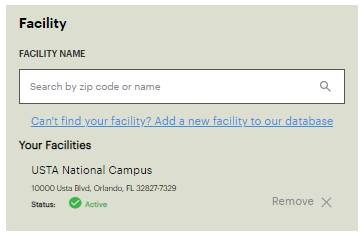 If your facility is not found, click Can't find your facility? Add a new facility to our database. Then complete the fields on the Add a Facility page.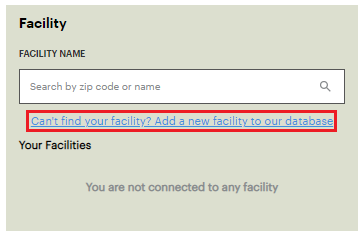 Facilities are required to have tennis courts on site. The information will be verified by our Court Moderator team. The verification can take up to 10 business days to reflect in our database. If approved, the new facility will have a green checkmark and an active status.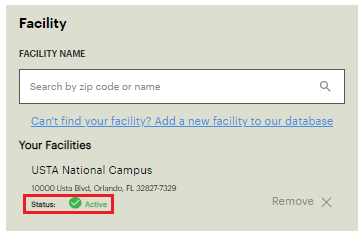 Confirm you've completed the Safe Play Program. If your Safe Play isn't approved and you would like to update your status, click BEGIN SAFE PLAY.

If you need assistance with this process, click here.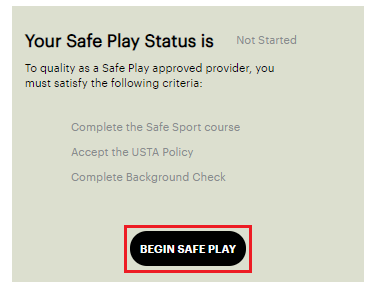 Please Note: If any of your Safe Play steps need to be renewed, they will show without a checkmark and the system will ask you to UPDATE SAFE PLAY in order to maintain your Safe Play Approved status.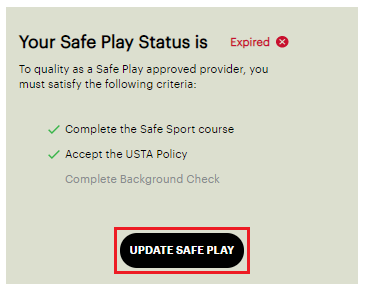 A green check mark will display if your Safe Play is approved and up to date.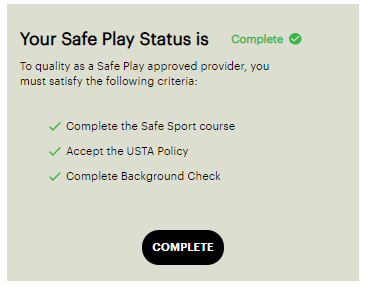 Identify the types of players you work with, and select all options that apply.

Review the Provider Standards.

If you agree to the standards, click the checkbox.

Please allow 24 hours for any changes to reflect in the Find a Coach Search.