If you need to cancel or change the details, such as the time or day of one session within an existing team challenge event, you can do this by following the below steps.
Step 1: In the programming tab, click on the Team Challenge category and choose which active event you wish to edit. Click anywhere on the bar:

Step 2: Click View Sessions on the top right. This will open up the list of sessions.

Step 3: Choose the session you wish to edit and click anywhere along that bar to open up the session.
Step 4: Edit the session as needed:
To edit the time, date, duration, ball color, capacity and cost.
Make the changes you wish to change and remember to press save.
The participants will not be informed of the change, you will need to email the participants through the email functionality if you wish to inform them.
If you have participants booked onto the session then you will be able to cancel the session. This is useful when the weather means the event can not be held. Scroll to the bottom of the session details page and click Cancel Session.

When you cancel the session, the following page will come up. You will be able to choose if you want to email the participants, you can also add a message with a reason for the cancelation. In here you could include details of the next session for example.
You can also choose to refund the participants if you have taken online transactions. This will automatically refund the participant and update their records.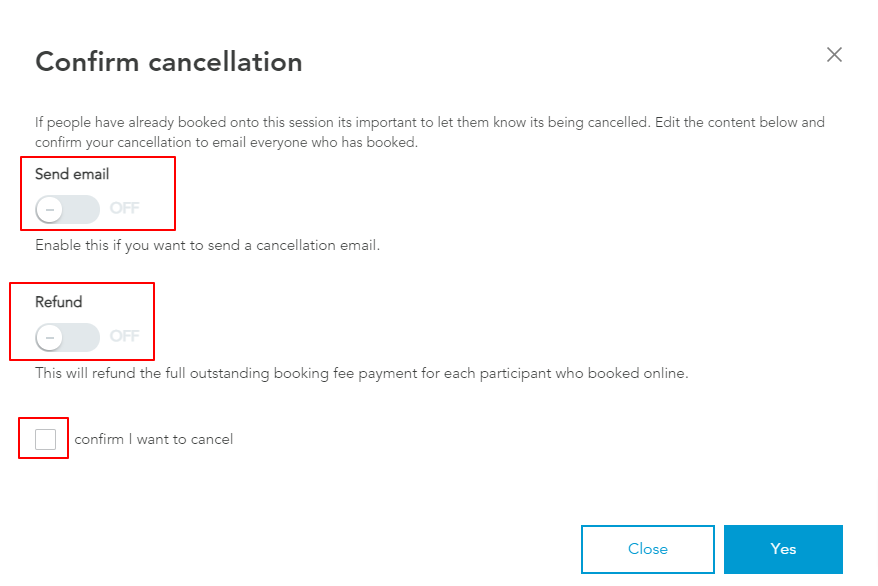 When you view the sessions list again, you will see that session is now canceled and shown in red.

Delete a session with no participants
If you do not have any participants booked in the session. Follow the above steps and you will be provided the option to delete the session by clicking delete session. It will only delete this session and the others will remain. If you press delete, a second confirmation window will appear to confirm. (Just in case you pressed delete by mistake). This will remove the session from the list.
You can add a new session to the course by clicking Add new session.