When you set up the Stripe Express account you will have been asked to provide some verification documents as part of the onboarding process. The process is should be very simple. Included below is a step by step guide to check your account status for verification and an FAQ section for the verification process.
If you have not provided this information you will still be able to create the account however it may not be active. Stripe will send the account holder an email to inform them that their account may be restricted if this information is not provided. You usually have 30 days from creation to update this information.

If you DO NOT follow the verification requests from stripe. It will be restricted. Restricted means you CAN NOT complete player selection and will not open tournament desk. It can take 24 hours for Stripe to update the account once verification is complete.



If you receive this email, it is very important you do provide this. A restricted account means you will not be able to receive any online transactions and it is possible the players will not be able to register to the tournament.
How to check your Stripe Express Account Status
How to check your Stripe Express Account
You can see the status of your Stripe account from the Stripe Dashboard. To access the dashboard follow the steps below.


Access your Serve Tennis account.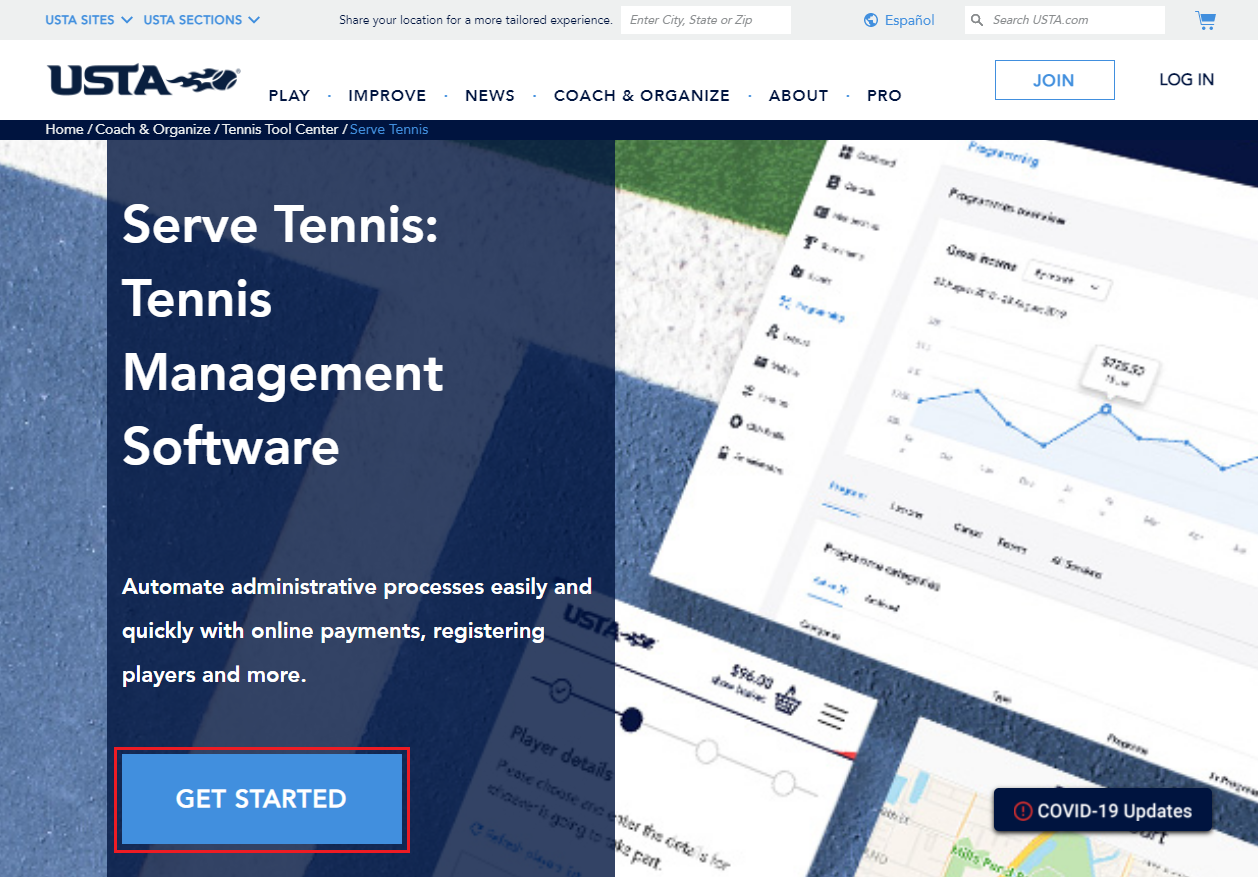 Sign in to your USTA Account.

Choose one of the sign in options, input your credentials, and sign in.
If you've forgotten your USTA Account password, click here for instructions.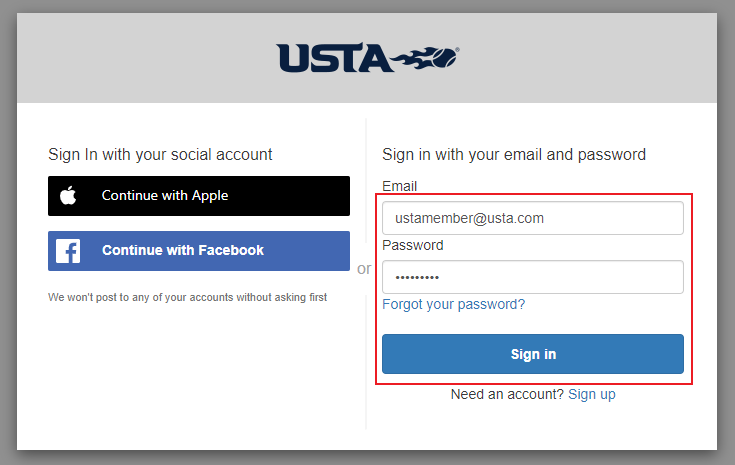 Access your Serve Tennis Organization.

Once logged in, click OPEN on the organization you would like to access for Serve Tennis.

If you don't see the organization on the list, please reach out to the admin of the organization to add you to the organization.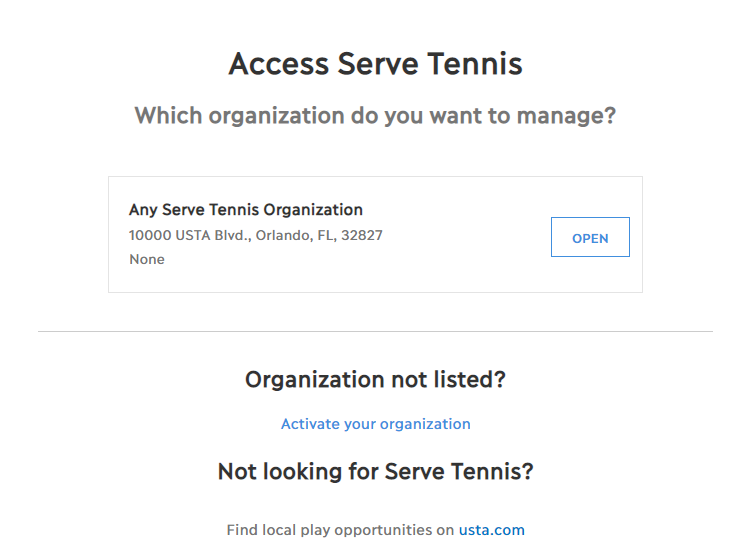 Access the Tournament module.

Once logged in, click the Tournament module within the admin area.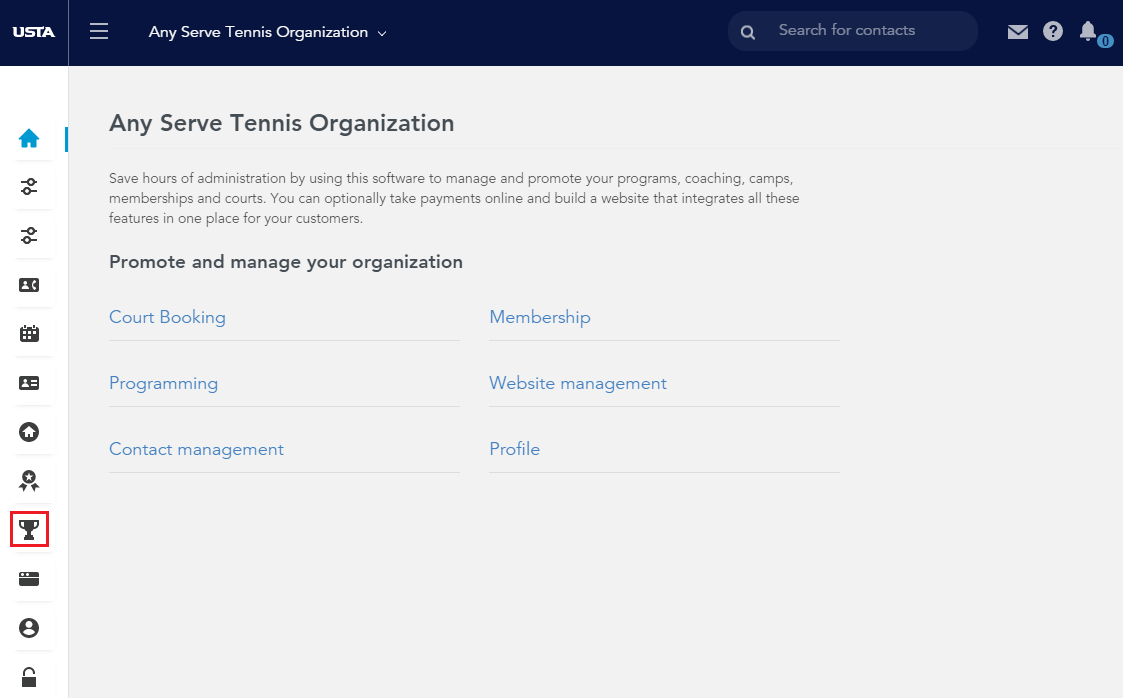 Click on the Payment Settings tab.

Click on Manage on Stripe. Please see Managing and Editing my Stripe Express Account for more information.

In the payment settings - you will see all the accounts that are linked with your organization. There is no limit to the number of accounts you can have linked.

As a tournament director/ account holder - you will only have access to the account that is linked to your name. The other accounts will show with N/A.

In the below example - TD - called Play Admin is logged in, so he can see how much money is available, he can access Manage on Stripe.

You can see the Account Status is showing Approved. You can see one of the accounts below is showing as restricted. If your account is showing as restricted then click on Manage on Stripe and it will inform you what information is required. We have more information here: Managing and Editing my Stripe Express Account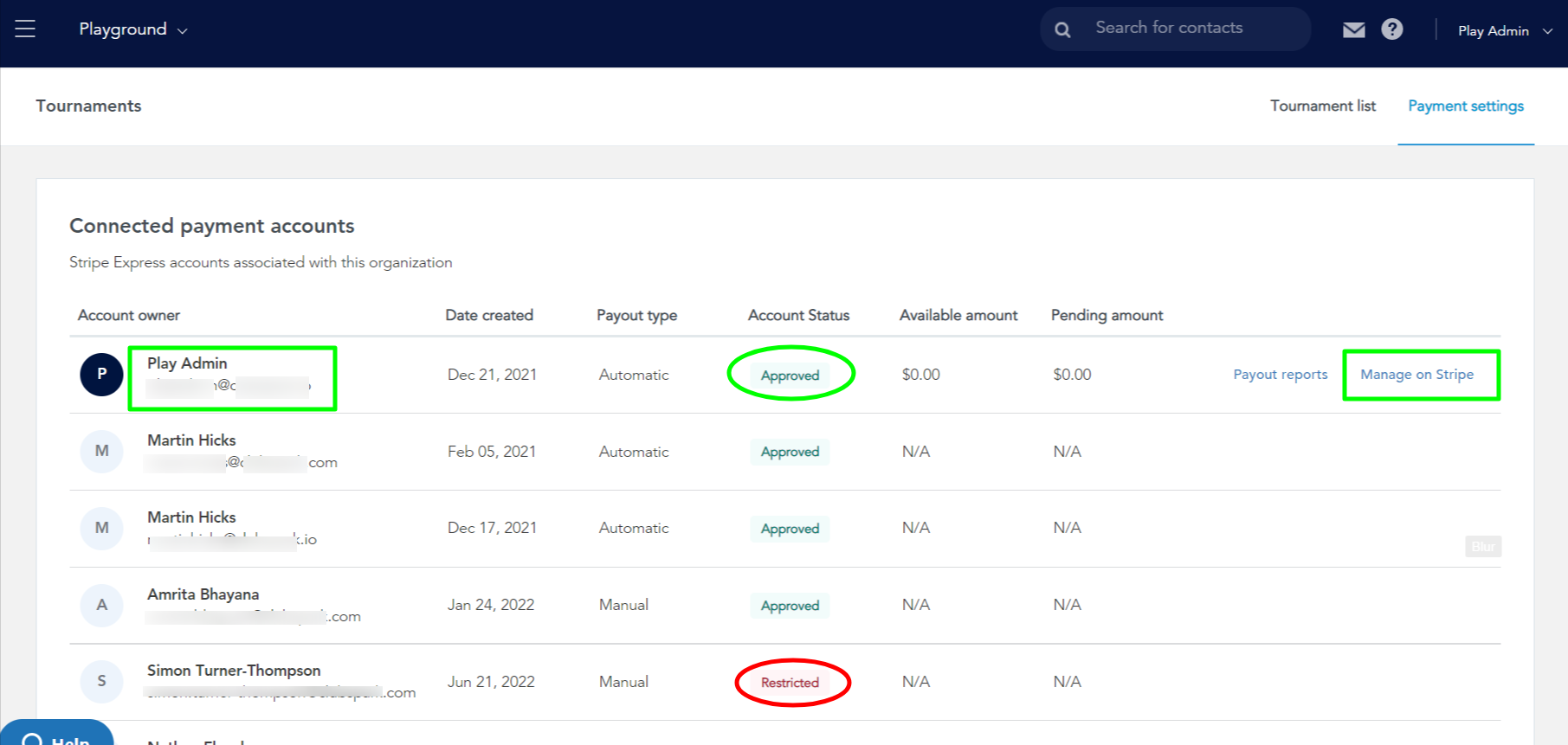 Stripe Verification FAQ
Q: I just received an email from Stripe. Who is Stripe? Is this email real?
A: We work with Stripe to enable payments for your business. Updating information about your account is important and required. These updates help protect against fraud and keep your account current with global Know Your Customer (KYC) regulations.
Q: What happens if I do not update my information by the deadline?
A: If you cannot update your account information by the deadline, payouts to your bank account and your ability to accept payments will be paused. We want to make sure that does not happen, so please let us know how we can help.
Q: Why am I being asked for information about who owns and manages my company?
A: In certain countries, Stripe is required to collect, verify, and maintain information about a company's beneficial owners and directors. These requirements come from government regulators and help promote transparency and prevent financial crimes.

Q: I have uploaded my documents and they are saying they don't match.

A: The business name needs to be EXACTLY the same as what is on your verification documents and bank account. i.e. if your business is called Ace Tennis , but your documents all say Ace Tennis Inc. Then you need to edit the business name to Ace Tennis Inc. If you have created an individual account, yet it should be a business account. You will need to reach out to stripe support to get this altered. Customer Care can help expedite this if needed.


Q: Why do individuals have to enter the last four of their SSNs when setting up Stripe – will this have any impact on credit // taxes?

A: Social security being added will not affect credit/taxes. Stripe is required to verify your identity and confirm the legitimacy of your business, as it is part of their responsibilities to their financial partners. This is also typically known as "Know Your Customers" (KYC) regulations. To do this, Stripe needs your Social Security Number and date of birth.
Q: If I am connecting to STRIPE as a business, why do I need to put in my personal information and the last four digits of my social security number?
A: Stripe allows users to connect as a company/business but there has to be the main individual that gets verified as a real person as the contact for the account. This is pretty standard for any online transaction. This ensures that chatbots cant set up fake stripe accounts or any bad actors that might scam consumers with fake programs. They verify Business EINs and individual social numbers for security purposes. Essentially they are acting as a bank for collecting the business's fees. When you go set up a bank account for a business there has to be a main account contact who is an individual attached to the account.

Q: They are asking for verification documents - where can I get these?
A: This article provides you with what documents you can provide for verification purposes: Documents for Stripe Verification.