Once the player selections have been completed and finalized and you have clicked Charge Players in Serve Tennis you will get a confirmation that the payments will be collected. You can check the payment status for each player by going to the Players tab in Serve Tennis.

You can now choose to have manual or automatic payouts. Manual Payouts will require the account holder to access their payments settings tab and click on manual payouts. The benefit of this is so you can access the money as soon as it is available. Automatic Payouts can be set weekly or monthly, you will be able to access and download a payout report, this is only available when automatic payouts is enabled.

A timeline for the tournament registration payout process is included as well as step by step instructions to collect tournament payouts.


Timeline for Tournament Registration payouts
How to Collect Tournament Payouts- Manual
Collecting Payouts when set to Automatic Payout
Viewing Payout Reports when set to Automatic Payout
Timeline for Tournament Registration Payouts
The graphic below explains the process and time taken for tournament registration fee payouts.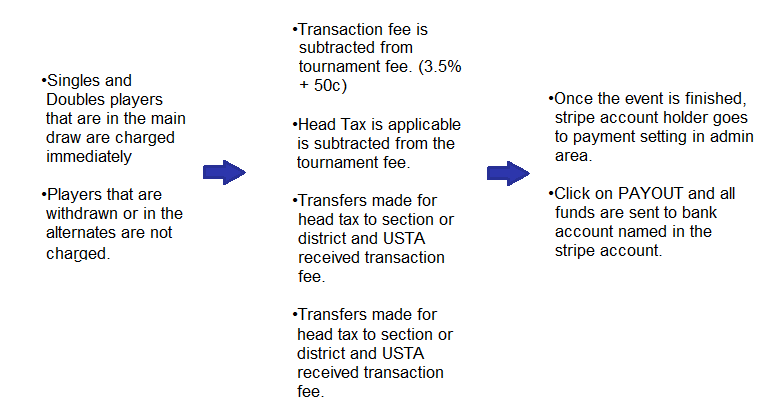 Please note: Although the above says 'post player selection' is immediately, some payments may appear immediately, some may take a little longer- this is down to the bank the person paying the registration fees uses. We recommend returning to the players page and payments page 12-24 hours later to check before collecting any unpaid payments.
How to Collect Tournament Payouts - Manual
New Stripe Express accounts are all set up automatically, accounts set up before February 2022 are currently set up as manual payout.

You can view the payment status in the payment settings tab of Serve Tennis at any time. In this view, you will see when there is money available to payout, or soon to be available. From player selection, it can 1-3 days to process the payments. After this time you should see the money in your accounts to payout. To view your payment settings, please follow the steps below.
As a named account holder of the Stripe Account, sign in to Serve Tennis and

click on the tournaments module.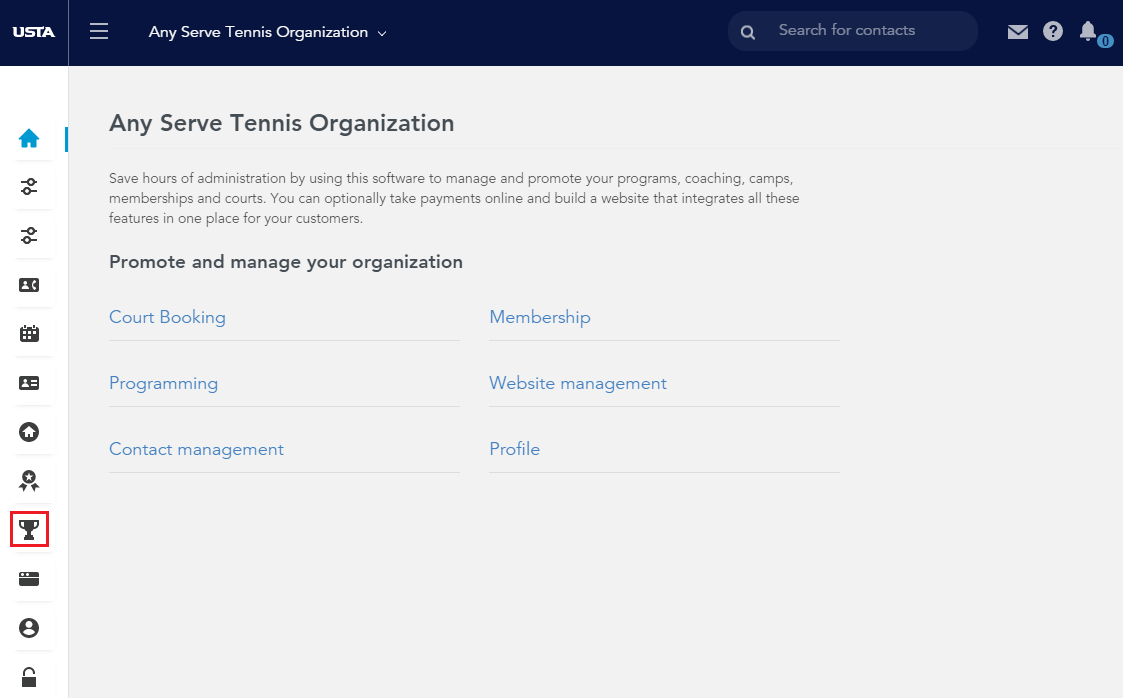 Click Payment settings in the top menu of the tournament module.

Available Amount will show what you can access at this time.

Pending Amount will be available in the next day or so.

Click Payout to transfer the available funds to your bank account.

Only the Stripe account owner can accept the tournament payout. If you don't see the Payout button listed on the account, you're not the account owner for this Stripe account.

A confirmation page will appear, click Confirm to accept the payout.

Please note it will take

2 business days*

for the funds to appear in your bank account.

* For every new

Stripe

account, it can take between 7 and 14 days for the first payout to be generated Stripe Guide on Waiting Time for First Payment. This delay allows

Stripe

to mitigate some of the risks inherent in providing credit services. After the first payout, future payouts will resume a normal 2 business day payout schedule.
If you see N/A in the Available Amount/Pending Amount and the Manage on Stripe button isn't available, then you do not have access to initiate the payout. Only the named account holder for the Stripe Account can collect payouts.


Collecting Payouts when Payout Type is Set to Automatic
If you payout schedule is set to Automatic - you will see this in the Connected Payment Accounts under Payout type as below:



If you wish to change to automatic - at present you will need to reach out to customer care and the technical support team can do this for you. You can choose to have your payout schedule weekly or monthly. If weekly, you can choose for it to be on a certain day of the week. Monthly, i.e. 1st of the month.

Viewing Payout Reports when set to Automatic Payout
Payout reports are only available when the account is set to automatic and only from the date the payout type was changed to automatic.

Once you have recieved your first Payout automatically - the Payout Report button is available from Payment Settings within the organization the account is linked. If your Stripe Account is linked to 2 or more organizations, it will include the details for all payouts.
In Tournaments - Payment Settings - select Payout Reports


Selecting Payout Reports will open this page - it is an overview of all the payouts recieved to this stripe express account. Including the date of payout, amount recieved and status.

Selecting view report - will provide a more detailed view of the payout and the transactions assoiciated to it.

Once selected, to view the payment report for this period, you must first generate a report by clicking on Generate a report - if there are a large number of transactions, it may take a while to generate. Be patient.



You can then download the report by clicking Download Repor.

Again, depending on the size it may take longer, it will initially show this message:


When it ready when it is ready, click Download in the green box.





The download will appear in your computer downloads as a CSV file as below:





You will need to go in an download each individual payout to view them all. This is a high level report, if you require more information on the tournament detail, ie. the name of the player etc. Then you will need to download the report from within the individual tournament. More information is available here: Transaction Report for Payments-Tournaments