Once you have set up your stripe express account you will be able to edit the information held on the account. For example, change your email address, bank account details, team members etc. This article provides you with the steps to do this.
To edit or update any of the details first your need to log into the account. Only the account owner can do this and via the same email/log in that you set up the account.

If there are more than one stripe express accounts linked - you will only be able to edit the one you are listed as account holder. As seen below:





Step 1. Log into your Serve Tennis account as an administrator/Tournament Director
Step 2. In the Tournaments Module head to the Payment Settings tab

Step 3: Click on Manage on Stripe

If you don't see the Manage on Stripe button, this means you have a)not set up a Stripe Express account on this Serve Tennis account and/or b) you are not the Stripe Express account owner for this account.
Step 4: Clicking on the Manage on Stripe account will open up an overlay with two tabs: Payouts and Account.
If you are required to add additional information in the Accounts Tab it will show here and give you the option to add this information from this page.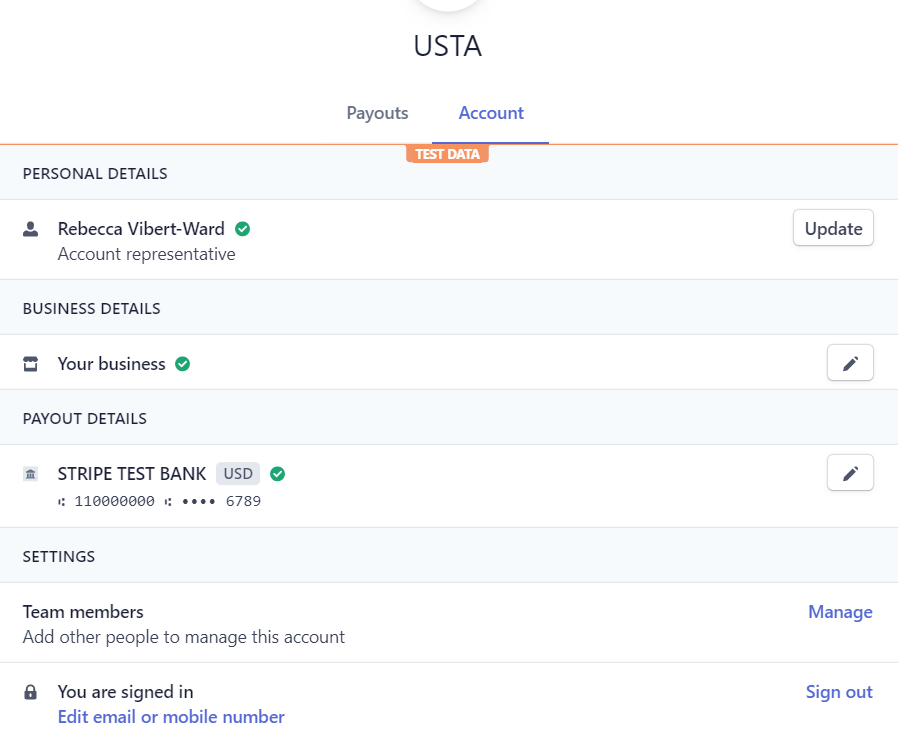 To Update:
The account representative:
Click on Update and change the information. Note: by doing this it may require new verification documents to be provided by the new account holder. The Account holder is the person responsible for the account.

Edit Business Details:
Here you can change the industry you have selected.


Payout Details:
This is the bank account or visa card that your have registered and where the money will be deposited when you click PAYOUT. You can change these details. If your payout is more than $3000 - you may wish to change this to the bank account details as payouts over $2999 can not be made by VISA restrictions.

Adding Team Members: This option is for you to give access to the stripe express account and ability to click payout. To do this click on add team member, a text message with verification code will be sent. After you enter this, it will ask you for the email address of the team member. Add this and click invite.


They will be sent an invitation to join the Stripe Express account with a link. Once they accept they will be shown here under team members.

Removing Team Members:
Follow the above - click remove to remove the team member.


Edit your email address or mobile number:
If you have got into this page, you can edit your own email and phone number listed on the account. To do this: Click on the blue links Edit email or Mobile Number.

FAQS
Q: The person who sent up the account has left our organization. What can we do?
A: If the account holder has left, and they are not able to log in and edit the account to pass ownership to someone else. Then we recommend contacting customer care. A specialist agent with access to Stripe will be able to ensure all money in the stripe account has been paid out and we will close your stripe account down. In the meantime, you can add your own stripe express account down.
We will need permission from the Super Administrator of the account to do this. Also, if there are any tournaments sanctioned and linked with that stripe account, we will need to change the account that is linked, please be aware this can take sometime, so please ensure you action this as soon as possible.

Q: We need to disconnect a stripe express account?
A: To do this, please raise a ticket to customer care team who will be able to request this is done.