Whilst all the information is available on Serve Tennis admin page, having the ability to download player lists to a CSV file can be useful. You may wish to download player emails and phone numbers, rankings or the payment status. You can do this at any time.
Steps to download to CSV file
Step 1: Select the tournament in Serve Tennis tournaments tab.
Step 2: In the Players tab found on the top right of the screen in Entries.

Step 3: Filter the information you want. There are a number of filter options.
To reduce the page being cluttered, you can choose what you see. The columns are hidden unless you select them. To select them click on More Columns on the left hand side of the page.





You can filter by All events or by a Specific Event from this drop-down.





The option to filter by Payment Status is available.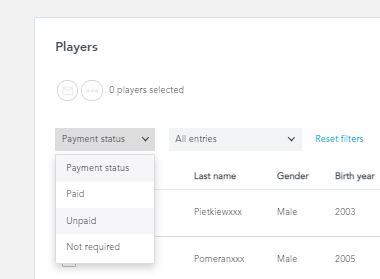 Filter by Player status - i.e. selected/alternate/not selected, is also an option.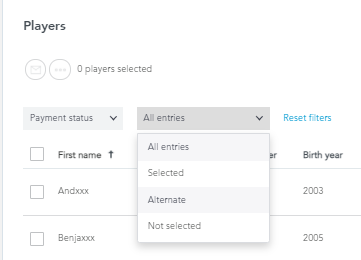 If you don't want to apply filters to the information, click reset filters or do not use the drop-down options.
Step 4: Once you have set your filters, you can download the information. Select the players individually by clicking the box next to their name or select all by checking the box next to the First Name.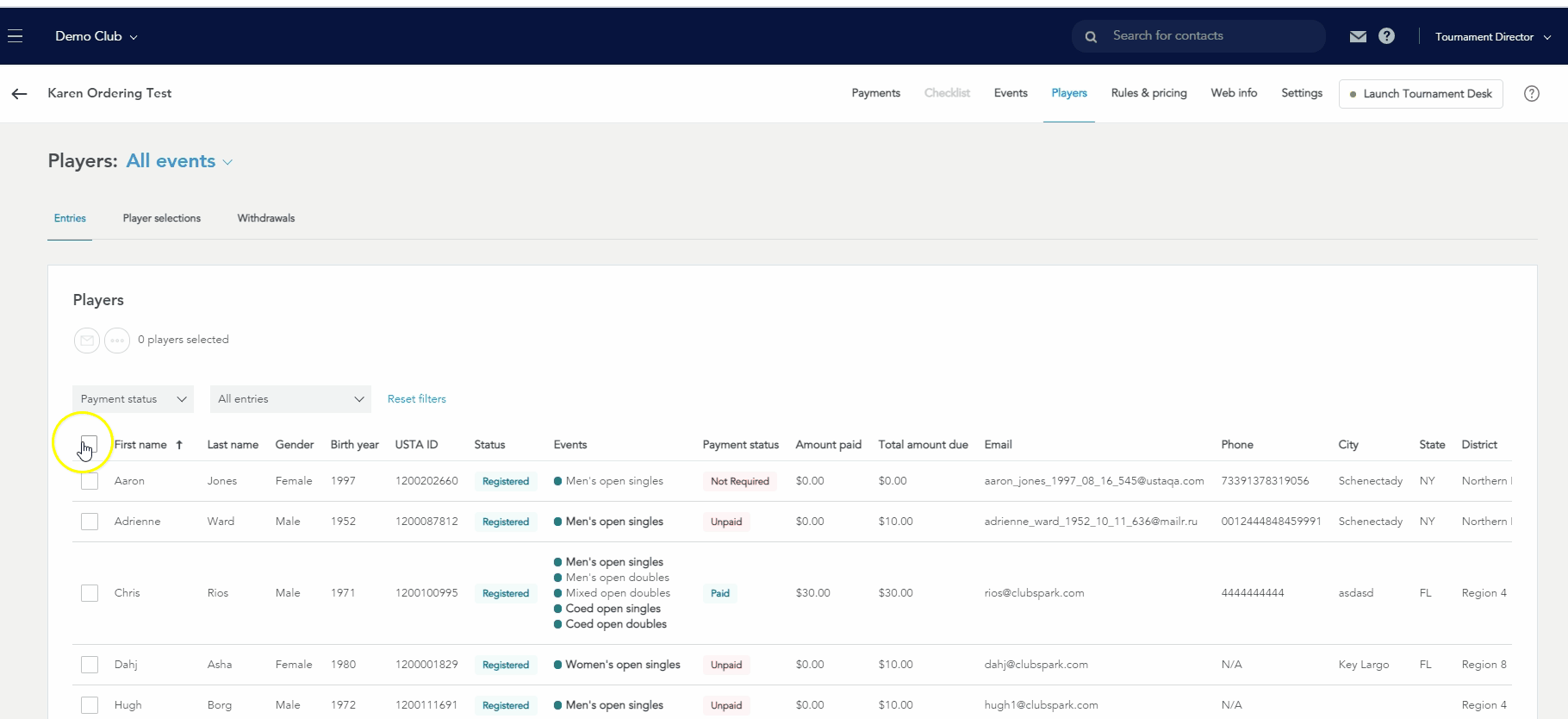 Step 5: Click on the circle with three dots and select Download CSV. The system will let you know how many players are selected.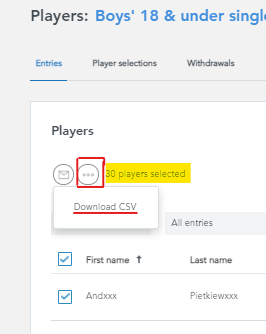 Step 6: After clicking on Download CSV a message will appear, please allow the system a little time to process the request.

Step 7: When the report is available, the message below will display. Click Download.

Step 8: This will open up in a box to view on excel or what you use for spreadsheets. Typically found on the bottom left of the screen or in your download folder. It will appear as shown below.
Providing information on First & Last Name, USTA ID, Gender, Events, Selection, Payment status, the amount paid, the amount due, Email, Phone number, Year of Birth, City, District, Section, and State.

You can save this information on your computer. Please ensure that you do not share this information with anyone else. This data is for your use only.
The $ symbol has been removed, so you can easily add the total amount received from the tournament. To add this up, select column H, and click on the Autosum function button in the top right of the excel sheet.

To determine out how much you should collect after fees have been taken, you can use the calculator found in this article. What Are the Costs of Serve Tennis?