This year, all US Open tickets are mobile. These tickets can be accessed and managed on your phone, through the US Open App or through your US Open Account Manager on a web browser. Please refer to the guides below for additional information regarding mobile ticketing.
How to Accept Transferred Tickets
To learn how to forward US Open Tickets using the US Open App, please follow the steps below.
How to Forward your Tickets
View and Manage your Tickets.

From the US Open app, tap on your event to view your ticket(s), then tap Transfer.

We recommend forwarding your ticket(s) in advance of your session. Those receiving a ticket transfer must have an account. If the recipient does not have an account, they will be asked to create an account when accepting the ticket(s).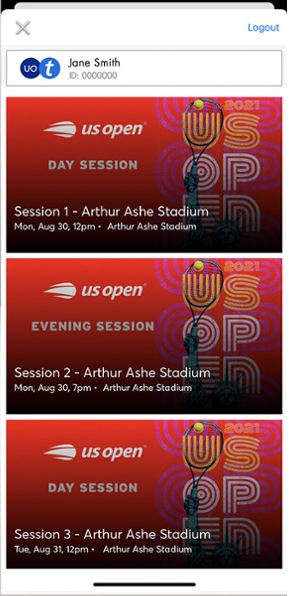 Select the ticket(s) for Transfer.

Select the ticket(s) for the event you would like to transfer, then tap TRANSFER TO.
Complete the Transfer.

Enter your recipient's information, tap Transfer Ticket and you're all set.
When transferring ticket(s) you'll receive two emails: one confirming your ticket(s) have been sent and another when your recipient accepts the ticket(s) you sent.
Your recipient will also receive an email prompting them to accept your tickets. Once the ticket transfer has been accepted, the ticket(s) in your account are no longer valid. You will not be able to get into the event with those tickets.