Section Staff have the ability to choose from the full range of score formats in Tournament Desk. This feature was added to assist section staff to edit the score format from Serve Control if needed.

Whilst the Section Staff can set the score formats available per category or level for the tournament directors using level configuration. There are occasions, such as weather or time delays when Section Staff would need to change this for a tournment.

To do this follow these steps:

Step 1: Open Serve Control
Step 2: Select the tournament and click on Launch Tournament Desk
Step 3: Open the draw - here you have two options. You can edit all the scoreformats for any matches that yet to have the match scores entered - note: It will not change previous matches. Or you can change an individual match to have a different score format.

To edit all matches that do not have scores entered
In the draw - click on Edit to open the options.


Choose from the drop down list and click save. The check mark represents the one they have listed now.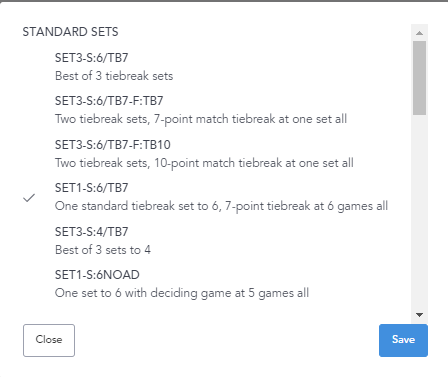 For an individual match
Click on the match and select Enter Score
Click on Edit score format and follow the above. If a score has already been entered, clear score first, save and then edit score format.