You can copy/ duplicate a tournament from a previous tournament. This was built to allow TDs to change the date of the tournament and use the same configuration that was previously used.

It will copy the tournament exactly the same, you will be able to add additional events and edit events, rules etc.

To copy a tournament you need to open the tournament in Serve Tennis.

Tournaments Module - Select Completed and click on the tournament you wish to copy.


In the Events Tab you will see the Copy Tournament button


An overview page will appear - you will need to enter the new name of the tournament, start date and select the payment account if there is more than one listed. Click Copy



A confirmation screen will appear, if in agreement click copy. Note: If necessary, remember you can delete the tournament whilst in planning stage.


You will then get a confirmation page to confirm that the tournament has been copied.

If the level configuration for any of the events have been changed since the tournament was last run, you will be informed in this page. As below. You will then need to add the events in again. This could be because the rules have changed, or new score formats or draw formats are now available when they were not before.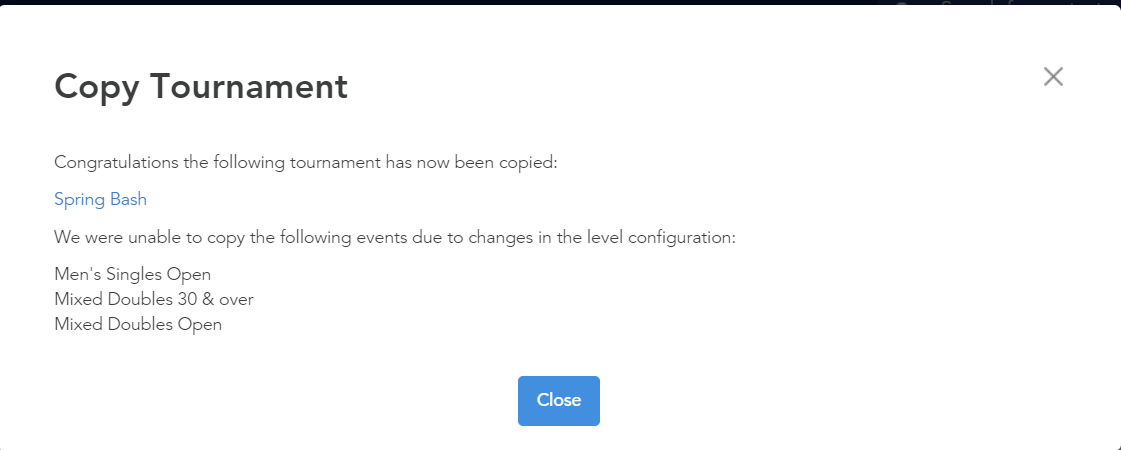 All the web info will have been brought over.


To view the new tournament - click on the Trophy Icon - tournaments and your new tournament will be in the active column. - under status of Pending.

Here you can edit the tournament, add events. Add further information in the web page etc. and then submit the tournament for approval. If you want further information on how to create tournaments etc. see Tournament Application