Once the registration process has closed, as Tournament Director can move a player(s) from one event, into another event. This is completed from within the admin side of Serve Tennis and before player selections are finalized.
This is useful if you need to move players to other events. The process will remove them from the original event they registered on to another event. If they registered themselves and paid online, they will be charged for this event instead.
**Players can only be moved from singles to singles or doubles to doubles events using this method. If a player needs to be moved from singles to doubles, add player to new event and withdraw from old event (prior to selections).
Step 1: Open the tournament in Serve Tennis and select the 'players' tab

Step 2: Select event the player(s) originally registered for from the 'All Events' dropdown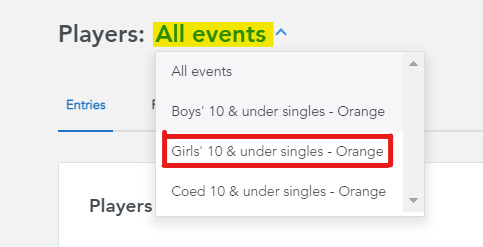 Step 3: In the Entries tab. Select the player(s) you are looking to change events. Then select the circle icon (three dots) highlighted below and select 'Change Event'
Note: You can move player one by one or in bulk. Tick all the players you wish to move.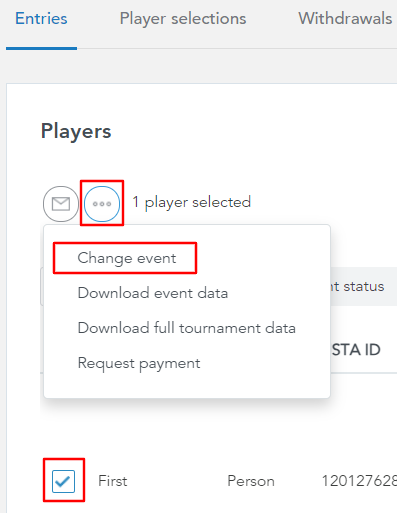 Step 4: An overlay will appear and from the drop-down, select the event you are looking to move the player(s) to and click 'next'

Step 5: You will then be presented with a message confirming you want to make the change and explaining the process. Select 'Yes, move players' if you are happy to proceed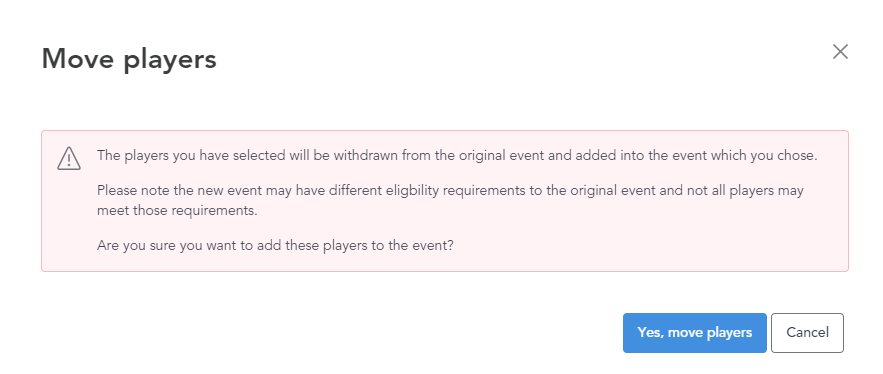 Step 6: The player(s) will now be moved. You should see their name in the new event and removed from the previous event. They will be withdrawn from the original event.


Note: If the player has registered online and paid for the event, they will be charged the amount of the event.