As a tournament director, it is useful to have easy access to the player information, such as phone number or email address. To view this this information within tournament desk you can follow the below steps
Step 1: From Tournament Desk, select Players tab.
Step 2: Click the three dots to the right the players name, under Actions.

Step 3: Click View Player Profile.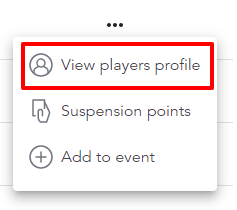 A Players Profile will show name, age, email, phone number, section, and city: