During the planning process of scheduling matches for your tournament, you may run into scheduling issues with overlapped match times for players playing in multiple events. To prevent this, use the Conflict Reports tab in Tournament Desk to ensure proper scheduling for all matches.


There are two ways to view match conflicts - one in a report and two in the draw.
How to Use Conflict Reports in Tournament Desk
Launch Tournament Desk

Navigate to Tournament Desk by clicking Launch Tournament Desk on the tournament menu.

Access the Reports tab.

This is where you can check for overlapping matches.

Generate the conflict report.

Decide on how much time players need in between each match to check for conflicts. Put this amount of time in the drop-down and click Generate Report

.

Review the conflict report.

The report will automatically generate to show how many players have potential match conflicts

with matches starting or ending within the amount of time given.

Reschedule the conflicting matches.

C

lick on the 3 dots at the end of the conflicting matches and click

schedule match

. A window will appear that will allow you to reschedule the match for a more appropriate time. Once done rescheduling, refresh the page and it will show if there are any more conflicts.

If you want to print the report, please click on the print page button from your browser by clicking CTRL + P.

Viewing Conflicts Within the Draw
You can now view individual player's conflicts from within the Draw Tab. To do this, follow the steps below.
Go into the Draw in question and select the match you would like to compare. In the dropdown, select Potential conflicts.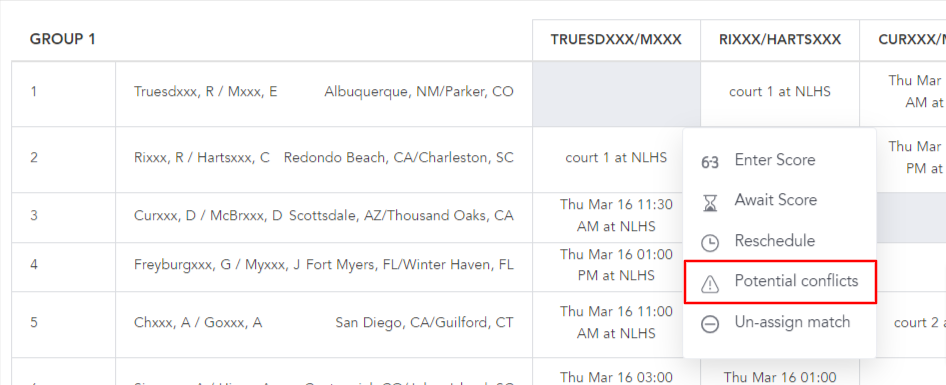 A pop up will open showing all potential conflicts including all of the following information for said conflicts.

Heading Potential Conflicts
Match Details: JONES, Steven Vs BARTON, Will
Match Schedule: Thursday March 16th at 10am
Event Details: Mixed 30O Doubles
Reschedule button - Clicking on this button will open a modal to reschedule the match from where the user came from
Date drop down

Displays a list of all days in the tournament.
Selecting another date will display the list of the matches for the given players on the chosen day.
Default would be the scheduled day of the match.
If the match is not scheduled the default date will be the first day of the tournament

Close icon - Closes the full screen and returns the user to the draws page