Welcome to the new platform.
The platform contains a number of help articles to offer you support and guidance on each of the modules.
You can search via the module names, alternatively you can search using any key words.
What the platform can do for you?
Once you are logged into the admin area of your account, you will see a list of modules on the left hand side of your screen. This will vary depending on your administrator access: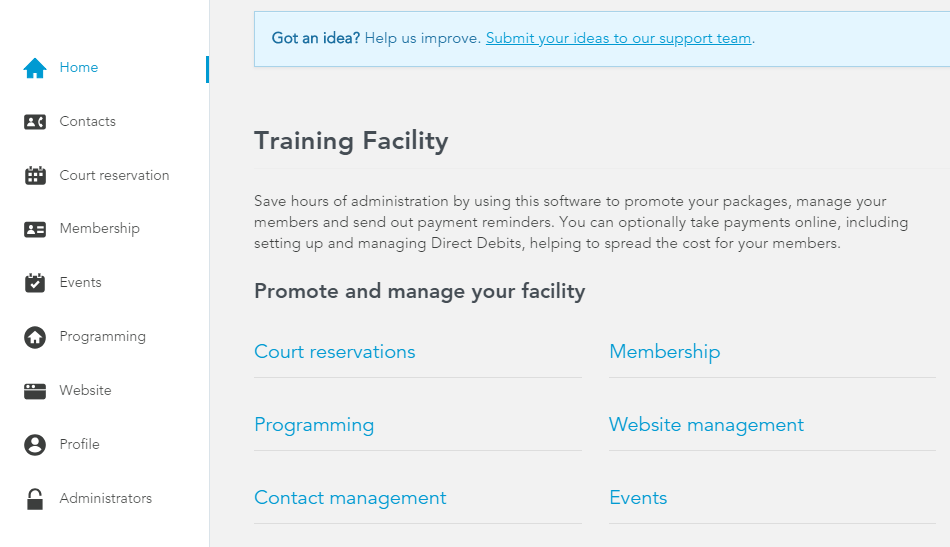 Contacts, here you can manage your contact records, invite users to register with your venue.
Court Booking, once you have created your reservation rules and schedules you are all set to take online court bookings, if you decide to register with Stripe then you can collect payments online.
Membership, you can create a number of different membership packages to offer to a wide group of people (juniors, adults, family).
Events, If you are running any events at your facility, these can be created and advertised through your site.
Programming, you have the ability to set up a number of programming courses (ad-hoc, reoccurring sessions, courses). The module allows you to easily manage all of your classes.
Website, you can create a unique website for your facility and use this to advertise various sessions at your facility. Users will be able to log onto your site and reserve a court in a few simple clicks.