Before you can setup your USTA organization on Serve Tennis, you will need to link your USTA.com profile to that organization. Follow the steps below to link an organization and activate the organization on Serve Tennis. Additionally, click here for a brief video that shows how to link your account to an organization.
How to link an organization to your USTA account
How to activate Serve Tennis for your organization
Receiving an error while linking an organization
PLEASE NOTE: If you are an independent contractor tournament director that is hired by other organizations to run tournaments (i.e. you won't be collecting the player registration fees in your bank account), please ignore these organization linking steps. You will receive an invite from USTA National or your USTA section/district to be added to the approved tournament director list, and then the organization admin can add you as the tournament director. Once added, you can then submit the application.
If you are a referee/official, you will be added to tournament applications later via a referee invite. Once you accept the invitation, you will be given admin rights to the tournament where you will have access to the players' tab (for player selection) and tournament desk once selections are finalized (for draw creation, schedule creation, and event management). For more information on referee access click here.
HOW TO LINK AN ORGANIZATION ON YOUR USTA ACCOUNT

Sign in to your USTA Account.

Choose one of the sign in options, input your credentials, and sign in.

If you've forgotten your USTA Account password, click here for instructions.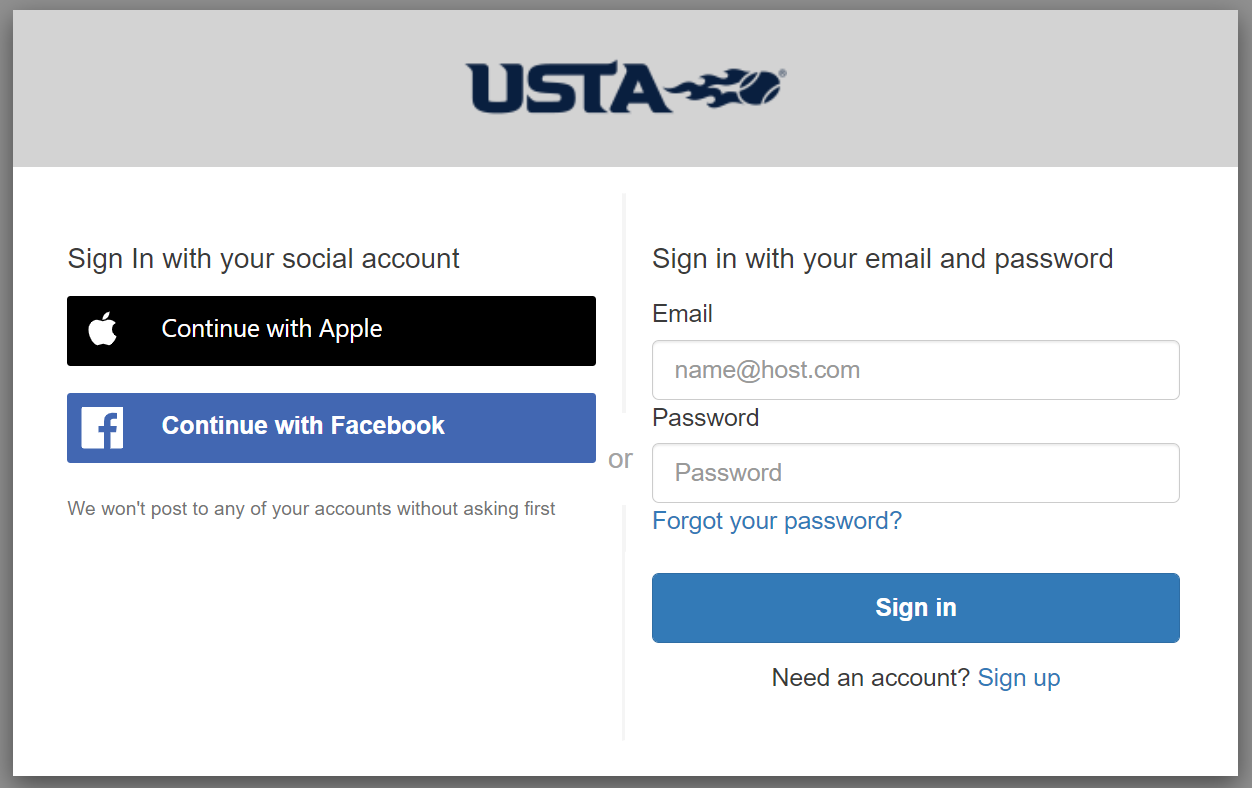 Click on the avatar and go to BUSINESS

Click on ADD AN ORGANIZATION

On the business page, you will see the organization already linked to your account. To link a new Organization, click on ADD AN ORGANIZATION.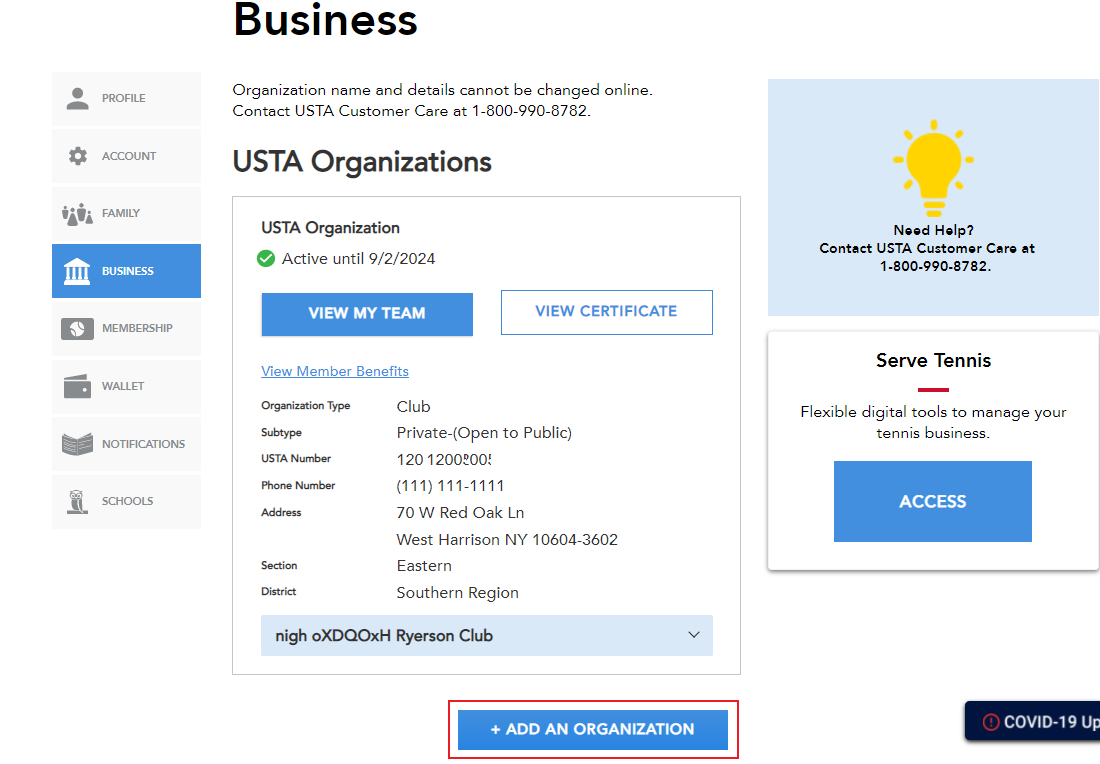 Select Organization type and then search for the Organization by Name or ZIP Code.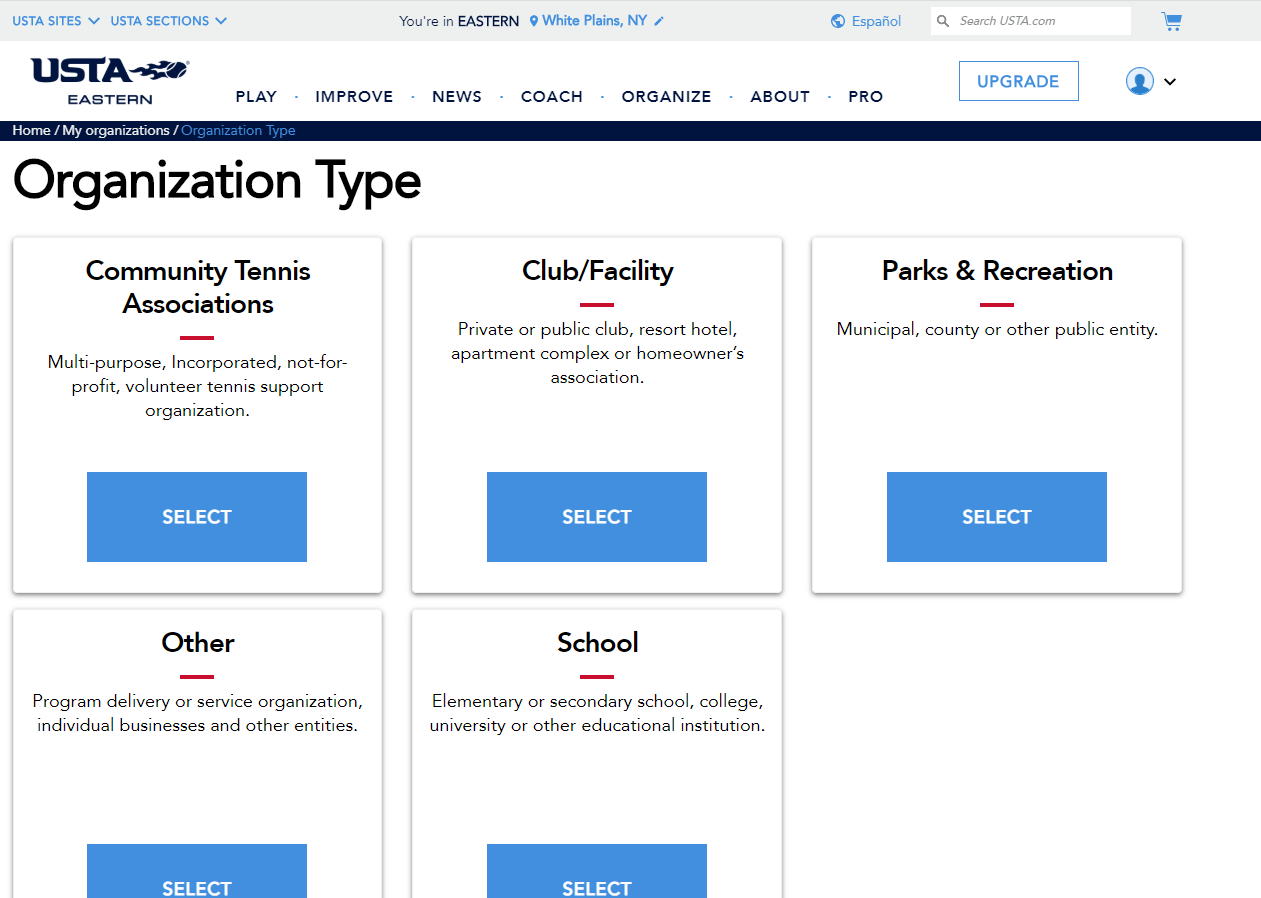 Once you find the Organization, click on it to Link it.

Review the Terms and Conditions, click on the checkbox and then LINK button.
After clicking on the LINK button, you can search for the facility/courts associated to your Organization, and click on the SAVE AND CONTINUE BUTTON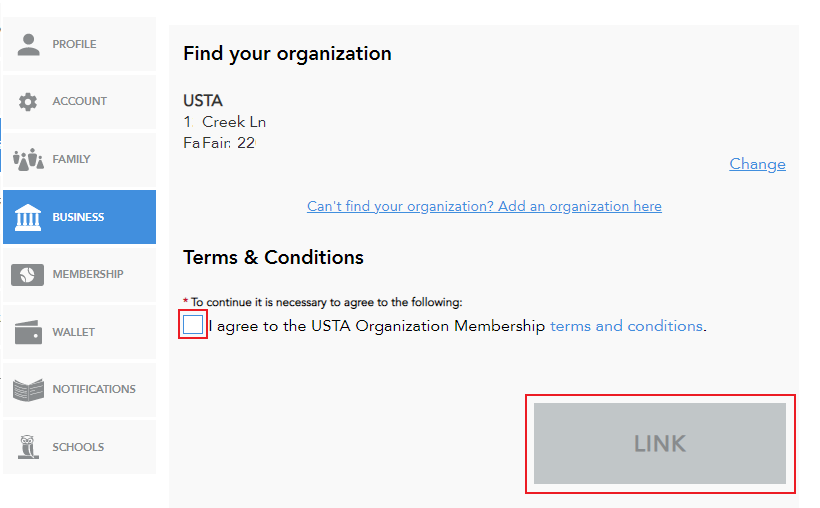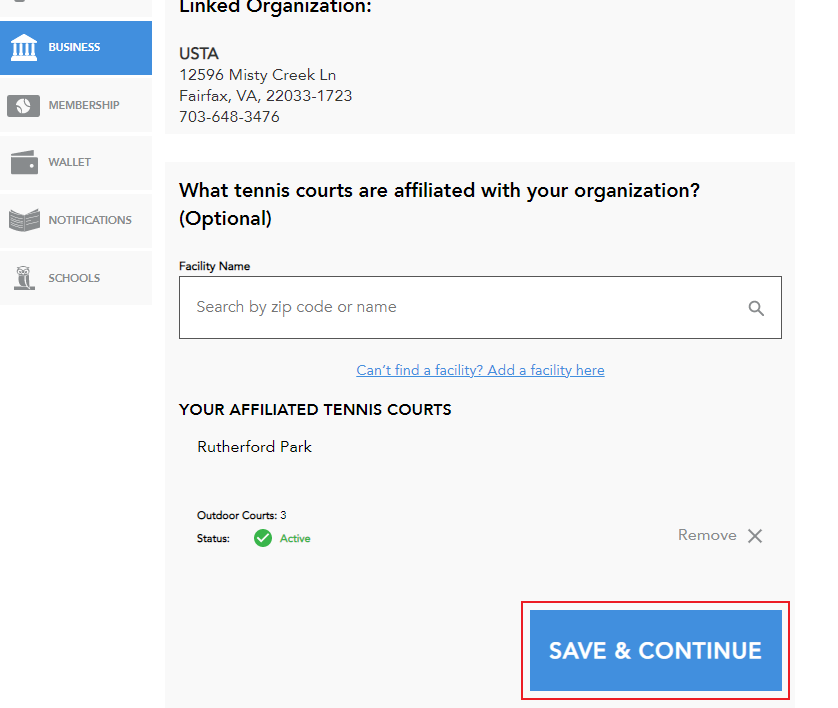 Your organization and facilities associated with it should now be visible on the Business Page. If you see the below error message, click here.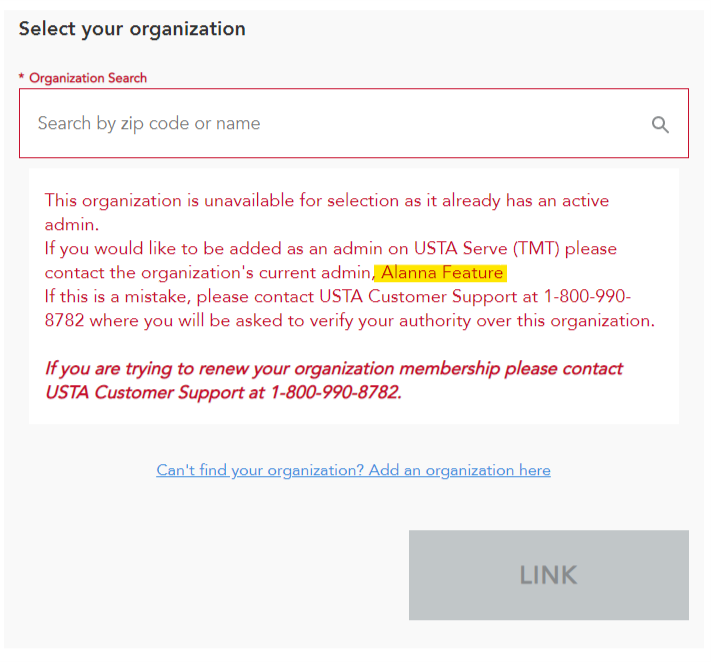 HOW TO ACTIVATE SERVE TENNIS FOR YOUR ORGANIZATION
In order to access and activate Serve Tennis for your organization
Once you are on BUSINESS PAGE, click on ACCESS button as shown below: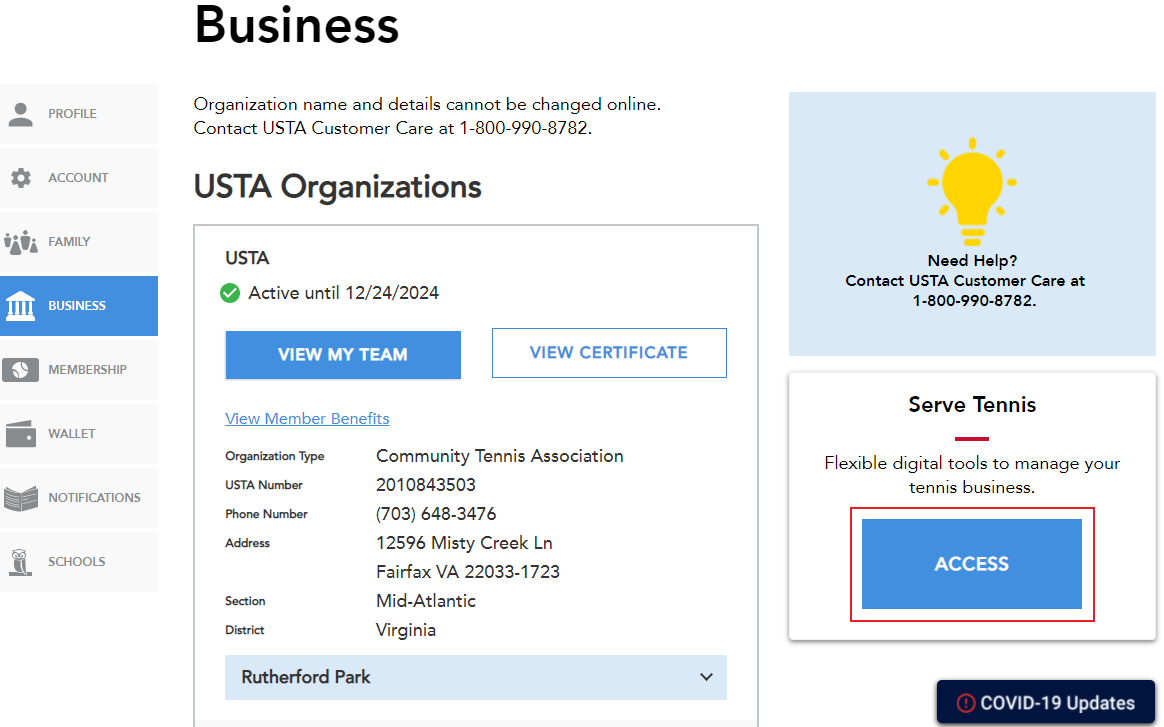 Click on ACTIVATE YOUR ORGANIZATION button: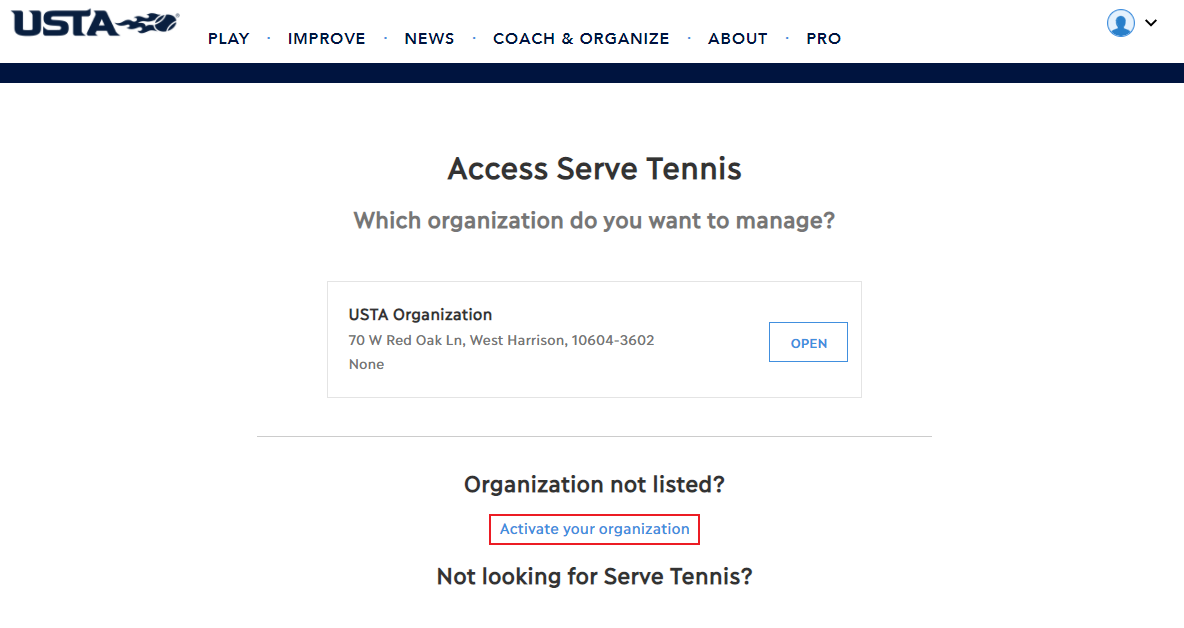 Select the Organization, and then click on the ACTIVATE button below: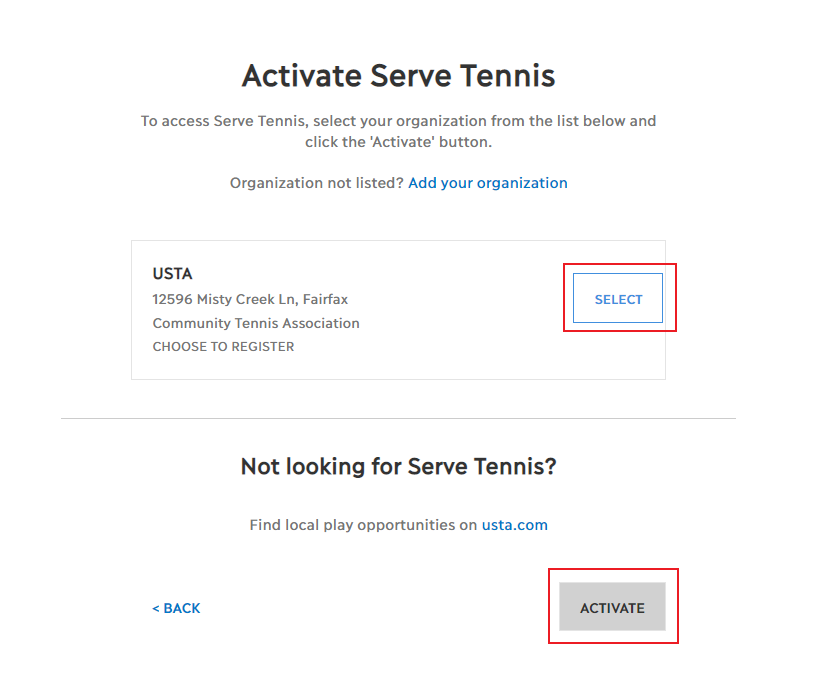 Once you click on ACTIVATE button, you will be redirected to the Serve Tennis Page.

Review the Terms and Condition, click on the checkbox, and then SUBMIT to access the Serve Tennis Modules.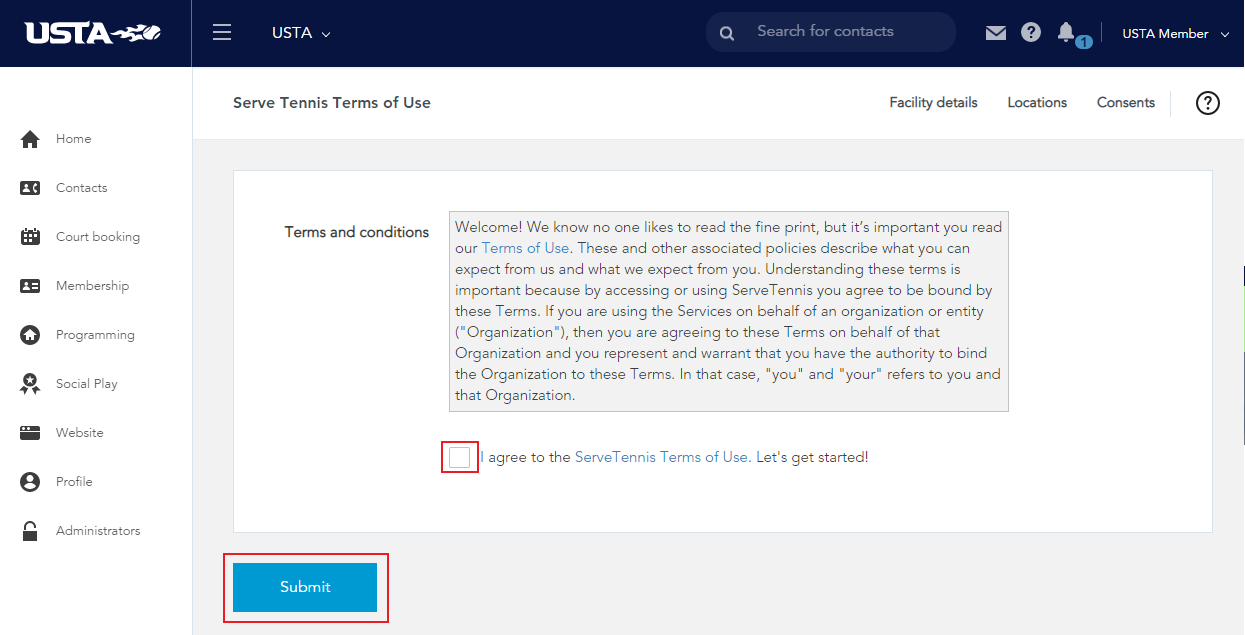 ERROR WHILE LINKING AN ORGANIZATION
If you are receiving the below error message while trying to link an Organization to your USTA Account, please follow the instructions below to determine your next steps.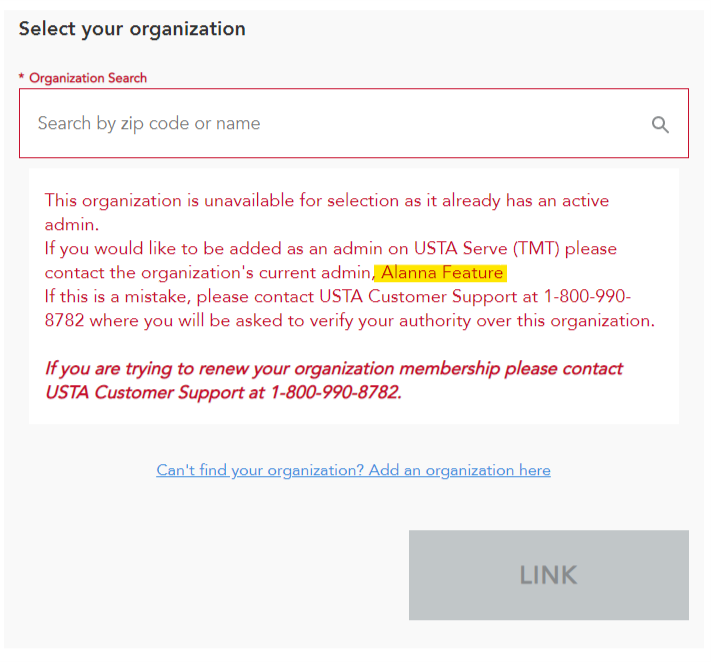 If the Admin listed in the error message (highlighted in the above image) is a known person in the organization, please contact the current admin, and request them to add you as an administrator on this Organization's Serve Tennis Account. For more information on adding administrators through Serve Tennis, follow this article.
If the person listed as current admin is no longer part of the Organization, please reach out to USTA Customer Care at 1-800-990-8780 or at customercare@usta.com.