Why is
declaring residency & citizenship
important?
Residency and Citizenship declaration are requirements for registering in closed USTA tournaments.
Declaring residency and citizenship shall determine the players who may play in Closed Sectional and District Tournaments, the players who may appear on a Sectional Quota List, and the players who may be selected to represent a Sectional Association or District Association in a team competition.
**For junior players, citizenship eligibility or alien status is required for participation in the following events:
Closed District Level 5 Tournament

Section Level 4 Tournament

Closed Section Level 3 Tournament

USTA National Level 3 Tournament

USTA National Level 2 Tournament

USTA National Championship (including the USTA National Doubles Championships)

USTA Team Championships

*** For wheelchair players competing in wheelchair events, citizen eligibility or alien status is not required for participation
When can you declare residency?
Players can only declare/update their residency once per calendar year. You must declare your child's residency prior to registering for a closed USTA tournament.
If your child's residency information has changed more than once in the calendar year, please contact USTA Customer Care.
If you need assistance, please click the blue Help button in the bottom left corner of the page to chat with our team.

Customer Care Chat Hours
Monday - Friday: 9 AM - 9 PM ET
Saturday - Sunday: 10 AM - 6 PM ET
How to Declare Your Residency & Citizenship
Please follow the steps below to access your USTA account and the residency declaration.

Sign in to your USTA Account.
Access the Family tab.

Once you are logged in, click on the User Icon on the top right-hand corner.
Click on Family from the drop-down menu. This will bring you to the Family tab.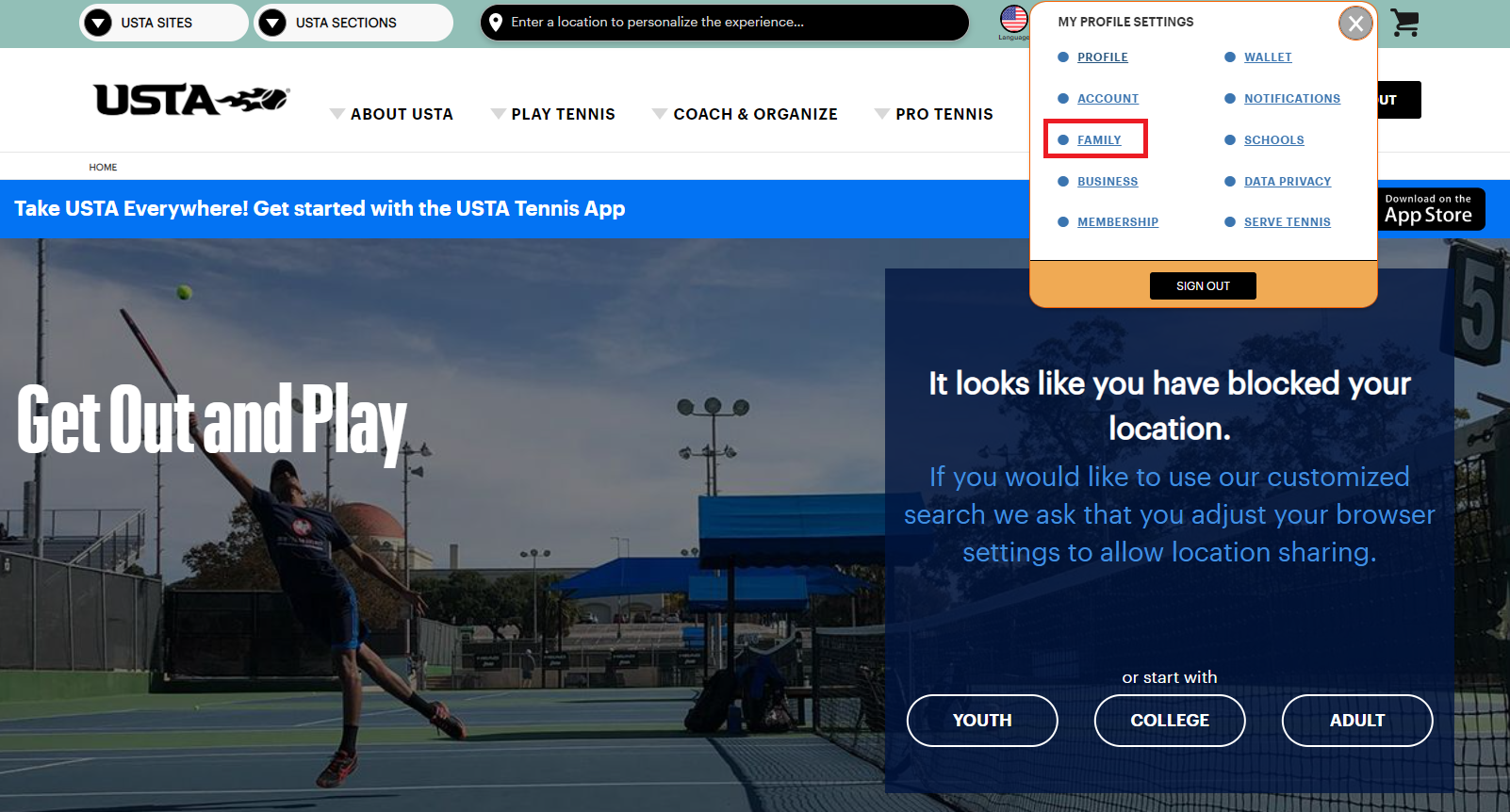 Access your child's account.

Click Edit on the child's record to manage their account.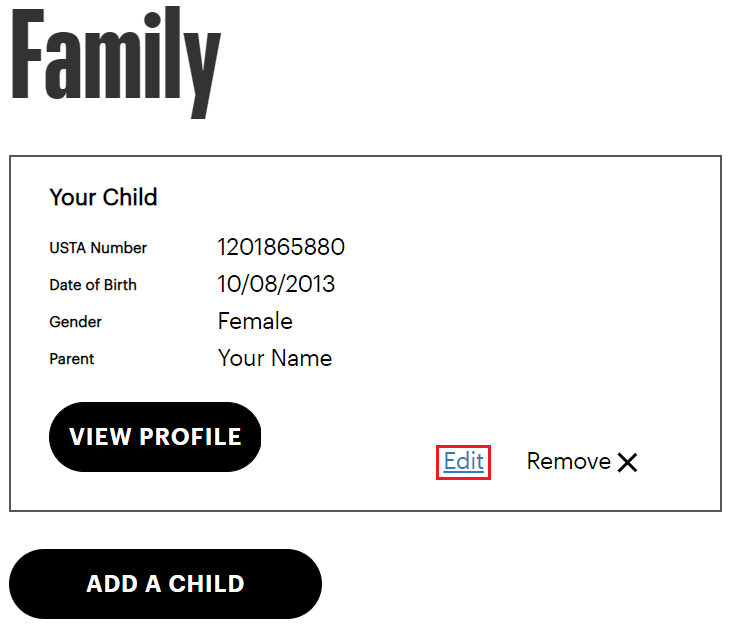 Declare your child's residency & citizenship.


Scroll down to the Player Residency & Citizenship Declaration section of the page.

Input your address. Please confirm your address is correct, as it can only be updated once per calendar year.

International Players will have to contact Customer Care in order to make changes to their Residency Declaration.

For Players located in United States, US Territories (Puerto Rico, U.S. Virgin Islands, Guam, American Samoa, Northern Mariana Islands or British Columbia) will have to acknowledge the Citizenship Eligibility to be eligible to participate in Closed USTA Tournaments.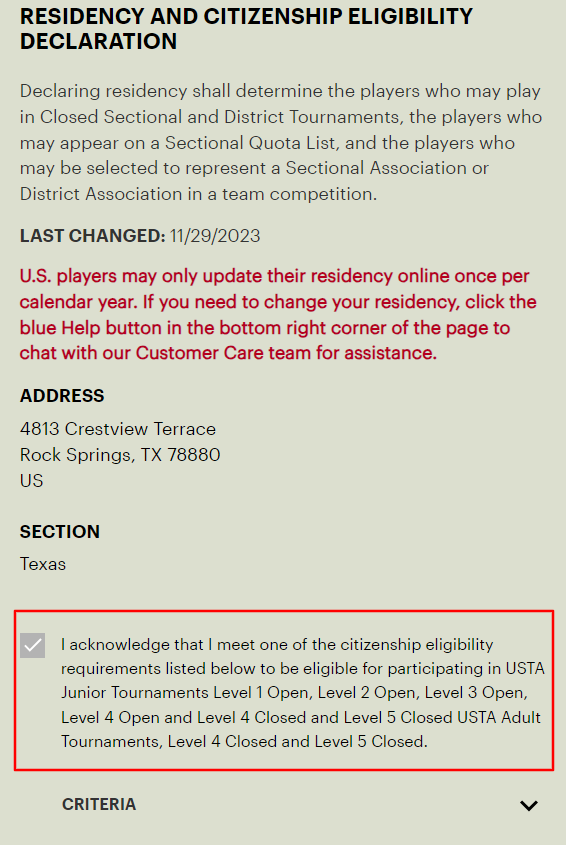 If the system does not let you update your address, you've exceeded the once per calendar year rule. Please click the blue Help button in the bottom left corner of the page to chat with our Customer Care team.

Click SUBMIT.

Your residency & citizenship declaration has now been submitted.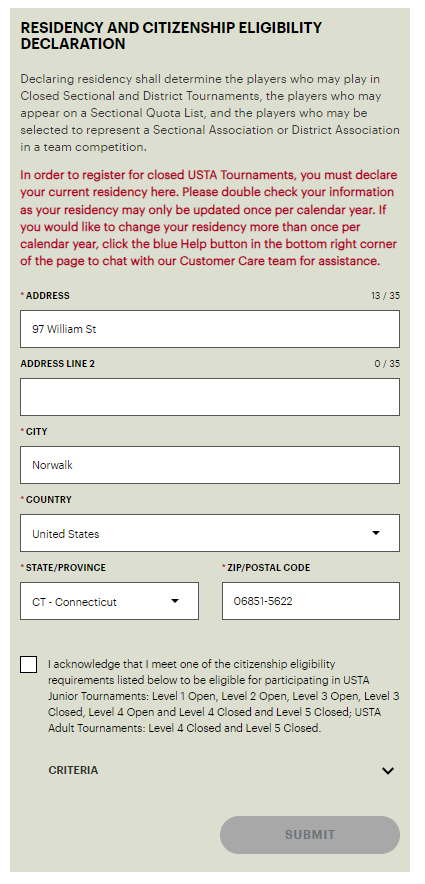 Review your child's Residency & Citizenship Eligibility Declaration


If your declaration was successfully submitted, the current date will display as shown below.