Tournament Desk allows users to bulk entry scores with just the use of the keyboard for fast and efficient score entry. To input scores using the hotkey method follow the steps below.
Step 1: Open the tournament you are looking to add scores for in Tournament Desk.
Step 2: Click on the 'Matches' tab.

Step 3: Click 'Edit scores' on the right side of the screen.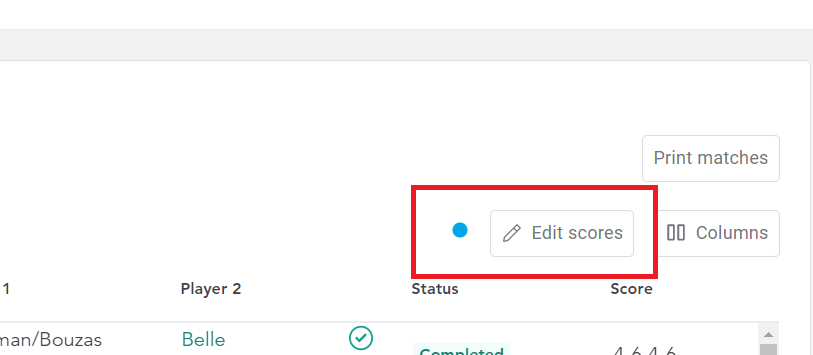 Step 4: Click on 'Enter Score' of the score you are looking to edit first. The match row will be displayed with a grey background to indicate the match selected.
Please note: if you already have added scores via another method in Tournament Desk, they will already be shown.

Step 5: Type only the losing score. For Example, if a player won 6-4 6-4, type '4' '4'. *If the score does not enter, try using the number row on top of the letters rather than the number pad on your keyboard.*

The system will automatically set the player/team that is listed first as winning. If you want to change the scores around, to indicate the player/team listed second as winning, hold 'shift' and enter the score. For example, in the match below, Sabalenka/Barty won 6-4 4-6 (10-4). To enter this score, the user would:
Hold shift and enter 4

Enter 4

Hold shift and enter 4
In the example below, a tiebreak situation is shown. In this case, Scilipoti/Bartone won 7-6(4) 6-3. The scores were entered as follows:
6

4

Space

3
Step 6: After inputting a score for a match, hit 'enter' on the keyboard to move to enter the score for the next match. If you make a mistake, use the 'backspace' key to delete a score. If you need to edit a score you have moved off from, use the mouse to click on the score and then use the 'backspace' key
Step 7: If you need to add in other information other than scores, use the following key guides
Walkover = 'w'

Default = 'D' or 'R'

Abandoned = 'A'

Suspended = 'A' then 'S'

Step 8: Once you have added your scores, click 'Save Scores'.

The scores will now be added to the draws in Tournament Desk.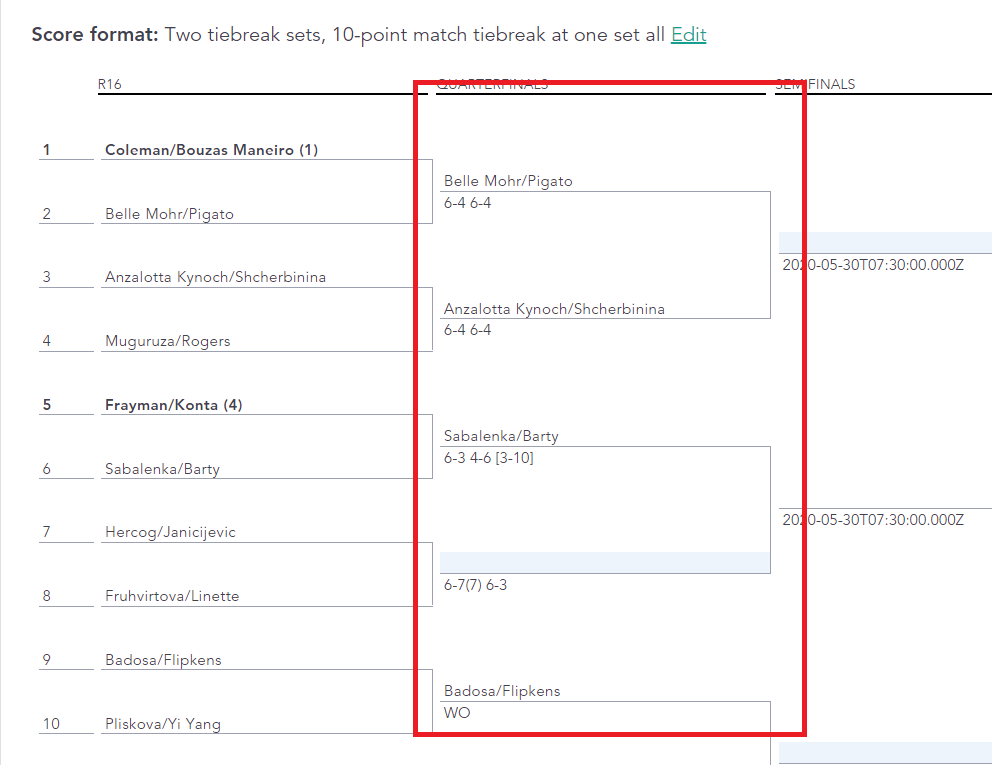 For additional information about entering scores please reference the articles below. You can enter scores in the events tab and matches tab in tournament desk.
Enter Walkover/ retirement to score entry in draws in Tournament Desk