Tournament Directors invites the referee through the tournament admin pages. They do that from within Serve Tennis following the steps in the Changing the Tournament Settings guide. When a Tournament Director adds a Referee to their organization's tournament for the first time, the Referee will receive an email notification alerting them of the selection. If you cannot accept the assignment, you must email the Tournament Director to let them know so they can select a different Referee. If you would like to accept the assignment, simply click on the "Register now" link in the email and sign in to your USTA account that has your Safe Play approval.


NOTE : The referee role will only have access to Tournament Desk (after player selections are completed). To have access to the Admin Side of the tournament within the Serve Tennis Tournament Module, i.e to complete player selections. the tournament director will have to add you as an administrator for the venue. The role of Tournament Administrator will provide access to complete player selections, edit the web info and settings etc.

Learn how to do this here: How to Add and Remove an Administrator to Your Account
Please see the following steps to accept the invitation. This will enable your access to the tournament desk and tournament admin pages.

NOTE: The Tournament Director will need to invite the referee PRIOR to launching tournament desk. If they are invited after tournament desk is launched, then the tournament director will need to add the referee as a Tournament Assistant - see this guide to add Tournament Assistants


How to Accept a Referee Invite
Once the Referee Invite is sent by the Tournament Director, please open the email invite, and follow the steps below.


Accept the Invitation.


Click on the Register now button to register yourself as the Referee. If you want to decline the assignment make sure to contact the Tournament director directly and ask them to remove you from the tournament.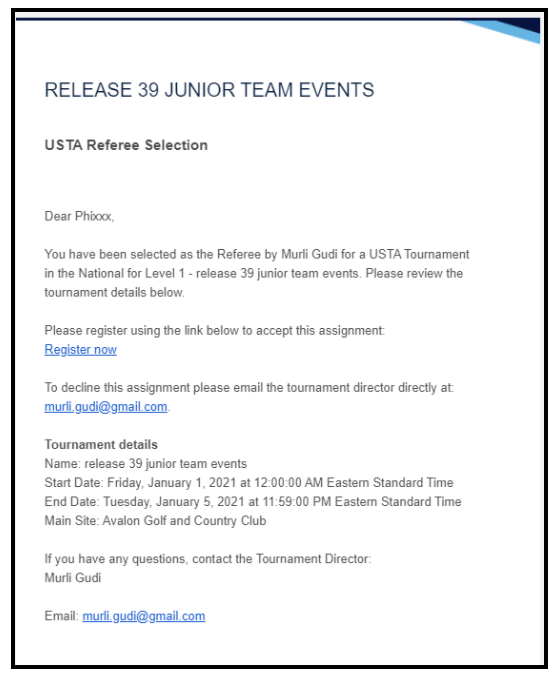 Sign in to your USTA Account.

Choose one of the sign in options, input your credentials, and sign in.
If you've forgotten your USTA Account password, click here for instructions.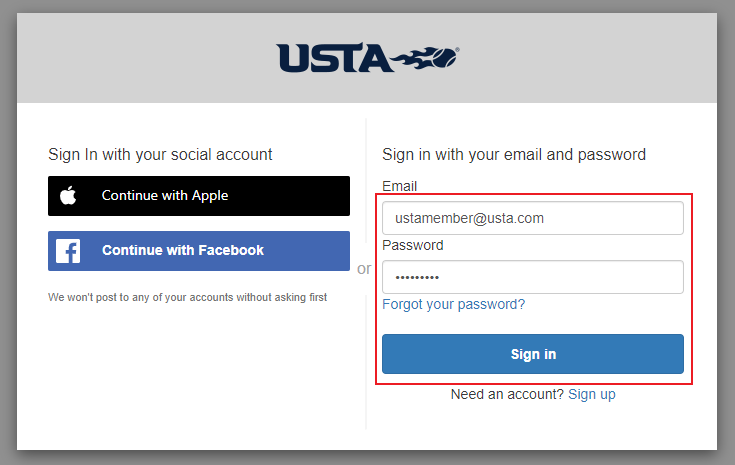 Review the Terms and Conditions.

Click on the checkbox after reading the terms and condition for this invitation.

Once done, click on the CONTINUE button.

Access Tournament Desk.

After the Tournament Director has completed the Player Selection, and Launched Tournament Desk, you will be able to access the tournament via Tournament Desk for the tournament you were invited to.

You can also log into Tournament Desk at

https://tournamentdesk.usta.com/

Remember: To have access to the Admin Side of the tournament within the Serve Tennis Tournament Module, the tournament director will have to add you as an admin for the venue. Learn how to do this here: How to Add and Remove an Administrator to Your Account

For information about entering suspension points, please review this article: How To Add Suspension Points