Once you have set up your stripe express account you will be able to edit the information held on the account. For example, change your email address, bank account details, team members etc. The step by step instructions included below, will assist with editing this information. If you have any questions regarding Stripe Express, please refer to the Stripe Express FAQs.
How to Edit your Stripe Express Account
As a named account holder of the Stripe account, sign in to Serve Tennis and

click on the tournaments module.

In the Tournaments Module head to the Payment Settings tab

Click on Manage on Stripe for the account that needs to be changed.

If you don't see the Manage on Stripe button, you are not the Stripe Express account owner for this account. If you don't see the account listed, please follow the Connecting Stripe Express for Tournaments guide to setup the Stripe account.
Only the account owner can manage or edit the Stripe Express account. If there are more than one Stripe Express accounts linked, you will only be able to edit the one you are listed as the account holder, as shown below.

Clicking on the Manage on Stripe account will open up the Stripe account overlay.

If you are required to edit additional information in the Accounts tab it will show here and give you the option to add this information from this page. Click on Accounts - then USTA settings to open the below options.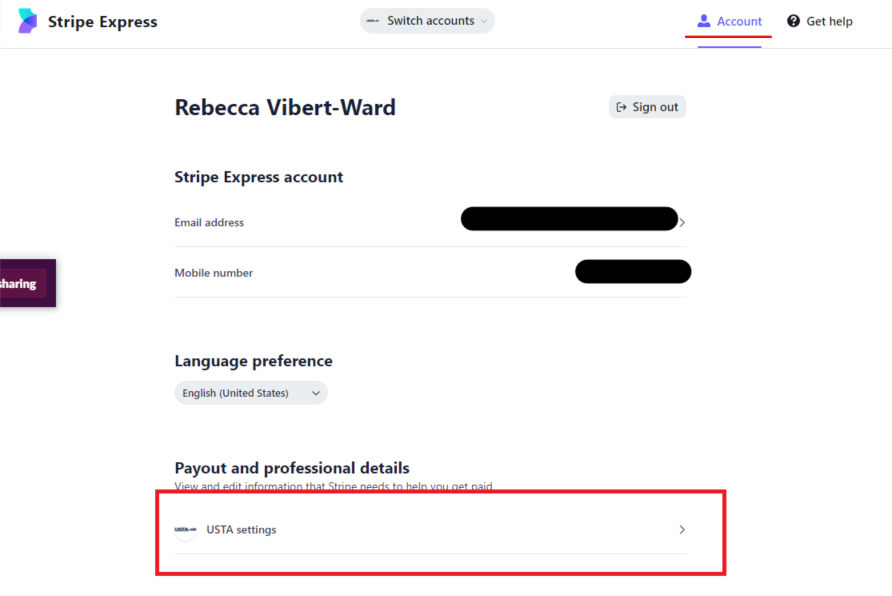 To Update the account details, click on the edit pencil next to one of the three boxes.

From here you will be able to edit your Business, Management and Ownership and the Payout Details. Each section is detailed below.
Edit your Business

Here you can change the industry you have selected.
Management and Ownership

Click on update and change the information. Doing this may require new verification documents to be provided by the new account holder. The Account holder is the person responsible for the account. You can change the following information:

Legal Name of Person
Email Address
Date of Birth
Home Address
Phone number
Social Security number

Then click submit to save your changes.
Stripe informs us that some information cannot be changed once verification begins. Please contact Stripe Support if you need help changing the information associated with this individual.
Payout Details

This is the bank account or visa card that your have registered and where the money will be deposited when you click PAYOUT. You can change these details.

Please note: If your payout is more than $3000, you may wish to change your payout details from a credit card to bank account as payouts over $2999 can not be made by VISA restrictions.
Please note: In order to update this information, Stripe requires the prior bank account information. If you have any trouble updating your bank account information, such as having forgotten your previous bank account information, please contact Stripe Support.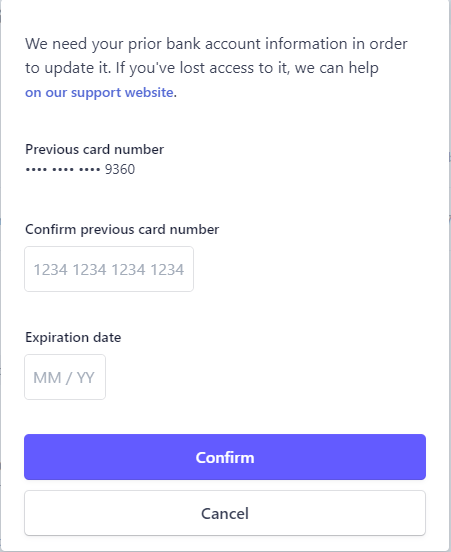 Add owners to your account
You can add upto 2 people to modify information on your account, this is useful if you want others in your business to have access.

NOTE:
Anyone you add here will have full access to this account. This includes the ability to view earnings and tax forms as well as change business and bank account details. Adding multiple team members to your account is recommended to prevent a loss of access in case your team changes.