Intro
After draws are created for the events in a tournament, you will be able to use the new auto-scheduling feature to schedule the tournament. If you wish to schedule matches manually, follow this guide to see the other options for scheduling: Scheduling Matches in Tournament Desk Overview
Video
To learn about auto-scheduling, please click here to watch a video tutorial or follow the step-by-step guide below.
Tips
Prior to beginning the auto-scheduling process, you may need to review that the settings below:
Manage facilities: If you have not done so prior, you will want to configure courts at the facilities your tournament will be held. Court availability is set here. When doing auto-scheduling, it will follow the times and days set here. Follow this guide: Configure Courts at a Facility for a Tournament

Match Settings: Default match times and rest times between matches are set as recommended by USTA. This can be adjusted if needed.

In the Schedules tab - click Match Settings.

To adjust, click the up and down arrows within each event to choose the amount of time desired.

Click Save.

Note- Rest times between events will be related to the event that proceeds that rest time. This cannot be edited at this time but will be added as a feature soon.
Auto-schedule Instructions
Step 1: Click Scheduling on the right side of the screen, then click Auto-schedule.

Each day of the tournament will be listed here. When you click on each day, if multiple facilities are available, they will show here. This is set in Manage facilities-Court availability as shown above.

Step 2: Beginning with the first day of the tournament for the first facility, Click Add Round.
Step 3: You can use filters here to view by event, format, or round. Select the rounds you would like to be played on the selected day and facility.
Step 4: Click Confirm. The events and rounds selected will now show under the appropriate facility as selected.
Step 5: Drag and drop to reorder rounds if needed. Rounds that are scheduled on the top will be prioritized for earlier play time.
TIP: You can click on the icons on the right to split the round into halves or quarters and move them to a different facility or date.
Step 6: Repeat the above steps for each day of the tournament and for each facility available on each day.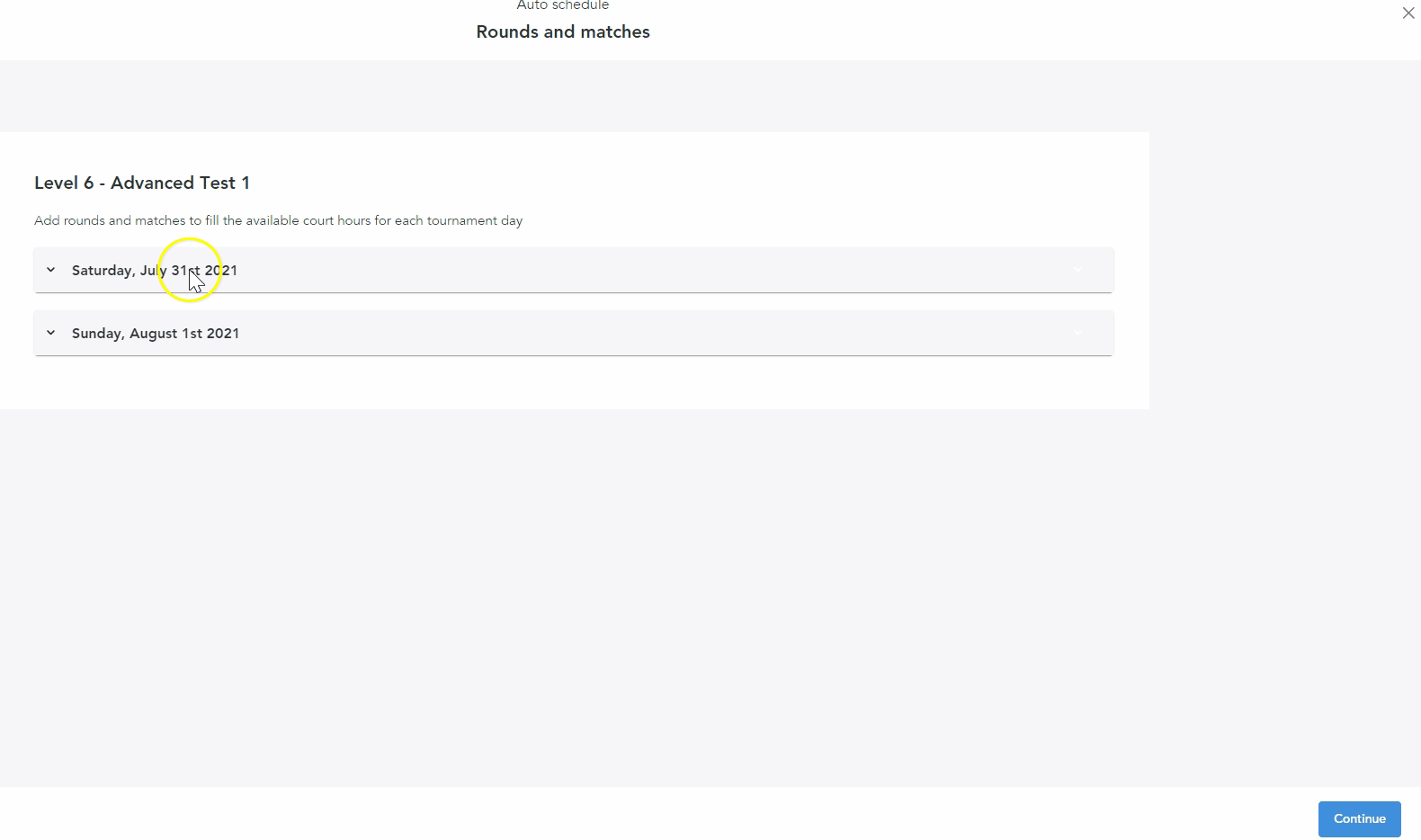 Auto Scheduling can be done in full or partially by only auto-scheduling particular rounds. For example, you can schedule the first 2 rounds at once and then come back to schedule the remaining rounds.

When you have finished, you can use the Conflict Report to see if you have any conflicts - see How to Use Conflict Reports in Tournament Desk
Things to know when using auto-scheduler
Scheduler uses Garman formula on 30 minute slots

All previously scheduled matches will be ignored by the auto-scheduler. To reschedule all matches you must clear the schedule.

Completed matches will not be cleared.