You can display upcoming camps and their details on your website using the Website Module.
Step one: Click the Website Module on the left side
Step two: Click Camps in the list across the top bar

Step three: Click Create a New Camp
Step four: Input details
Show in navigation- If you're ready to display the Upcoming Camps page, tick option. The field will turn blue when on, and grey when off.
Navigation sort order- This determine where Camps will show in the navigation bar
Navigation Text
Show in Footer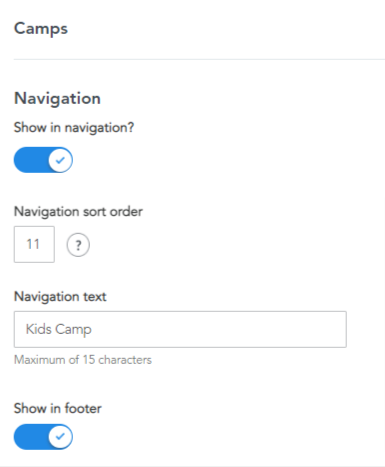 Header Cover image- Upload a photo by clicking browse
As a reminder, you should have permission or a license to use any images you use in your materials and online if you are not the actual copyright holder. Please do not download and use images you find online, on social media, or various other platforms without the permission of the photographer (or other copyright owner). You may think others are downloading and sharing photos all the time so how can it be illegal? Although this may be a common occurrence, it's copyright infringement to use images you do not have rights to. You should not take an image you sourced online and post it on your website or include it in your materials unless you have permission or a license to do so.
Page heading- heading will show over image above

Intro Text- Include any camp details
Sub Pages-You can add up to seven sub pages to your custom pages. In order to add content and edit your sub pages, you will first have to save your custom page.
Click add sub page
Scroll to the bottom of the page and click Save
Now the system will allow you to add sub pages. Click edit and enter your new sub page details. You can add navigation text, a page title, a photo and page text to each sub page.

Search Engine Optimization:

SEO Page Title-A page title tag is an HTML element that specifies the title of a web page
Meta descriptions- HTML attributes that provide a concise summary of a webpage and are displayed on search engine results pages.
Step 5: Click Save