You can publish all the courses created in your programming module that are ready for online booking.
If you would like to include the programming page on your website, select 'show in navigation?' within your provider time tab.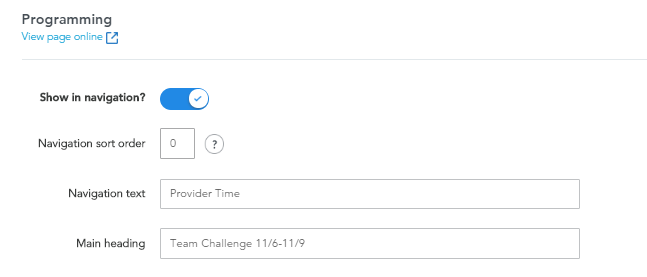 Next add your introduction text and SEO data (page title and meta description).

Now, decide if you would like to hide the course search. The course search is used by players to filter the list of courses available at your venue.

Sub Pages
You can add up to seven sub pages to your programming page. In order to add content and edit your sub pages, you will first have to save your programming page.
The steps to add sub pages from within the programming page are as follows:
Click on 'add sub page'
Scroll to the bottom of the page and select 'save'
Now the system will allow the pages to be added, so you can click on 'edit' and enter your new sub page details.
Split Programming
To display Adults and Junior programs in different tab:
Select the website module, then 'settings' (top right).
Toggle 'split coaching programs'
This will effectively display adult programs on one tab, and junior on another. Thus giving you an extra page.