Add Additional Account Information
After creating your USTA account, you will be given the option to provide additional optional information about yourself. This additional information can improve your USTA experience. The additional account information options are detailed below.


Personal Demographic Information
NTRP Self Rating
After creating an account, adult players (19 and older) will have an option to obtain an NTRP Self-Rating. If you would like to participate in USTA Sanctioned Leagues or Adult Tournaments, you will need a rating. You can complete the Self-Rating during account creation by following the steps below or you can complete the self-rating later, by selecting SKIP and following these instructions at a later date.
How to Self Rate.

Click SELF RATE.
Follow the prompts. Once the rating is complete it will reflect on your account.

Notification Information
To help keep you informed, you can add your phone number and address to your account. If you would instead like to manage the USTA notifications you receive, please refer to these instructions. You can add your notification information as shown below or update it any time by following these instructions at a later date.
How to add your Notification Information.

Input your address information.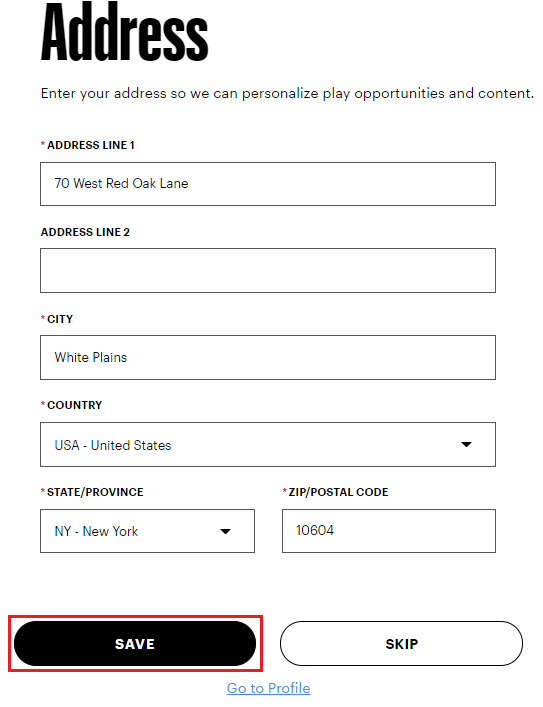 Personal Demographic Information
As the National Governing Body of tennis, our mission is to promote an inclusive, welcoming, and fun environment for the growth of the sport and all its participants. The USTA believes that tennis is for everyone and the more diverse our sport is, the better off we would be. Help us more fully understand the make-up of our sport by answering a few questions. You can add the information by following the steps below, or you can add this information later by selecting SKIP. You may update your personal demographic information at anytime by accessing the Data Privacy tab in your USTA account.
How to add the Personal Demographic Information.

Select the options that best describes you.

Please keep in mind that you must be 13 years or older to disclose your personal demographic information.
Click SAVE after you've completed your selections.