Serve Tennis provides the ability to send emails to your players/parents. You can send emails from the module you are using. i.e. from the tournaments module for those who have signed up for your tournament or from the programming/coaching/membership/contacts module if you are using those modules. To see how to send emails, please see
For all custom sent emails and automated emails from Tournaments Module, you can view the emails in the email log -

envelope icon found on the top right of the screen in the admin pages. How to View Sent Email Communications
In this article we will provide the best practices for sending emails. It is important to follow these to avoid your emails being sent to SPAM folders. Unfortunately, we can't control what is sent to SPAM as email providers such as Yahoo, Gmail, Hotmail for example, all have different and ever changing filters that place emails in SPAM.
Make use of welcome emails
According to GetResponse, average open rates for welcome email are around 80% – and click-through rates are everywhere 22-25%.
Not only do welcome emails give your new subscribers a warm welcome, but they also provide them with relevant content at the right time, when customers are psychologically ready for you.
Consider the way Virgin America, an airline brand, reminds new subscribers why those emails matter—and why they should fly Virgin with various flying advantages.
Simple but still useful.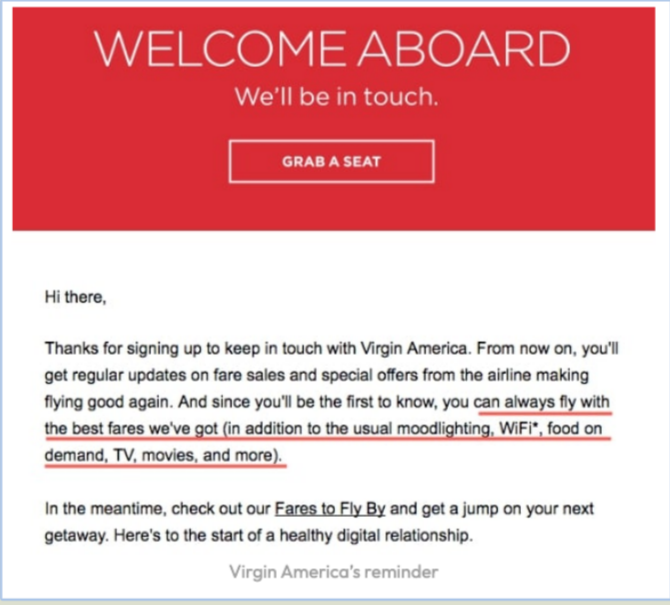 Get the timing right
Every email marketer wants their newsletter to be at the top of the inbox.
Typically, most subscribers intend to pick the emails they see first. However, in reality, there's no explicit rule for when to send out your emails unless you know what exact times work for your audience.
In general, some time slots that usually get the most average email open rates are:
Between 6-7 AM: Aim at those having a habit of checking email after waking up

Around 10 AM: Normally, after people arrive at the workplace and start their working day

Between 1-2 PM: Customers are catching up on emails after the lunch break

Between 5-6 PM: when people need a little pick-me-up to get through the last hour of the workday
Plan a smart thank-you email strategy
Some good reasons for sending a 'Thank You' email:
After a new subscription or membership purchase

After a purchase is made as a way of asking for their feedback

On special days (holidays and special occasions)

After customers reviewed your tournament , product or service
Optimize email subject lines
If you usually don't put too much mind into naming your emails, you should start it now as 47% of email recipients open an email based only on the subject line.
Personalize your emails - We have to admit that no one, even us, will enjoy feeling like being marketed to. That's why creating a personal experience in emails is essential.
Your email subject line needs to make the prospects feel like businesses speaking to them directly, not an automatic program. For example add the name of your tournament or your club in the subject.
Use numbers - Including numbers in subject lines can convey a sense of credibility. Often, hard numbers can grab readers' attention right from the get-go, while a general description of something can easily be ignored. For example " Matches delayed due to rain for 2 hours until 10:00 am".

Convey a sense of urgency - Email subject lines that make sense of urgency can generate a 22% higher open rate.

For example, instead of using "we have a special" phrase for your discount email, you could create an urgent feeling by saying: "Final Hour! Up to [number] Off [product name] . Or you can use "Deadline to register for doubles is 5 pm "

Ask a question - People like answering questions. Questions draw the reader into the conversation as a participant. Try subject lines that pose a question to pique curiosity. Your open rates are likely to increase as people naturally want to find answers.

Give a command- Sometimes your readers need to be told what to do. Giving them clear direction and a strong call-to-action will actually help them take action. The trick is to give a directive without being too bossy.

Consider mobile display -

Subscribers are viewing emails on mobile devices. The subject line parameters change with mobile. iPhone cuts off subject lines after 35 characters but gives 140 characters of preheader. Keep your subject lines under 40 characters to ensure it's readable on every device.
Use eye-catching header
Email headers come at the very top of emails. Studies show up to 50% of subscribers decide to open a message based on the subject line.
It's the first thing your customers will look at and allow them to decide whether the mail they're reading is attractive enough to keep scrolling through. A good header needs to be attractive, brand-identifiable, set the tone for your email and get to the main points.
Include a CTA ( Call -to-action) button or link
Knowing how to use CTA buttons probably can increase your CTRs by 28% over a link-based CTA as the links can malfunction or be mistaken as just more text.
What's more, emails with a single call-to-action can drive clicks 371% and sales 1617%. The call-to-action button should stand out and navigate precisely to the user's desire.
For example - "Click here to register for doubles" or "Click here for hotel directions".
Avoiding Spam Filters
Believe it or not, spam filters are your friend. Unsolicited emails, commonly known as spam, are a huge problem. There are over 200 billion emails sent daily and 59% of those are spam!
An email spam filter is a program that uses an algorithm to determine if an email is spam.
Ways avoid Spam Filters when sending emails:
Send newsletters from your own domain

Optimize your newsletter / email copy - Spam filters don't have the human ability to analyze email copy in context, so they basically flag any email characteristics associated with spam.

How to optimize your email copy to avoid spam filters:

Keep it short. Email spam filters don't like emails that are a mile long. There is not a perfect email length. But if you have more than 200 words or the reader has to work hard to get through it, shorten it

Don't use too many exclamation points!!!!!!!!!!!!!

Avoid writing text in red

Make sure you are not writing in ALL CAPS. IT FEELS LIKE YOU'RE SCREAMING!

Use spellcheck to ensure your email is written correctly



Avoid spam trigger words - While there are no magic keywords to improve your email deliverability, you can limit the use of risky words to reduce the chance of emails going to spam.
The main thing you want to avoid when writing emails is sounding:
Desperate

Pushy

Outlandish (too-good-to-be-true)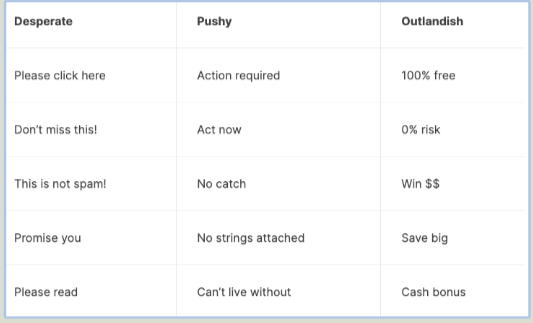 Check your link quality
Every domain you link to in an email has a reputation. If you link to a domain with a bad reputation, it will impact your sender reputation. This is because sender reputation is largely determined by domain reputation. So when you link to dubious external sites, your sender reputation is influenced by association.
To protect your link quality:
Link only to legitimate sites with reputable domains

Don't use link shorteners like bit.ly and TinyURL

Check your affiliate links to ensure that they're above board

Enable double opt-in on your signup forms—turn bots away at the door by enabling double opt-in on your sign up forms
Put some thought into your subject line
Your email subject line is crucial for your open rate, but it's also an important part of reducing spam marks. People can take a quick look at your subject line and decide to mark it as spam. That's why we advise you to put some thought into your subject line. You can use the tips mentioned earlier (avoid all caps, fishy phrases, and excessive use of exclamation marks) to create a risk-free subject line.
In most cases, you'll be more than fine if your subject line is relevant and written with the reader in mind.
Ask subscribers to whitelist you
Whitelisting is when an email recipient adds a sender's address to a list of approved senders so that emails from that address are never filtered as spam. Instead, when a recipient adds an email address to their whitelist, they are verifying that they trust the sender. This instructs the subscriber's email client to send messages straight to the inbox.
When you ask subscribers to whitelist you, send them a quick set of instructions to make it super easy.