As a USTA Admin in Serve Control (National/section/district staff) you will be able to make certain edits to tournaments in Serve Control under the following guidelines. The following charts list the different actions within a tournament that can be edited and when editing is/is not possible.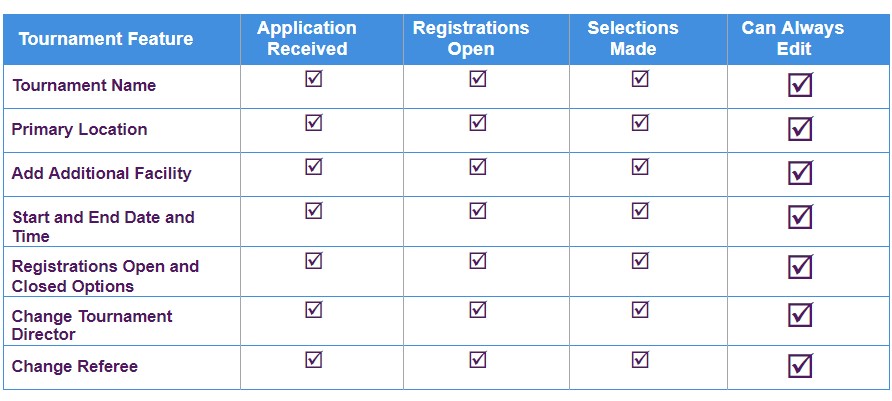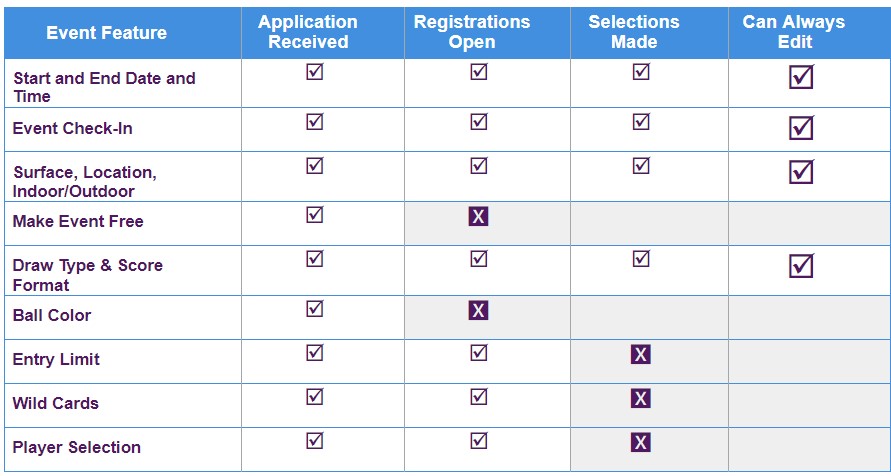 Please note - once the Tournament Director has submitted his application, they lose the ability to edit unless you change the status of the tournament back to planning. If an edit needs to be made it will need to be done in Serve Control. The TD will be able to edit their webpage information.
How to EDIT:
To edit you will need to log into Serve Control.

Click into the desired tournament.

Click 'Edit Tournament'

Use the above charts to determine when and if you can make particular edits.

Click the corresponding tab on the top left of the screen to edit Events, Rules & Pricing, Web Info, or Players.

If editing an event, under the particular event click the '...' under Actions, Click 'Edit'

**Please note: Access to Serve Control granted to USTA National, Section, and District staff only**
If you need to cancel or hide the tournament see : Cancel/Hide Tournaments in Serve Control
If you want to delete a tournament please raise a ticket to Customer Care who will pass this to Technical Support to delete.