All USTA Providers are required to renew their Safe Play approval through
usta.com/safeplay
in order to receive accurate Safe Play status updates. Before renewing your Safe Play approval, you can check your Safe Play status by following the steps below. If your Safe Play status is not up to date, please proceed with following the renewal steps included later in this article.
How to Check your Safe Play Status
Access the Safe Play Page.

Visit USTA.com, hover over COACH & ORGANIZE and click Safe Play.

Once you are on the page shown below, click CHECK STATUS.

Sign in to your USTA Account.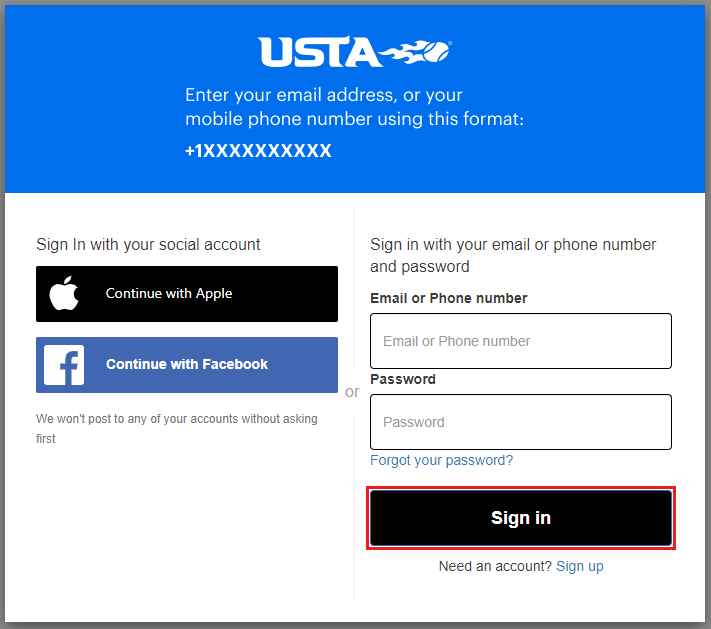 Once signed in, you will be informed of any Safe Play Requirements that need to be renewed.

The expiration dates for your Safe Play Requirements will also be listed for reference.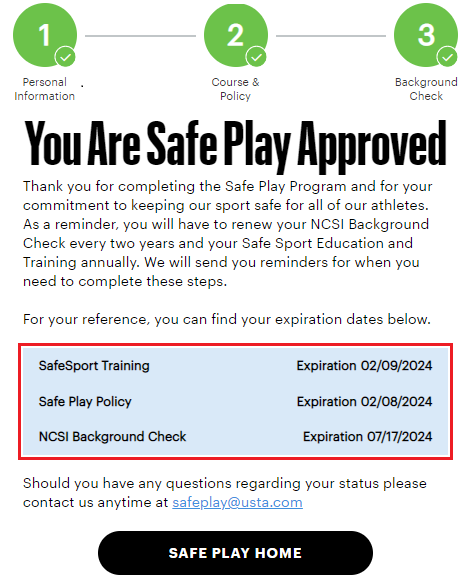 How to Renew Your Safe Play Approval

Click on RENEW to begin renewing any Safe Play Requirements that need to be updated before they expire.

You will be considered Safe Play Approved once all three steps are highlighted green.
The new expiration dates for

your

SafeSport Video Course, Safe Play Policy, and Background Check

are also listed for reference.
The steps to renew each Safe Play Requirement are listed below.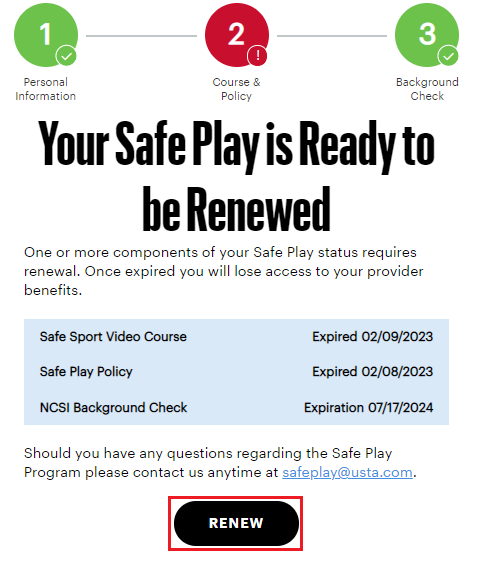 Renew your SafeSport Training and Safe Play Policy
Review the SafeSport Training information, then click LAUNCH TRAINING near the bottom of the page. This will open a new tab.
After you've clicked Launch Course, continue the process from the new tab.
To start the course you must first accept the SafeSport Terms and Conditions and the Safe Play Policy.
Continue through the courses to complete the training.
You may experience a 60-second delay while the system prepares your SafeSport Training for the first time.
You can download your certificate after the training has been completed.

For steps on how to download your certificate,

click here.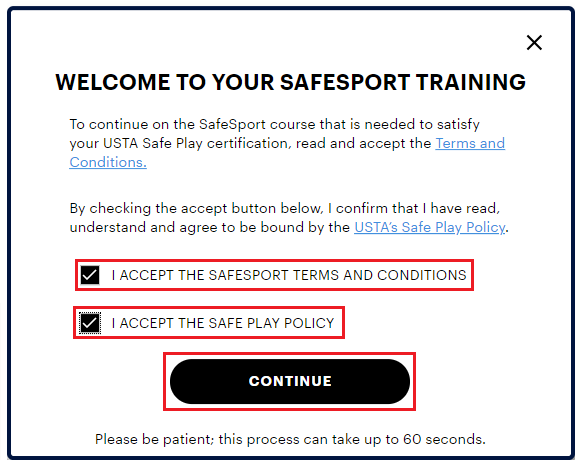 Renew your NCSI Background Check
Review the information, then click Launch Background Check near the bottom of the page. This will open a new tab.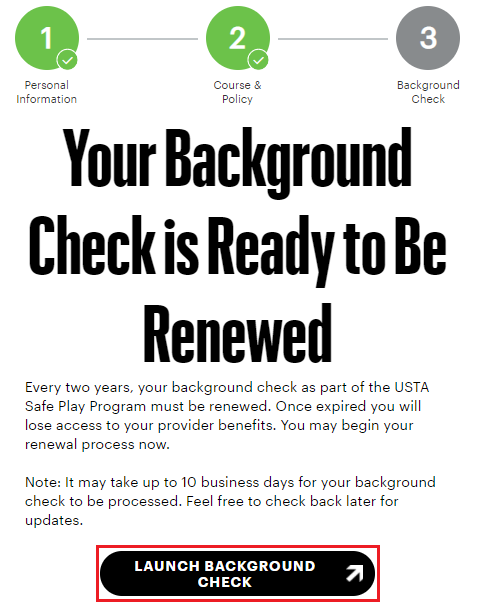 From the new tab, follow the steps on the NCSI website to complete the background screening process.

Upon completion of the NCSI background check, you will receive a 16-digit NCSI Applicant ID. The ID will be listed on the Background Screening Confirmation page.

Please make note of your 16-digit NCSI Applicant ID for your records.

If you need to check the status of your background check, you can do so by contacting NCSI at support@ncsisafe.com

Please Note: An 8 digit organization number is not required to complete the NCSI background screen. If you are prompted for this information, it means the system has timed out. Please sign out and sign in again to bypass this request.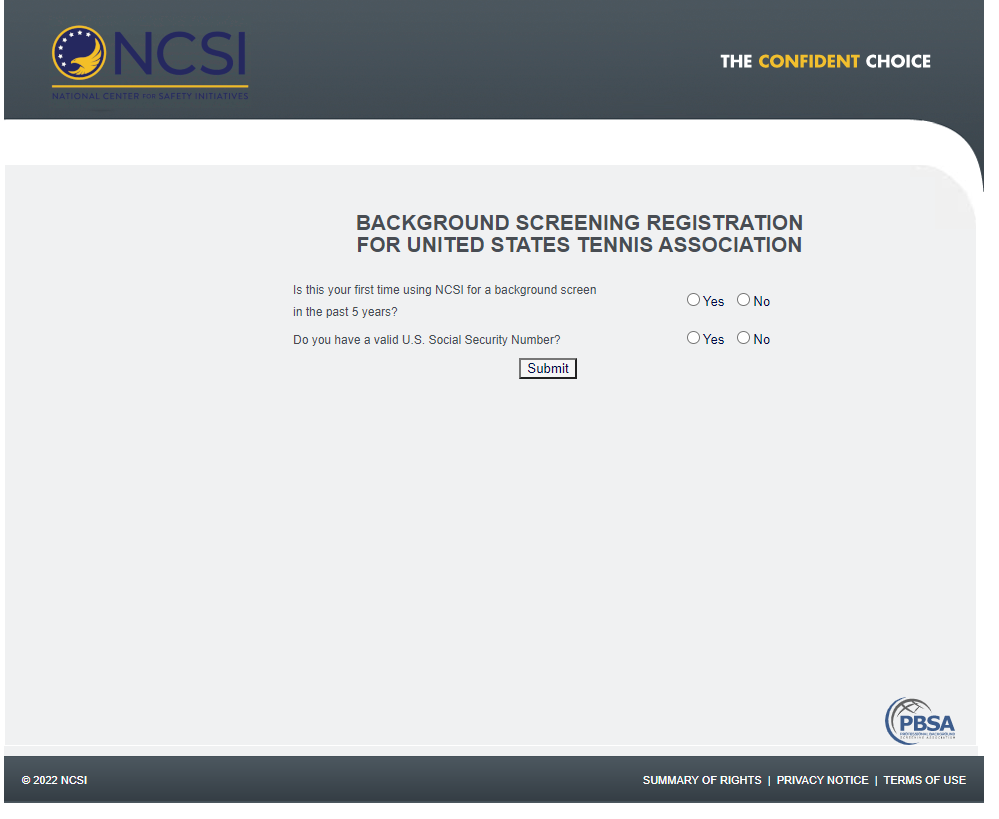 The Background Check page in your USTA account also provides information on the status of your screening.

The page will indicate whether your screening is pending, approved, or denied.

You will be notified on this page if NCSI needs additional information from you as shown below.
Once all 3 steps are completed and the numbered circles are showing as green in your account, you will be considered Safe Play approved.

Please keep in mind USTA Providers are required to renew their Safe Play approval annually through usta.com/safeplay in order to receive accurate Safe Play status updates.

The SafeSport Training & Safe Play Policy acknowledgment is an annual requirement while the background screening is required every two years.