To manage the calendar at your venue, click on the 'Court booking' module along the left-hand side of the admin page, then select 'Settings' and scroll down to 'Manage calendar'.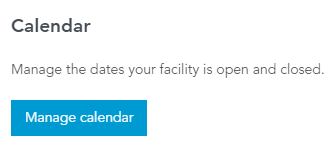 Managing your calendar allows you to choose the days when your venue is open and closed throughout the year.
Your calendar will display the days of the year already passed as white tiles and you will not be able to edit these.
The tiles representing the remaining days of the year will be displayed as a color corresponding to being either open or closed, as shown in the image below.