You can manage the roles and responsibilities at your venue from the Court Booking module. Click here to watch a brief video or reference the information in this article.
To manage the roles and responsibilities at your venue click on the Court booking module along the left-hand side of the admin page. Next, click Settings in the top right of the page and then select Manage roles and responsibilities.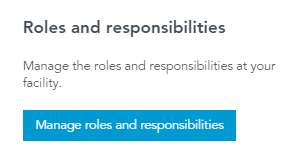 This section allows you to create roles and responsibilities which can then be given to contacts or members and applied to your schedule(s). For example, you could create a League Captain role and apply this to your schedule every Tuesday evening between 19:00-21:30. This would mean only users with a League Captain role can book at this time. For help on how to apply roles and responsibilities to your schedule, please see Managing Your Schedules.
You can give the role a name, a description, and "archive" it - if no longer in use.
Make sure you save any changes you make by clicking the Save button before you exit the page.