To set up the bank account in which your tournament fees will be collected you need to set up a STRIPE express account. You will not be able to set up the tournament without creating the STRIPE express account first.

This can be done by the tournament administrator, administrator, or super administrator within the Serve Tennis administrator roles. However, the person setting it up has to have access to and responsibility for the bank account. So if using an organization's bank account, it should be set up by the person responsible for the finances of the organization.

NOTE: The STRIPE express account in the tournament module is only for the tournament module. The STRIPE express account is slightly different from the classic STRIPE account. It is a different process from the programming, court booking, and membership module. You can add multiple STRIPE express accounts for each tournament director.
We have created a Frequently Asked Questions article that may assist you.
Prior to starting you will need the following information:
Mobile number to verify STRIPE account (you will need access to the mobile to receive the verification pin number)

Email address you wish to be associated with the STRIPE account

Your Social Security Number (personal) or Employer Identification Number EIN (company)

The bank account where you wish to receive payments. You will need your account number and routing number or card number and the expiration date of the debit card.
Step 1: From your Serve Tennis account, click on the Tournaments module of the lefts side.
Step 2: Click on set up a payment account as seen below





Step 4: Choose Personal or Company
Personal: Is to your own bank account. Your name will automatically be entered and you will not be able to change it.
Company: Is to your company bank account that is linked to a company, you will be able to enter the company name.


Step 5: You will be sent a verification code to your mobile. Enter this here.

If you have joined as a company- You will need to complete:
Business name / EIN / Registered business address (this is where the business bank account is associated) and phone number.

For Industry, we recommend you choose: Entertainment and Recreation - Other entertainment and recreation, and in the product description you write Tennis Tournaments and your website URL.
On the next page, you will be able to add other business owners who you would like to have access to this account. You will need to provide their name and email address or you can continue without adding any business owners.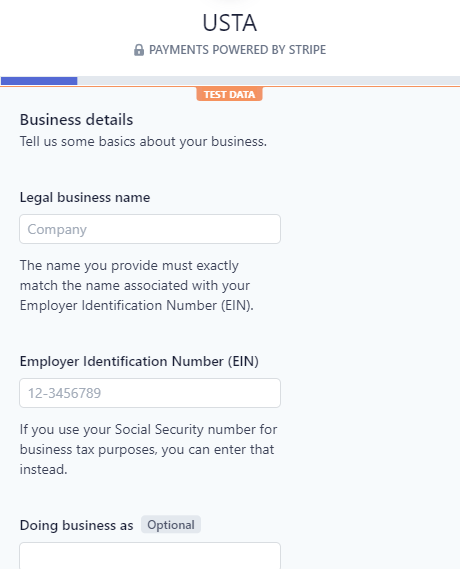 Step 6: On this page, you choose between a Bank Account or Debit Card to receive payments

Step 7: This page is the verification summary where you can edit details if necessary.

Step 8: If this goes through correctly you will be returned to the Serve Tennis account and be able to set up for the first tournament.

From the payment settings page you will be able to manage the account, click on Manage on Stripe and it will take you directly to your account where you will see payments received. You can also go back and add others to the account or change the bank details. To get back to this page - you will find it by clicking on the Payment Settings tab on the top right of the tournaments module.




If you need to deactivate your STRIPE account please contact Customer Care and we will be able to do this for you.

If you have any questions about your account, the account owner can contact STRIPE through the dashboard or their help center. From experience, they are quite quick to respond. Use this link to access their page https://support.stripe.com/
FAQS:

Q: Why do individuals have to enter the last four of their SSNs when setting up Stripe – will this have any impact on credit // taxes?

A: Social security being added will not affect credit/taxes. Stripe is required to verify your identity and confirm the legitimacy of your business, as it is part of their responsibilities to their financial partners. This is also typically known as "Know Your Customers" (KYC) regulations. To do this, Stripe needs your Social Security Number and date of birth.

Q: If I am connecting to STRIPE as a business, why do I need to put in my personal information and the last four digits of my social security number?
A: Stripe allows users to connect as a company/business but there has to be the main individual that gets verified as a real person as the contact for the account. This is pretty standard for any online transaction. This ensures that chatbots can't set up fake stripe accounts or any bad actors that might scam consumers with fake programs. They verify Business EINs and individual social numbers for security purposes. Essentially they are acting as a bank for collecting the business's fees. When you go set up a bank account for a business there has to be a main account contact who is an individual attached to the account.
Q: The TD linked his Stripe Express account to the tournament, however he is no longer the TD for this event. How do I change the payment account linked to a tournament?
A: You can edit which Stripe Express account is linked to a tournament by clicking Settings, then selecting the correct payment account. This must be done by a Tournament Admin. Feature COMING SOON