If you are a player or parent who has tournament or match-related questions, please reach out to the Tournament Director. They will be your point of contact. To locate the Tournament Director's contact information, please follow the steps below.
Prior to tournament registration:
Step 1: Navigate to the Tournament Search Page (https://playtennis.usta.com/Tournaments).
Step 2: Search for the tournament and click on the box. The tournament information page will display. All tournaments will have a tournament information page with the contact name and email of the Tournament Director.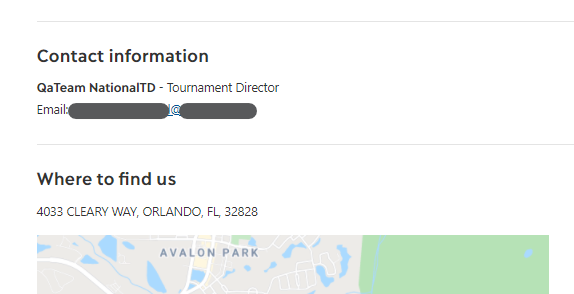 Post-registration:
You will receive a tournament confirmation email after you've successfully registered for a tournament. The Tournament Director's contact information will be listed in the email for reference.
Note: Please provide as much detail as possible when contacting a Tournament Director. Include such details as the name and date of the tournament(s), your name, and USTA membership number.