Different tournament registration email communications are provided to keep you informed.
During tournament registration you have the opportunity to confirm the email and phone number that will be used to keep you informed. If you choose not to input contact information during registration, the system will use the email and phone number already listed on your or your child's USTA account. Please reference Step 8 in either of these articles to learn more about this option:
If you choose not to input contact information during a tournament registration, the type of USTA account and age of the player will determine which email address receives these messages.
If you are unsure which contact details are on your account or if you would like to make changes, click here for instructions. Please note changes and updates must be made to your USTA account before a tournament registration for the information to be utilized.
How it works
If the player is 18 years or older, communications will be sent to the contact information listed on the player's USTA account.
If the player is between 13 and 17 years old, communications are sent to both the player and parent.

If the parent and child account is linked and each has contact information on their USTA account:

Both accounts will receive tournament communications regarding the junior and

non-automated communications from the Tournament Director.

If the parent and child account is linked and only the parent has contact information on their USTA account, the parent will only receive communications regarding the junior.

If the parent and child account is not linked, the contact information on the child's USTA account will be used for communications.

If the player is under 13 years old, communications are sent to the parent's contact details. Only the parent's information is listed on the junior's USTA account.

During your registration on the additional information page, you will see the email(s) and phone number(s) for the player's tournament registration. At this time you are able to edit the contact information without affecting what is listed in your USTA profile.

Below is an overview of different types of tournament registration related emails that may come from the new system. These communications are sent from noreply@ustamail.com.
Standard automated communications
Registration confirmation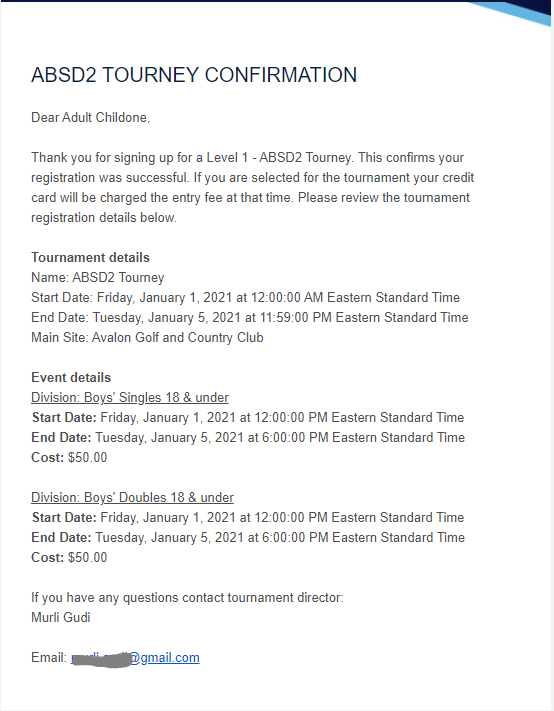 Notification if you've been selected for the tournament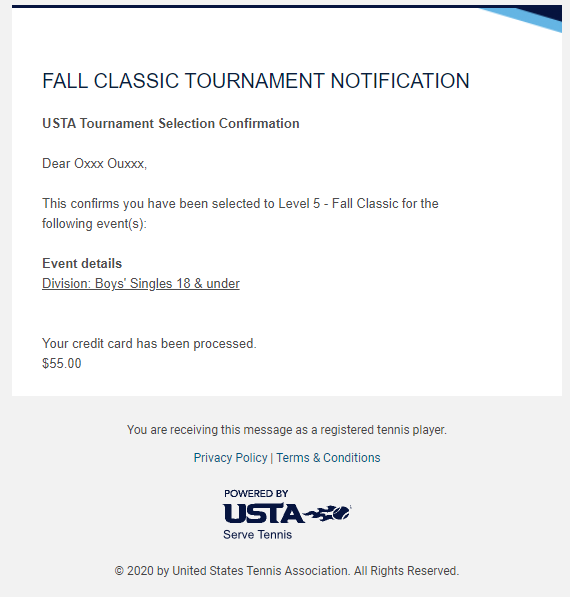 Notification if you're an alternate for the tournament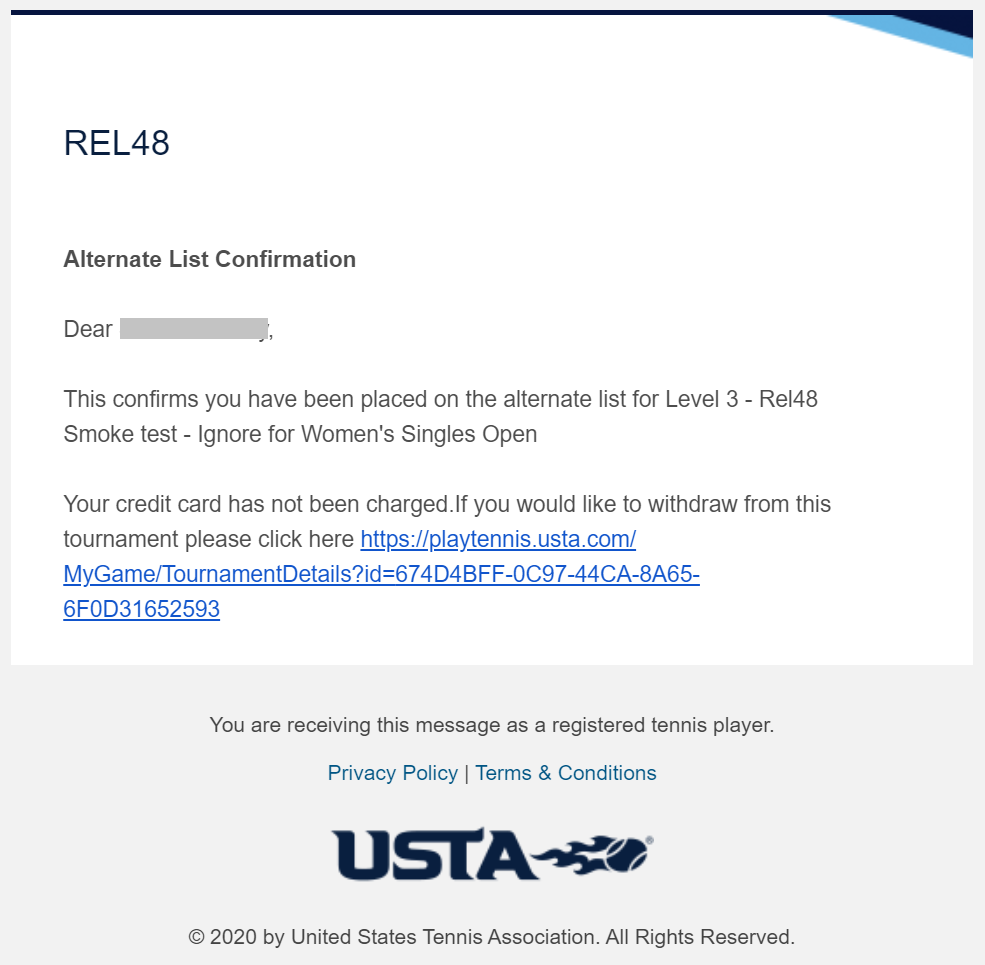 Other email communications
Player withdrawn confirmation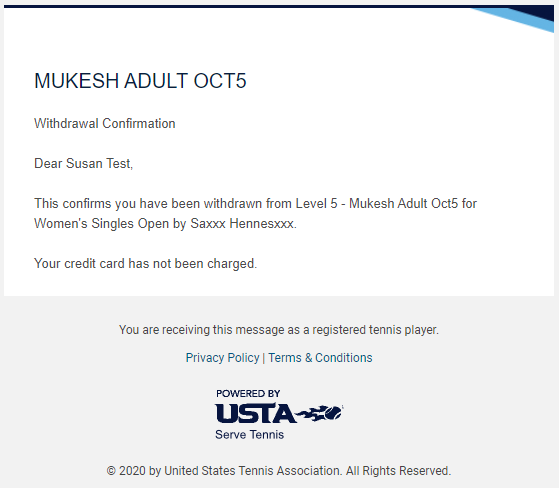 Payment request

Tournament cancellation

Non-automated messages from the Tournament Director regarding the event

This particular type of correspondence will come from a different address that allows you to respond
If you opted not to input contact details during registration, confirm what information is listed on the USTA account. Please also check your junk/spam folder for email correspondence. If everything appears to be correct and you still need assistance, please contact USTA Customer Care.


SMS messaging

The tournament director can send SMS messages to players before, during and after the tournament. It will mostly be used when there is a change of plan or rain delay. The SMS will be sent to mobile number that is entered during registration. The SMS is ONE WAY only. You can not text that number back. The tournament director will not receive it. If you need to contact the TD please use the contact details on the Overview page. Please remember your tournament director will be very busy on the day. Make your way to the Tournament Desk for assistance.

SMS Q&A's

Q: Why am I not receiving SMS messages but others are?
A: We have had a couple of people report this, on investigation, the SMS were being sent, but on their iphone they were blocking the number as it was unknown. To check if this is the case for you please see this guide: how-to-see-texts-from-unknown-senders-on-iphone/ . Please note, all USTA tournament SMS messages are coming from this number: 9292957737

Q: I typed STOP in the SMS messages as I was getting them for a tournament that I didn't want and I had withdrawn, now I am not getting them for any tournaments I am attending now.
A: See above, you will need to add 9292957737 as a safe number. The help guide: Unblock numbers will resolve this. You can also send START and message: 9292957737

Q: I am withdrawn or an alternate for the tournament, why am I getting SMS messages for a tournament I am not even playing at?
A: The Tournament Director is likely SMS all players, they are able to filter by selected / events etc. So you may want to remind them they are sending them to all. You can reply STOP for the day, but remember to type START to start receiving them again.