Register for local, sectional, and national events, including non-ranked USTA Junior circuit. Simply go to playtennis.usta.com/tournaments where you can find the tennis experience that is best for you. For instructions to register your child for a tournament, click here.
Registration Reminders
USTA tournaments have eligibility requirements. Eligibility is based on a player's personal profile. Ensure player information is kept updated on USTA.com.
Choose from the links below for information related to membership, residency, and age requirements.
How to Register for a USTA Tournament
Go to playtennis.usta.com/tournaments.

Find the tournament you would like to register for.

Check whether the registration window is open or closed. Information about the registration period is indicated under the event listing.


Click on the tournament listing.

Click anywhere in the box to open the tournament and review the information.

Review the tournament details.

The listing overview includes Contact Information, Location, Registration rules, discounts, etc.

Click on an individual event for more information such as draw type, surface, etc.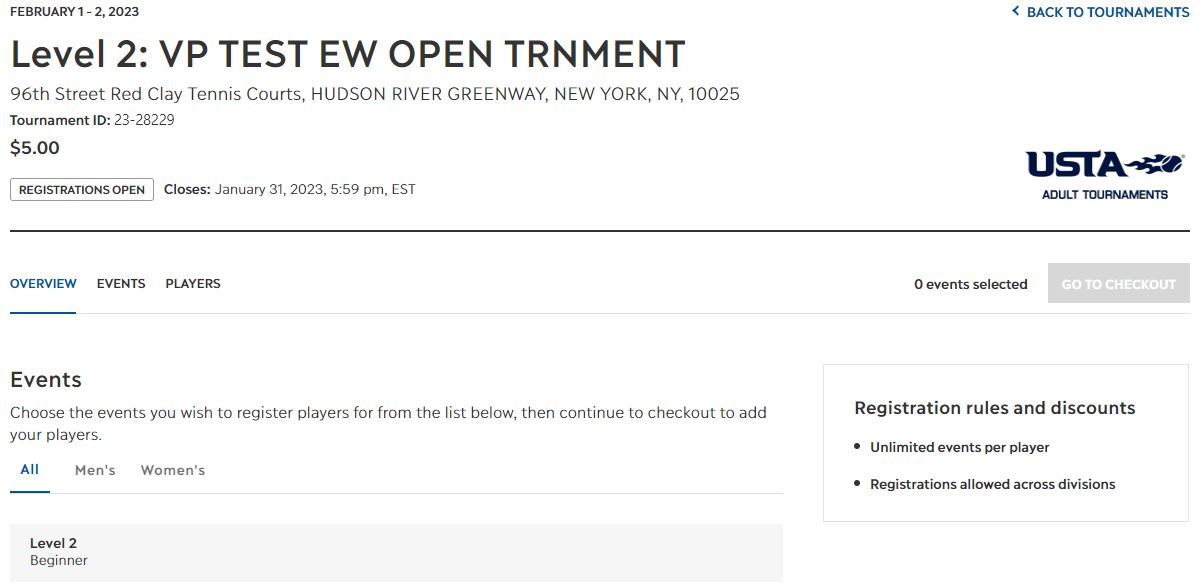 Choose the event(s) you wish to register for.

To select an event, click on a price box. The event will be added to your checkout basket.

If allowed, you can select as many events as you wish to add to your checkout basket.

For more information about an event such as draw type, surface, etc., click on the individual event hyperlink.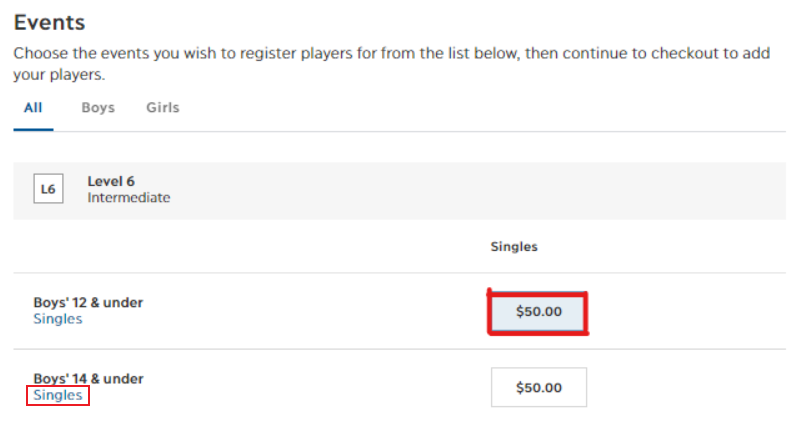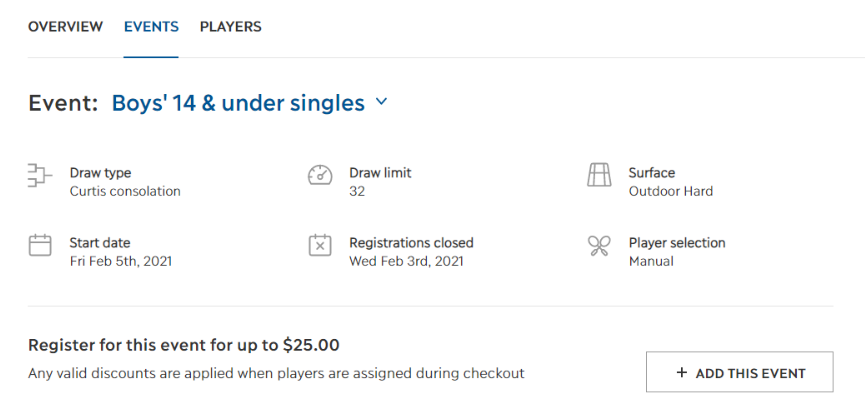 Choose which players to register.

If the player doesn't meet the criteria for the tournament, the system will not allow them to register. The system will reference the details on the player's USTA account.
If you believe there is an error, please contact either the Tournament Director or USTA Customer Care. If you are entering on behalf of someone else, you can add someone via your profile.
Below is an example of an eligibility error message.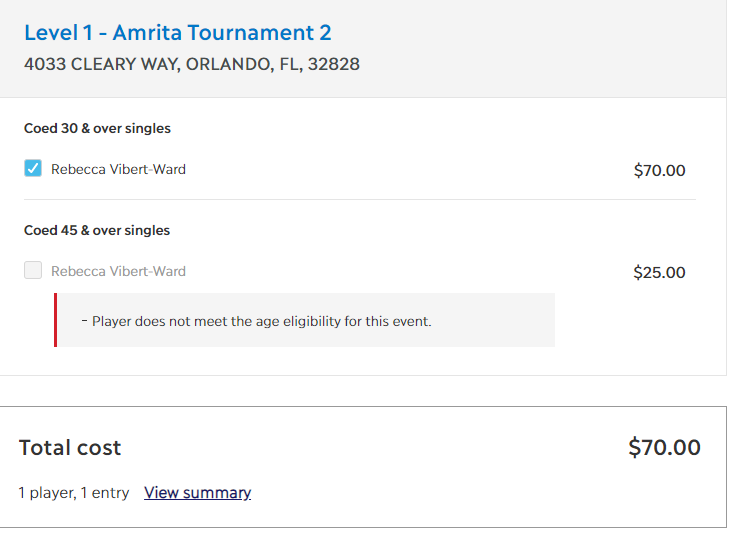 Click Continue to Payment.

You will be asked to confirm all entries and then you will be provided with the maximum potential charge.

Any discounts will be shown here.

A message displays explaining that your credit card will not be charged until your entries are confirmed by the Tournament Director. You will receive an email confirmation at that time.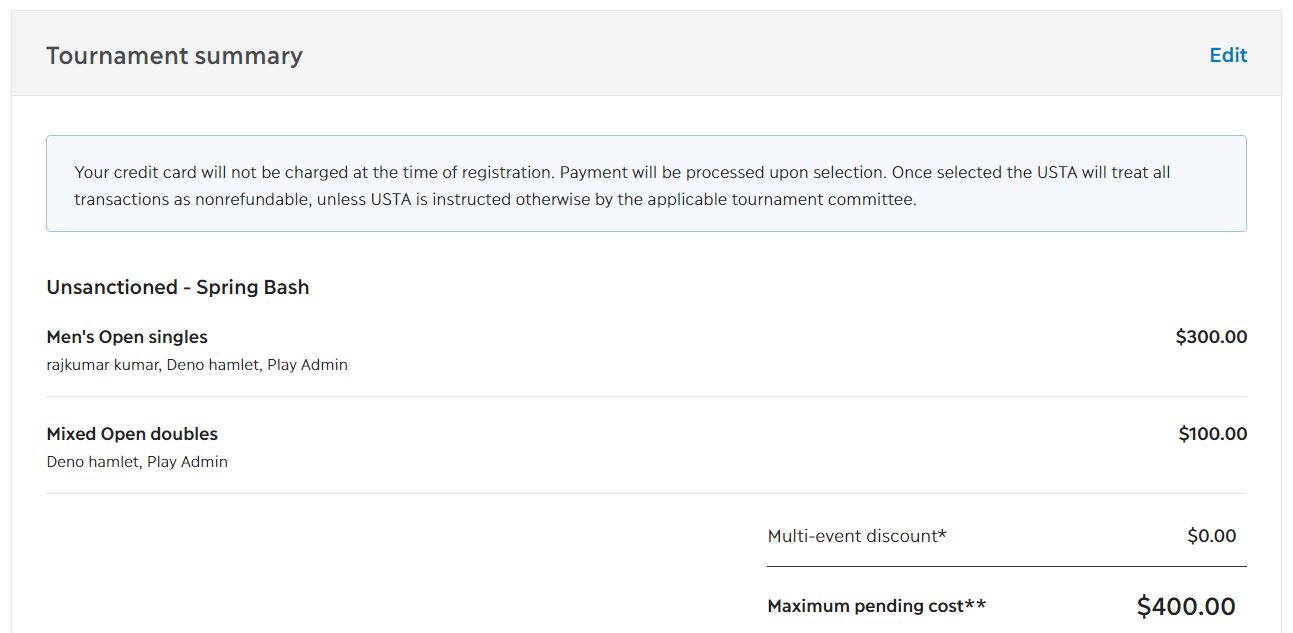 Choose your method of payment.

Click CONFIRM ENTRIES & PAY.

Payments are made through Stripe. This is the payment provider chosen by the USTA. You will not be able to pay by cash or check. All payments must be completed online.

The final price is determined based on the number of events you selected.

Review the email address and input payment details.

Confirm the email address listed is correct. The payment notifications will be sent to this email.

Enter the credit card details and c

lick

Save card.

Stripe is taking a pre-charge of the account, you are not paying at this time.

An email notification from the Tournament Director will be sent when you have been selected.

The card will be charged upon selection followed by a

confirmation email from Stripe.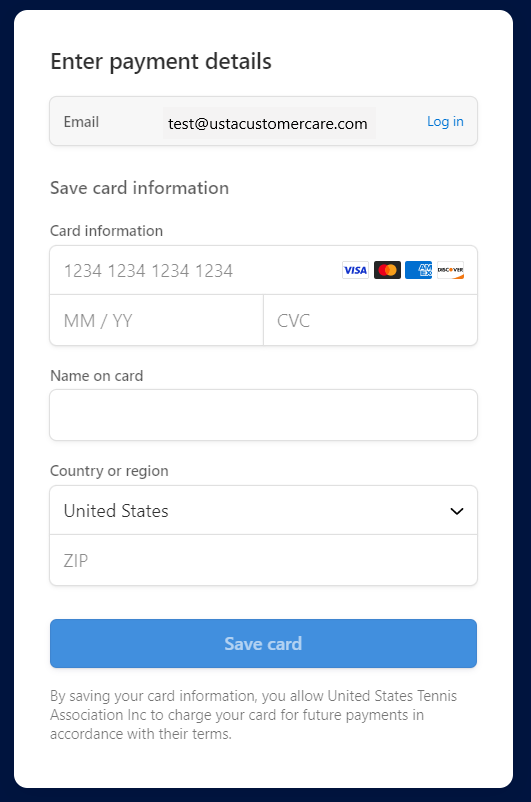 Tournament Communications and Additional Info.

After registering for the tournament, you will be taken to the Additional Info page.

Here, you can edit the email and cell phone number that communications will be sent to for this tournament. The details are pulled from your USTA profile, however, you can change this for this tournament only.

Changes made on this page will not update your USTA profile. If you are registering more than one child, you can provide contact information for each participant as shown below.

Click SAVE AND CONTINUE.

Confirmation.

Once all details have been successfully submitted, you will be presented with a confirmation page and your entry is complete. Below is an example of what should display.
Thank you for entering.
Post Registration
You will receive an email confirmation that you have registered. The email will be sent to the address provided during registration.
A check on your credit card will be made to ensure it is a valid account, however, no money will be taken until the selection process is completed and confirmed. If you do not receive an email within 12 hours of registration, please contact the Tournament Director.
The selection process takes place after the registration close date. The outcome of the selection process will be confirmed in an email to you. You can also view the registration information in your schedules on USTA.com.

Additional Resources
Tournament Registration FAQs for Players
How To Search for a Tournament on USTA.com
Registering Your Child for a Tournament
Joining the USTA and Membership Information
Information for Doubles Partners
From the Additional Info page, you can assign doubles partners for your events. Chosen partners will be sent notification emails.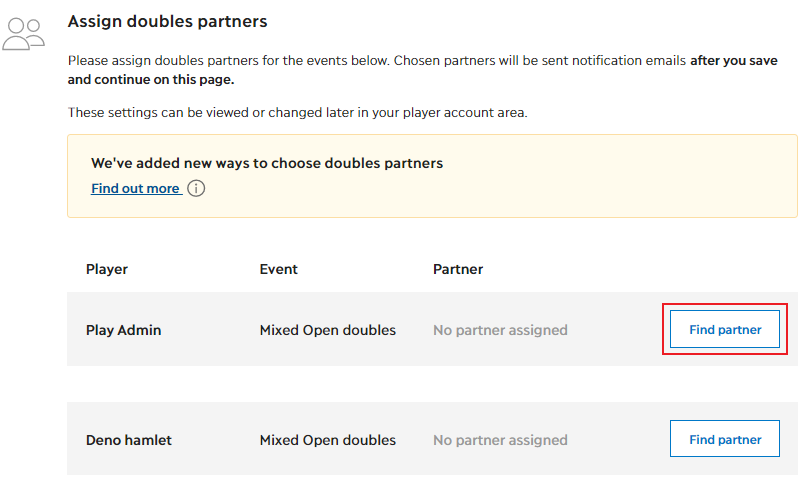 Select how you would like to find a partner.

Choose from the options in the drop-down. Please click here for further assistance to assign a doubles partner.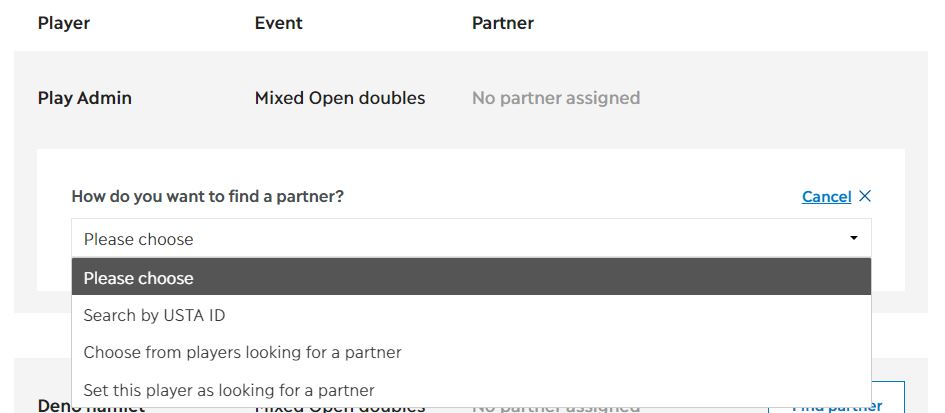 Doubles Pairing Post Selection.

If you selected a player to play with, they will receive an email notification. If they are not in agreement or wish to be paired with someone else, they can contact the Tournament Director to have this changed.

This is an example of the doubles pairing notification: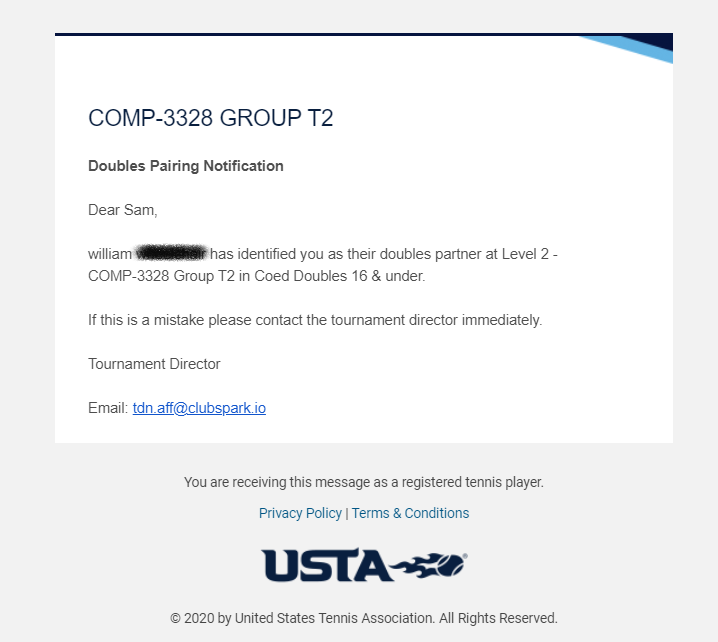 You will receive a notification email as well: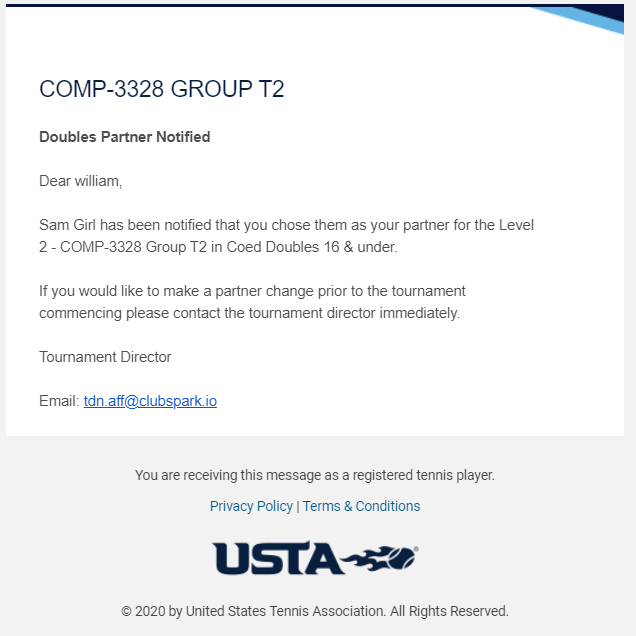 Click here to return to the main instructions of the article for the next steps after pairing.