To search for USTA sanctioned tournaments held in 2021, visit https://playtennis.usta.com/tournaments.
Once you have found the tournament you would like to register for, you need to check whether the registration window is open. If the registration window is open, you can complete the registration process. Information about the registration period is indicated under the event listing. Please check for available 2021 tournaments periodically as more will continue to be added.


Step 1: Find the tournament you would like to register for and confirm the registration is open. To search for a tournament, visit https://playtennis.usta.com/tournaments. Once you've found the tournament and confirmed the registration is open, click on the tournament listing. You can click anywhere in the box to open the tournament and review the details.
Step 2: Select the events you wish to register for. You can click on an individual event for more information such as draw type, surface, etc. You may also review the registration rules at the top right of the tournament page.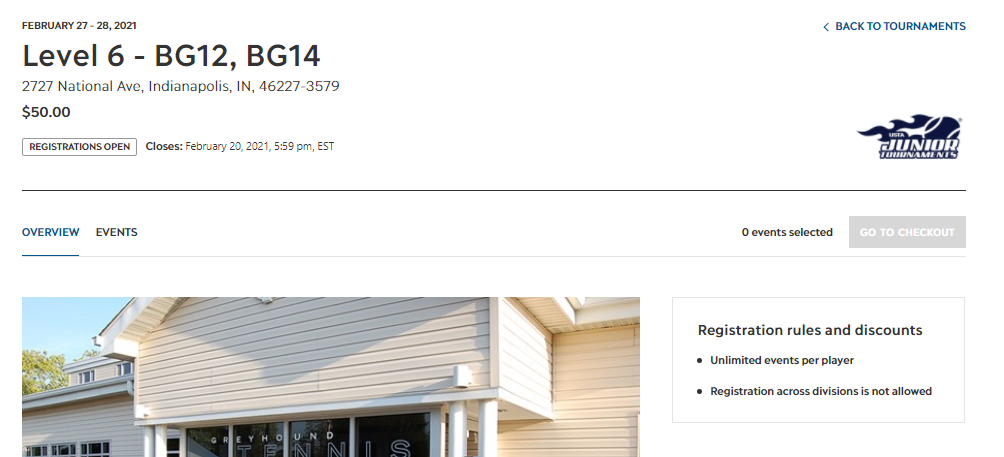 To select an event, click on a price box. The event will be added to your checkout basket. If allowed, you can select as many events as you wish to add to your checkout basket.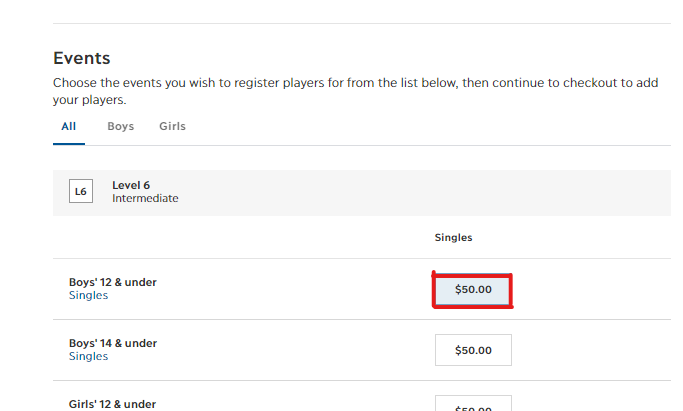 Note: For tournament levels 1-4 you will be required to declare your player residency. There is further information here if you require support on this. Click ? to get more information and the link to your profile. How To Declare Your Residency
Step 3: Once you have selected the events you want to register for, click GO TO CHECKOUT.
If you are not signed in to your USTA account, you will be asked to sign in. If you do not have a USTA account, you will need to create one.

Step 4: Select the players associated with your USTA account that will be entering the events. Please note, the player must have an active USTA membership to register for a Level 1 -7 tournament. Active USTA membership is not required for unsanctioned tournaments.
If the player doesn't meet the criteria for the tournament, the system will not allow them to register. The system will reference the details on the player's USTA account. If you believe there is an error, please contact either the Tournament Director or USTA Customer Care. If you are entering on behalf of someone else, you can add someone via your profile.
Below is an example of an eligibility error message.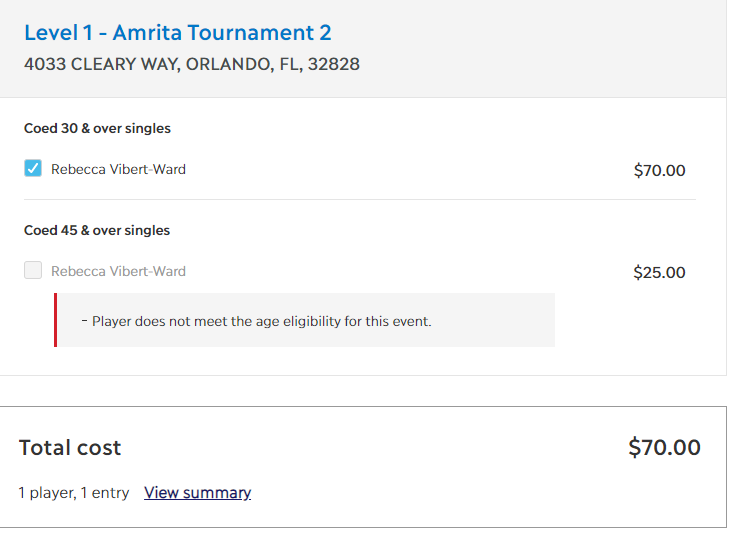 Step 5: Once you are ready to pay, click Continue to Payment. You will be asked to confirm all entries and then you will be provided with the maximum potential charge.
A message will appear to explain that your credit card will not be charged until your entries are confirmed by the Tournament Director and you will receive an email confirmation at that time.

Step 6: Once you have confirmed the events, choose your method of payment, and then select Confirm Entries & Pay. Payments are made through Stripe, which is the payment provider chosen by the USTA. You will not be able to pay by cash or check as all payments from 2021 will be online. From here you will be presented with a screen to input your payment details.
The final price is determined depending on the number of events you have selected. Some Sections offer the option to apply for events outside of the age divisions, which means you may apply for more events.

Step 7: Enter the details of the card and click Save Card - remember you are not paying at this time. Stripe is taking a pre-charge of the account. The card will be charged if you are selected by TD for the tournament. At which time you will receive a confirmation email from Stripe that a payment has been made and from the Tournament Director that you have been selected.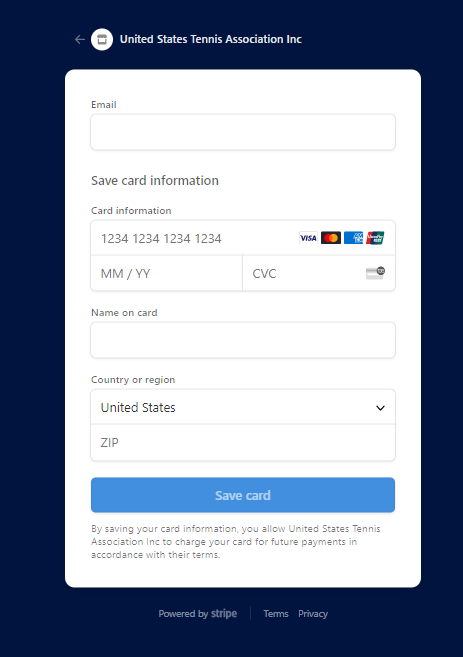 Step 8 -Tournament Communications
After registering for the tournament and paying your entry fee, you will be taken to the Additional Info page. Here, you can edit the email and cell phone number notifications will be sent to for this tournament. The details are pulled from your USTA profile, however, you can change this for this tournament only. Please note this will not update your USTA profile and is for this tournament only. If you are registering more than one child, you will be offered the choice for each participant as below.



Step 9: Assign Doubles Partners
On the Additional Info page, you will see "Assign doubles partners" under the Tournament Communication area. Click the Assign button next to your name.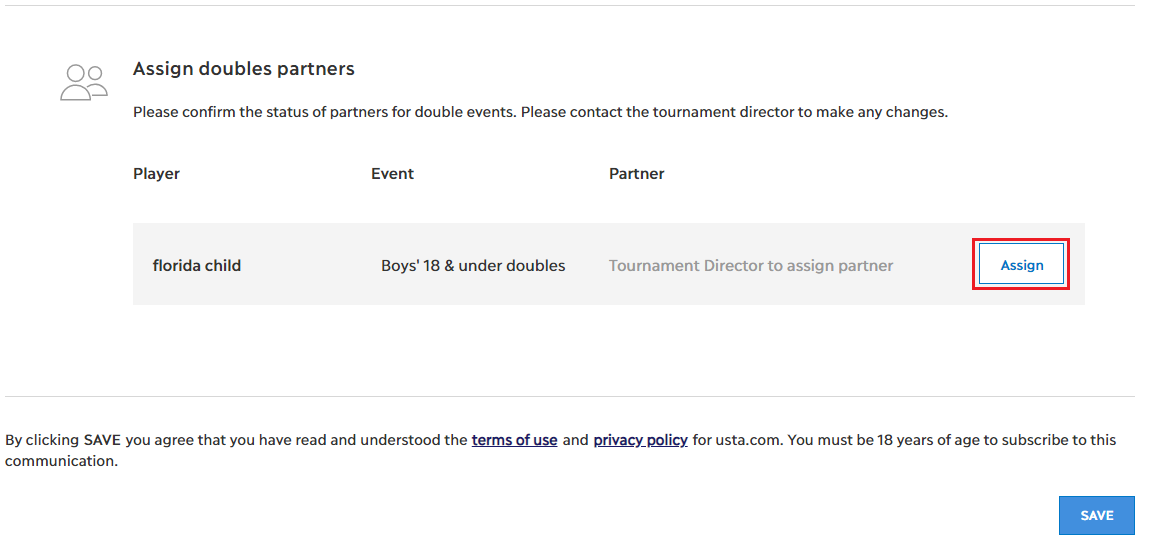 From the assign partner list you will be given three options:
1. Tournament Director to assign partner - Please only select the "Tournament Director to assign partner" option if you need help finding a partner.
2. Partner has not registered yet - If your doubles partner has not yet registered for the tournament select this option.
3. Names of the players that have already registered - If your partner has registered first, you will be able to select him/her as your partner. If you select a partner, the partner will receive an email to inform them that they have been paired with you. They will have the option to contact yourself and/or the TD if they do not wish to be paired with you for this tournament. If you have not gotten a verbal agreement to play with someone please do not select them during registration.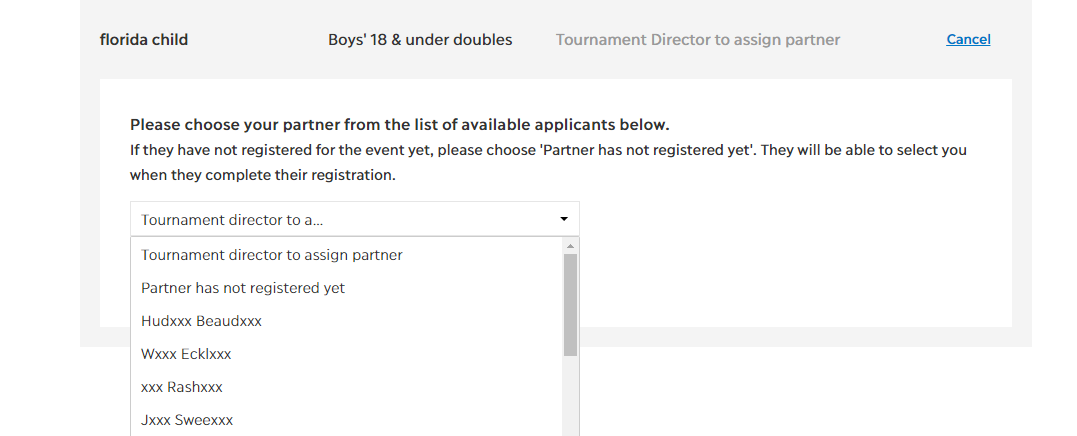 Select one of the options, click save changes, and then save at the bottom.
Please Note: If you need to make a change to your partner after completing this step, please reach out to the Tournament Director via email/phone.

Step 10: Confirmation
You will be presented with a confirmation page and your entry is complete. Below is an example of what should display.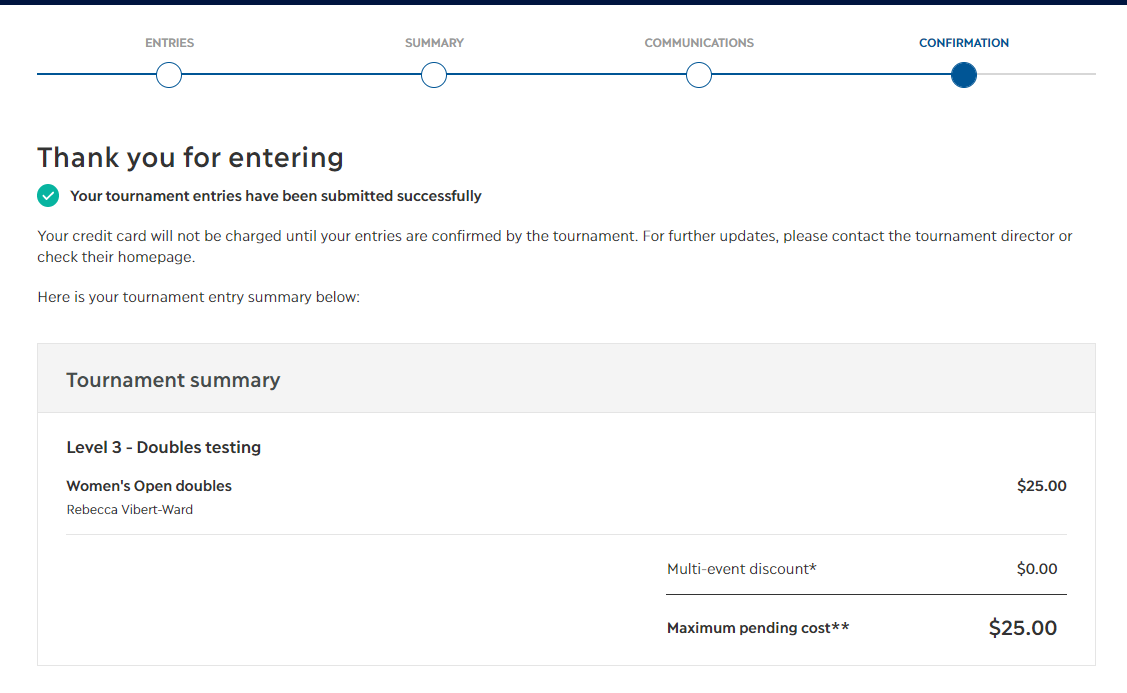 Post Registration: You will receive an email confirmation that you have registered. The email will be sent to the address on the corresponding USTA account. A check on your credit card will be made to ensure it is a valid account, however, no money will be taken until the selection process is completed and confirmed. If you do not receive an email within 12 hours of registration, please contact the Tournament Director.

The selection process takes place after the registration close date. The outcome of the selection process will be confirmed in an email to you. You will also be able to see the registration information in your schedules on USTA.com

Doubles Pairing Post Selection: If you select a player to play with, they will receive an email informing them that you have selected them. If they are not in agreement or wish to be paired with someone else, they can contact the Tournament Director to have this changed.


An example of the email that is sent to the double partner informing them of the doubles pairing is below: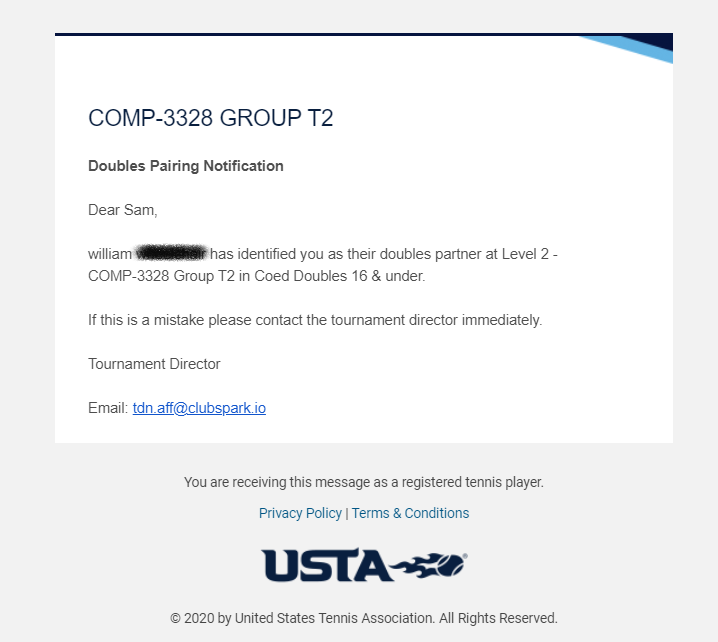 You will receive a notification email: