To add additional members to a group, go to the package of the group which you would like to add the member to.
You should now click on the row of one of the group members to bring up the membership details, you will see 3 tans, if you select Member Info, this will list all members associated with the membership.

At the bottom of the list of members there is the option 'Add Member'.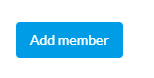 Once selected, you will have the option to either add a new contact or search for existing contact.

Once you have completed the information you can then select 'Save'. This will then take you back to the list of members within that package.
You do also have the option to remove any members from this screen. Next to each members name there is a 'Remove' option.