You can export your members data from within any of your membership packages or from your 'All members' view.
To export members from a specific package, from your membership module, select the package that you wish to export the details from.
From the listing page, select all members by selecting the check box to the right of the 'First Name' heading, this will then select all members within the package. Alternatively you can select individual records if you do not wish to export all members within the package.
Once you have selected the members, this will activate the more options icon, you can now select 'Export PDF' or 'Export CSV' functions: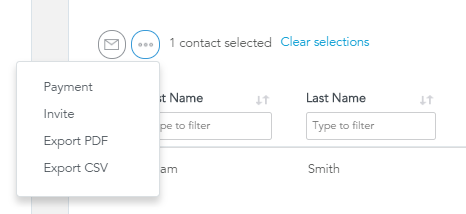 To export 'All members', then from within your membership module select 'View all members' in the top right corner of your screen:

This will list all of your members which can be split into 5 categories:
All - All active members paid & unpaid members.
Paid - Members who are active and have paid.
Not Paid - Members who are pending and have not paid for their membership.
Lapsed - Members that have expired and have not renewed their membership.
Cancelled - This will display members who have cancelled their membership.