The tournament application (formally known as sanctioning) process is now available for approved Tournament Directors. Each USTA section will be determining when the tournament application process will be open, and you will be notified once it's available in Serve Tennis. If you have not been invited to the Serve Tennis as a Tournament Director then please contact your Section and/or District USTA staff member to invite you. Contact details are available here: #8: Section/District Contacts
To create a tournament application please follow the below steps. You may also refer to the following videos for information: How To Submit a Tournament Application Introductory Overview (Video), How To Submit a Tournament Application Detailed Overview (Video)
Step 1: Go to www.usta.com/servetennis.
Step 2: Log in with your USTA account.
Step 3: Click the dropdown arrow next to the avatar/picture in the upper right-hand corner of the screen and select "Admin area."
Step 4: Click on "Tournaments" link (trophy icon).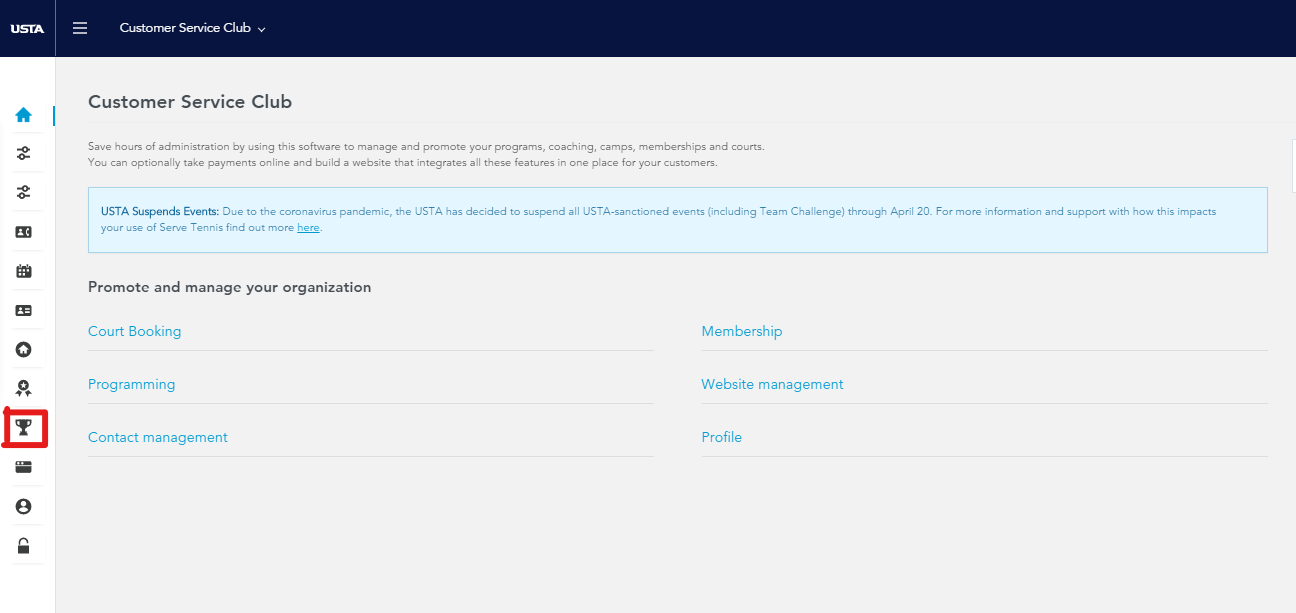 Step 5: If you haven't already, you will need to set up your Stripe account. Details on this are available: Connecting to Stripe in Tournaments Module
Step 6: Click Add Tournament and choose the Junior, Adult, or Wheelchair category.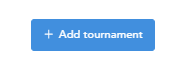 Step 7: You will then select the tournament type/level. This will also provide information on the tournament application fee for each level.
Step 8: Enter the details of your tournament.
When you "Add Tournament director" in Staff —start typing the name of the TD, if they are already listed as a TD at your venue they will have a green checkmark by their name.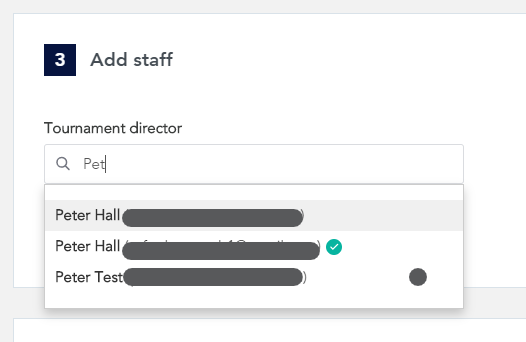 You can also search for an approved tournament director by clicking on Find USTA approved tournament director. If a tournament director is not a part of your club or organization, they will be sent an invite to join. You must choose someone who is Safe Play approved.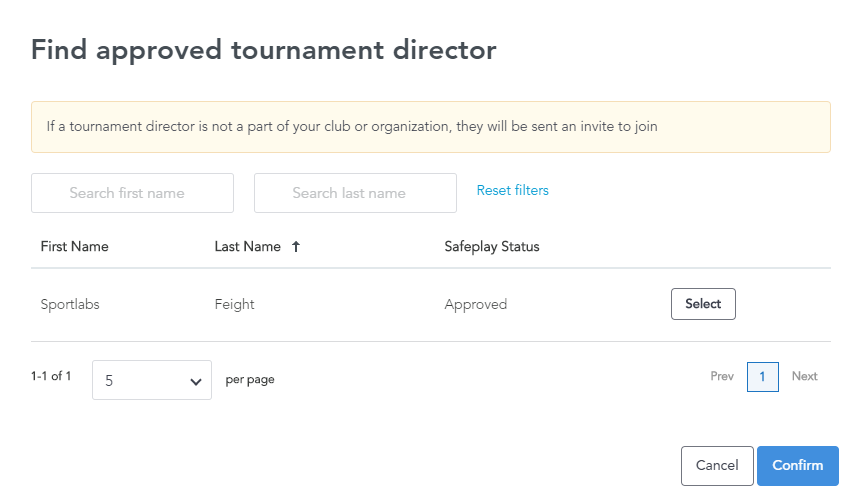 Step 9: Payments - choose which account you wish the payments to be received. You can have more than one bank account/Stripe Express account linked to your Serve Tennis account. NOTE: This can be edited after submission but prior to Player Selections. Follow this guide: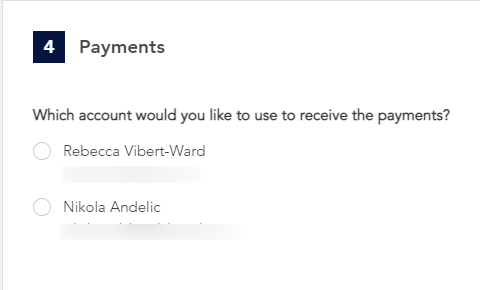 Step 10: Review your tournament details. Click Create tournament. A confirmation box will appear to say it has been saved.
Note: Only once you have created the tournament will it save, once you have created the tournament, you will be able to come back to edit any details whilst it is the planning stage.
Step 11: Click Add events
You will choose between individual events, where individuals will register or team events.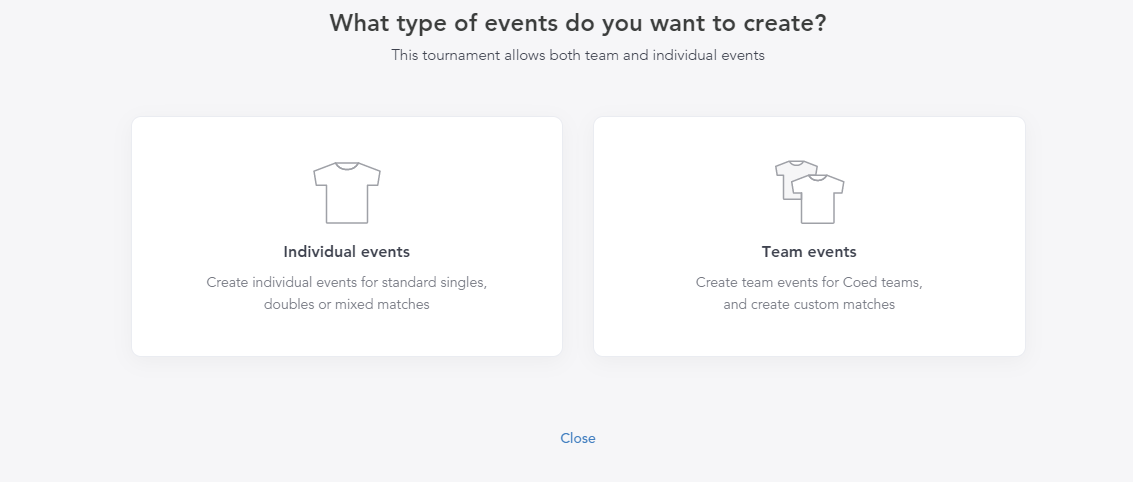 Step 12: Complete [1] Divisions section.
Choose any combination of gender, ages, and singles/doubles.

Ball Color - for all events level 7 and above they will be yellow ball - you will only get the choice for other colors for junior circuit.

Click "Add divisions" button.
Click "Continue" button.

Note: You will be able to come back to edit the events after you have saved, before you submit for approval, i.e. in planning stage. You will not be able to edit after the tournament has been submitted, if you need to you will need to contact the section or district staff to do this.


To edit the event in the planning stage. Click on the Edit button on right hand side in each section:


Step 13: Complete [2] Details section.
Here you add the date of the event. When creating the tournament you added the dates of the tournament (start to finish), here you add the date of the event, depending on the level of the tournament, you may have more than one date. The dates have to be within the tournament range of dates. If your events are held on different dates you will need to create the events individually.

You can add more dates if your event is on non-consecutive days. i.e. The event will run on the Friday and then on Sunday.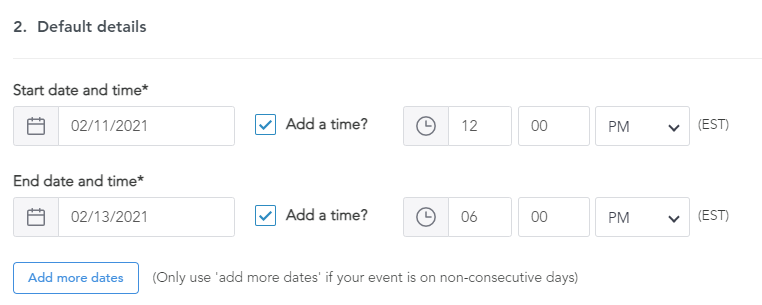 Event Check In- If you wish to have players check in prior to the event you can turn this on. The event check in feature is still in development, at present turning it on will not impact players if they check in or not.
Click the Continue button.

Price: Here you add the price the players will play. To work out how much to charge, we have this calculator to assist you.
Step 14: Complete [3] Draws section.
Step 15: Review your event details
Step 16: Click Submit, this is still in the planning stage, It will not submit the Tournament Application- you will be able to go back and edit the events whilst still in planning.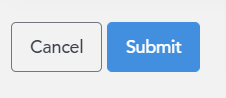 Step 17: Go to Settings tab. Add/edit Tournament Director Communications details, this information will show on any communications sent out to players. Also see guide: Tournament Director Contact Details

In the settings tab you can also add a Tshirt size or food order question to be completed by players at registration.
Adding a Question to Tournament Registration

Step 18: Once your tournament application is complete, you can click the Submit for approval button in the top right corner. You can no longer edit your application after it has been submitted for approval.
There are 4 tasks that must be completed before you can submit your application. Click here for more information about the Tournament Application Checklist.
Add events

Assign a tournament director

Add or confirm website information

Confirm rules and pricing
If you made a mistake, you must contact the section/district you have submitted to, and request they decline the application and change it to the planning stage.
If the Submit for approval button is grayed out as shown below, you have not completed your checklist. Click on complete the checklist to see what is outstanding.

Step 19: Click the Submit tournament button in the top right-hand corner.
An overlay will appear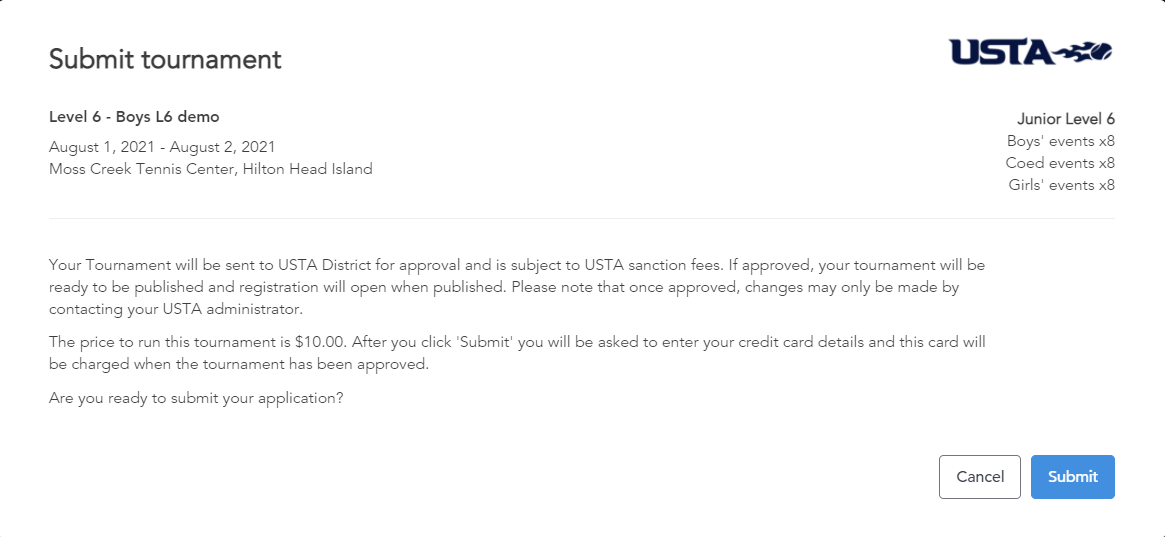 Your Tournament will be sent to USTA National/Section/District for approval and is subject to USTA sanction fees. If approved, your tournament will be ready to be published and registration will open when published. Please note that once approved, changes may only be made by contacting your USTA administrator.
The price to run this tournament is $XX.XX. After you click 'Submit' you will be asked to enter your credit card details and this card will be charged when the tournament has been approved.
Are you ready to submit your application?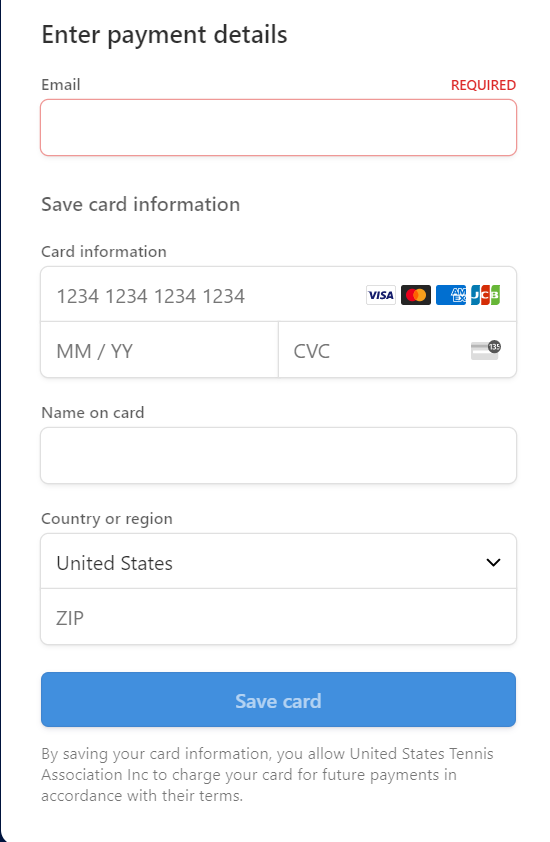 Your tournament has now been submitted and should show like this. You will get a confirmation email it is sent and also when it is approved, or declined/request for changes by the section.

Your tournament will automatically be published once approved and inline with the registration dates.

If you need to make edits to the tournament after it has been submitted, please reach out to your section/district staff for them to do this for you. Remember: You can not change the cost after the tournament is open for registration. So make sure this is correct.
Thank you for your interest in hosting a USTA tournament! Your tournament application will be reviewed by a USTA section or district association.