Adding tags to your contacts makes group communication easier and saves time on managing larger contact lists.
Click on 'Contacts' module on the left hand side
To give a particular tag to all of you contacts, place a tick in the very top left box and a tick will automatically place in all of the boxes in your contact list. Or select the individual names you wish to add the tag too.
Now you can select the tag icon:

You can now select which tag you would like to apply to the contacts: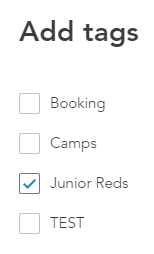 You can filter in the 'Tags' column. When you select the search field, a list of your tags will appear, when selected a list of contacts will then appear with that tag applied to their profile.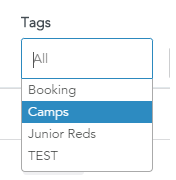 This is very useful when you need to send an email to a particular group of contacts.